Environmental Communication
USHIO believes that it is important for individuals to take action on their own initiative, rather than relying on others to step forward. This belief drives us to build a company that gives back to society.
Exhibiting at the International Exhibition on Environmental Technology & Green Energy (UKI)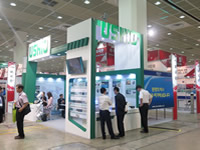 Following on from the previous year, USHIO KOREA, INC. (UKI) exhibited at the 2015 International Exhibition on Environmental Technology & Green Energy (ENVEX 2015) held from June 2 to 5, 2015 in Korea. Through this exhibit, UKI sought to enhance the recognition of the USHIO brand in the environmental industry and expand new businesses.
The UKI booth displayed UKI's Water Treatment Reactor, a new product, and an Air Sanitization Machine that uses ozone. During the event period, around 225 customers representing 190 companies visited the UKI booth. Many more eventgoers showed an interest in UKI's booth than in the previous year, enabling the company to present its products to a larger audience.
Participation in an Air Pollution Prevention Parade (UTI)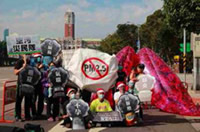 USHIO TAIWAN, INC. (UTI) participated in an air pollution prevention parade held on December 26, 2015 in Taiwan. The parade was attended by more than 7,200 people from 110 teams, with the procession stretching for a total of 3 km.
The parade participants discussed ways to prevent air pollution in their daily lives. Through participation in these sorts of community activities, we intend to do our utmost to help preserve the global environment.
USHIO Exhibits Plant Cultivation Lighting at Smart Community Japan 2013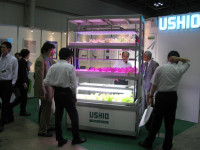 For three daysfrom May 29, 2013, Smart Community Japan 2013 was held, a combined event hostedat Tokyo Big Site including five exhibitions related to creating the future.USHIO LIGHTING exhibited LED lighting for cultivating plants in its "PlantFactors Smart Agri Exhibit." A plant cultivation unit was established in thebooth, to show visitors how lettuces grow using the system.
The plantcultivation market is an active one, driven by environmental changes due toabnormal weather patterns and atmospheric and water pollution, and anincreasing desire to ensure food safety. Moreover, as the population of farmersdeclines and ages, there is a greater demand to make effective use of availablespaces such as former school sites and factories, and to make efficient use ofwater and energy. Amid these trends, there is increasing interest in plantfactories, and demand is expected to expand going forward. This field hasstrong potential to contribute not only to the environment, but to society aswell. USHIO is using its strengths in technologies developed as a lightingmanufacturer and its reputation for reliability to develop and launch productsthat meet the demands of society and markets, as it continues to play its part.
Exhibition at LED Next Stage 2014 (USHIO LIGHTING, INC.)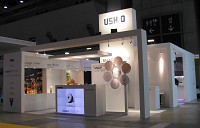 In March 2014, USHIO LIGHTING participated in LED NextStage 2014, exhibiting various kinds of LED bulb equipment and systems,proposing lighting systems that meet users' expectations, and setting up anexperiential area where visitors could handle the lamps and observe the lights.By introducing products that extend the possibilities of stage lighting and thefusion of light and projection, USHIO LIGHTING aims to help promote the spreadof LEDs.
Earth Day Event
April 22 is Earth Day. The event started in 1970, and 2010 marked its 40th anniversary. USHIO AMERICA, INC. had been serching for an opportunity to jointly promote and participate in EMS activities with the public relations officer of the neighboring California Department of Toxic Substances Control, and together they held an e-waste (electronic waste) collection to mark the 40th anniversary of Earth Day. Since old PCs, monitors, TVs and other electronic trash cannot be disposed of along with regular trash, it tends to accumulate in people's homes. USHIO AMERICA conducted e-waste collection with cooperation from Goodwill of Orange County collecting electronic equipment, including broken devices. In addition, we also encouraged employees to bring in from their homes usable clothes, shoes and electronic appliances that they no longer needed.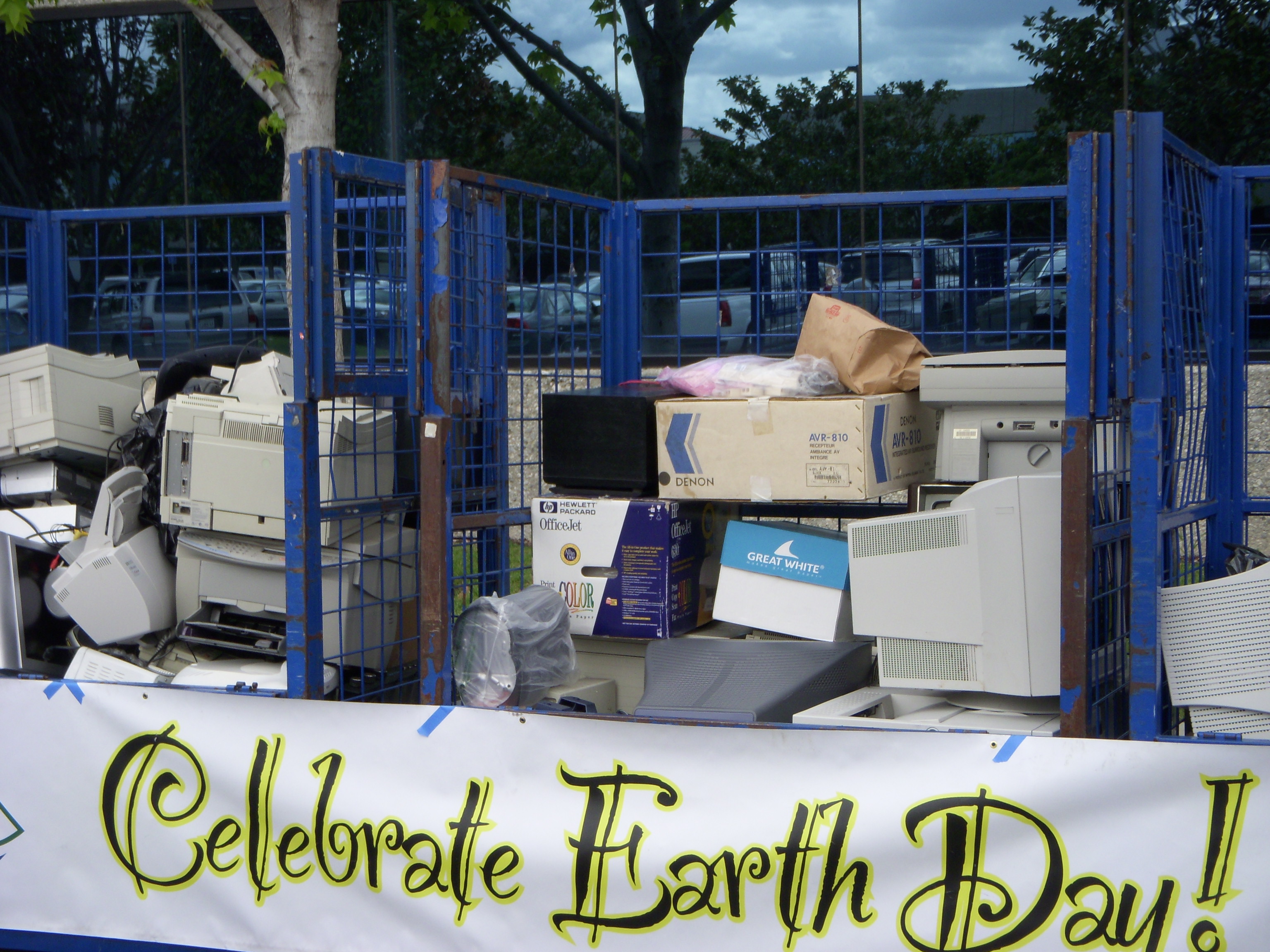 Earth Day Event
Donating Trees in Celebration of Arbor Day Again This Year
USHIO America and CHRISTIE DIGITAL SYSTEMS'headquarter location, Cypress City, California, held a tree planting ceremonyon April 12, 2014 (Saturday). This year 12 trees were donated, making a totalof 351 trees planted in parks in Cypress Hill since the project was started in1990. As in previous years, USHIO AMERICA donated a tree, and received a letterof thanks from the project. The tree-planting ceremony was a wonderful,traditional event, and the participants were proud to have taken part.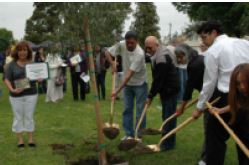 Tree-Planting Festival
Awards Received between Fiscal 2013-2014
Acquired Clean Producer Designation(USHIO (SUZHOU) CO., LTD.)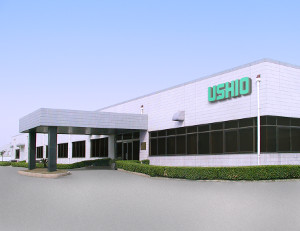 In September 2013, USHIO (SUZHOU) CO., LTD.received the"Clean Producer"designation from the Suzhou Environmental Protection Office and the Suzhou NewDistrict Economic Development and Reform Office. The designation is awarded to companiesin China, and was formally announced by the Chinese government. The company washighly evaluated for improving productivity by automating its onsitefacilities, reducing its power consumption by replacing its lighting withfluorescent lights, and taking other autonomous actions to conserve energy.
Chiyoda City Environmental Consideration Award for Global Warming Action Plan (USHIO INC.)
In February 2013, USHIO INC., the parent company of the Group, received an Environmental Consideration Award from Chiyoda City, a ward of Tokyo. The award is given to businesses in recognition of efforts to develop human resources who will act considerately for the environment as well as measures to improve buildings and equipment, thereby focusing on both the hard and soft aspects of their operations.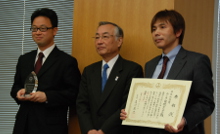 Top Award for Outstanding Energy Management (Gotemba Division)
The Gotemba Division received the Top Award for Outstanding Energy Management from the Kanto Area Electricity Use Rationalization Committee. The division received the award for successfully using an electric power monitoring system developed in-house by USIHO to achieve a substantial reduction in electricity consumption. Particular mention was made of efforts to reduce peak consumption following the 2011 earthquake by closing the administrative wing and shifting Life Test and production operations to other sites.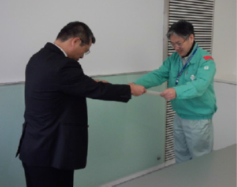 Canada's Greenest Employers Award (CHRISTIE DIGITAL SYSTEMS CANADA INC.)
Our Canadian subsidiary, CHRISTIE DIGITAL SYSTEMS CANADA INC. received the 2013 Canada's Greenest Employers award, making to receive this award, making it the third time the company has received the award. Reasons cited for the award included an environmentally conscious renovation of the business site that received a LEED* Gold Compliance Renovation evaluation, and other efforts to make improvements to reduce the impact on the environment.
Participating as a Corporate Participant in Waku Waku Festa–Water Quality Testing Experiment
On October 27,2013, the Waku Waku Festa was held atthe Gotemba Citizens Exchange Center. USHIO's Gotemba Division participated asa member corporation, running a water quality testing experiment event.
By encouraging participants to develop a fascinationand interest in the environment through the event, people from children toadults were able to achieve a better understanding how water can be pollutedonly by a small event, and have an opportunity to feel the importance offinding ways to avoid water pollution.
Light-Down Campaign
USHIO participated in the "Carbon Dioxide (CO2) Reduction/Light-Down Campaign" organized by the Ministry of the Environment. As part of the campaign, USHIO turned off the lighting for its main outdoor signage and advertising displays during designated periods. Held from June 20 to July 7, the campaign was highlighted by the "Black Illumination" event on the June 21 summer solstice and the "Tanabata Light-Down" event to mark the traditional Japanese Tanabata festival on July 7. On both days, the campaign called on people to simultaneously turn off lighting at facilities illuminated at night and households from 20:00 to 22:00. In other developments, we are promoting the importance of environmental activities both within and outside the company through a "CoolBiz" program (air-conditioner settings maintained at 28°C), and other initiatives.

Light-Down Campaign
Introduction to Harima Division Environmental Initiatives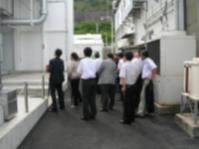 7On July 13, 2013, the Western Japan Subcommittee of the Global Compact-Japan Network (GC-NJ) convened at the Harima Division. This regular gathering enables corporate signatories to the the United Nations Global Compact's Ten Principles to come together to learn about issues that bear directly on CSR.
The Harima initiatives showcased emerged from the perspectives of "Environment and Management," "Energy and Supply Responsibility," and "Environmental Risk Management." From the standpoint of ensuring energy needs, the visitors toured gas generation facilities and hydrogen production equipment while on site.
Tsukuba City Pollution Prevention Pact Signed (USHIO LIGHTING, INC.)
In 2014, USHIOLIGHTING receive a request from Tsukuba City to cooperate with a drive forenvironmental administration, and responded by signing a pollution preventionpact. Under the pact, USHIO LIGHTING will prevent pollution from business activitiesbefore it occurs, protect the health of community residents, and preserve anappropriate living environment for Tsukuba Science City.
The TsukubaDivision is located in an industrial park amid research facilities of manymajor companies. Environmental protection activities are a natural activitythat Tsukuba Division should undertake as a corporate citizen. In addition, thedivision will strive to build good relationships with various stakeholders andto contribute to society as a company. To this end, all members of the divisionare working together to prevent pollution.
External Reporting
The first external report USHIO produced was Site Environment Report 2003 (Harima Division edition), and we have been issuing sustainability reports incorporating the categories of economy, society and the environment since fiscal 2005. Moreover, we have been producing English-language versions of the report since fiscal 2006, so that people in countries outside Japan can read them. We have positioned the sustainability reports as the most important tool for our CSR communication, and we strive to disclose information that is easily readable for all readers. In addition to their inclusion in the report, we continuously describe our environmental initiatives in the form of a variety of publications, including business reports and investor guides.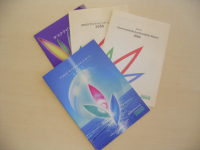 Sustainability Reports
Internal Reporting
USHIO Green Network News (USHIO Group)
Utilizing our USHIO Green Network*, we are disseminating global information gathered from Group companies in Japan and overseas, as well as USHIO INC., details of environmental activities of our business sites, and so forth in the form of monthly internal newsletters.
Once a month, we also publish a regular section on the environment in the internal newsletter "Green Times" issued every other month. "Green Times" is now available on our website to boost awareness by conducting environmental activities with all Group companies, and with employees' families getting involved with the website.
Furthermore, each business site uses their own ingenuity to fulfill their role of carrying out environmental communication within USHIO. One example is the in-house environmental email newsletter "Eco Wind" produced by the Harima Division.
* USHIO Green Network: An organization for promoting environmental initiatives and information sharing at Group sites, consisting of members that include Group companies.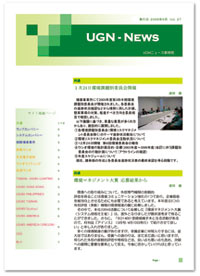 USHIO Green Network News