Global Warming Mitigation
Looking beyond the 2020 Environmental Vision, USHIO will continuously maintain its current CO2 emissions reduction efforts (annual reduction rate of 1%), with the aim of continuing to reduce CO2 emissions by 10% over the next 10 years through 2025 by upgrading measures such as productivity enhancements. Another major goal will be to reduce the impact resulting from the use of products under Scope 3*.
* Scope 3: This is one of the scopes of calculation for greenhouse gas emissions. Scope 3 corresponds to a company's entire value chain as well as the company itself, including greenhouse gas emissions generated at the time of production and transportation and greenhouse gas and other emissions occurring when a customer uses or discards a company's products.
Thoughts on Climate Change
There is a concern that global warming can impact climate change. Even though we are only a single group of companies, we are moving ahead with the idea that countermeasures are a priority item when it comes to avoiding impacts on the business caused by natural disasters and developing in a sustainable manner. The USHIO Group realizes that activities at its business sites raise concerns about increasing greenhouse gas emissions, such as CO2 generated in the course of consuming energy during business activities, which can have an increasing impact on climate change. USHIO considers it has a responsibility to take into account the power consumption needed when customers use its products, and has formulated an environmental policy and promotes saving energy in a variety of different forms.
For activities at divisions, our primary focus is on increasing production per unit, as enhancing productivity conserves energy. Therefore, we continue energy-saving activities such as installing solar panels, using energy-saving air conditioners and converting lighting to LED lights. With products, promoting those with environmentally friendly designs that will contribute to saving energy will restrict the output of CO2 emissions at each business site, and is part of active efforts to reduce the effects of climate change.
USHIO's core technology of lamps has a problem in that their luminous efficiency does not go as far as LED or LD products. If customers are able to make use of products such as LEDs or LDs in their production activities, this will improve power consumption (namely, COO) compared to using lamp light sources. If USHIO actively makes proposals to introduce LEDs and LDs, this will result in suppressing climate change and also contributing to the environment and society. USHIO recognizes that the act of making these proposals has an extremely high priority for our business.
The LED and LD business is a significant driving force for USHIO's future. The target value for net sales in the year ending March 31, 2018 has been set at 1.6 times greater than net sales recorded in the year ending March 31, 2016. With other products as well, USHIO believes that it can continue to contribute to energy conservation by promoting the sales of certified products, because USHIO's unique Super Green Product certification criteria now includes an item regarding energy conservation.
Review of Targets and Results of Phase Four of the Environmental Action Plan
Reduction of Energy-Derived CO2 Emissions
Reduce CO2 emissions by 3% from the fiscal 2013 level on a sales unit basis ⇒ Increased by 6.4% (Reduced by 4.7% based on the total for all major business sites)
In terms of the results of Phase Four of the Environmental Action Plan, CO2 emissions increased by 6.4% on a sales unit basis. A reduction of 4.7% was achieved at major business sites by continuously implementing CO2 emissions reduction activities.
Reduction of Distribution-Derived CO2 Emissions
Reduce CO2 emissions per unit of shipments (reduction of 1% year on year) ⇒ Down 17% from the fiscal 2014 level at the Harima Division, but up 7% from the fiscal 2014 level at the Gotemba Division
In terms of results, the degree of achievement varied according to the business site. The Gotemba Division was unable to achieve its target due to an increase in CO2 emissions. The main reason was the use of larger transportation vehicles to accommodate the use of larger equipment, despite efforts to address transportation efficiency as a top priority.
Targets and Results for Fiscal 2016 under Phase Four of the Environmental Action Plan (Fiscal 2014 to Fiscal 2016)
Fiscal 2016 Target

・Reduce CO2 emissions by 3% on a sales unit basis (from the fiscal 2013 level)

・Reduce CO2 emissions from distribution operations

Reduce CO2 emissions per unit of shipments by 1% from the fiscal 2015 level

Reduce the shipment frequency in the Asian region by 20% from the fiscal 2015 level (25 times per month)

Initiatives

・Advanced reduction initiatives centered on six major sites

・Distribution initiatives at Japan and in the Asian region

Fiscal 2016 Results

・Up by 6.4% on a sales unit basis (from the fiscal 2013 level)

Following changes in business driven by M&A activity and the opening of new sites, USHIO strengthened management by adding USHIO OPTO SEMICONDUCTORS, INC., which has been producing laser diodes since fiscal 2015, to the scope of aggregation. Due to product characteristics, a large amount of energy is consumed in the production process. As a result, CO2 emissions were higher than the initial target. Another factor behind the increase in CO2 emissions was the inclusion in the scope of aggregation of a new lamp production site that was opened in China (USHIO (SHAOGUAN) CO., LTD.). (Excluding the above two sites, CO2 emissions were reduced by 7.8%.)

・CO2 emissions from distribution operations per unit of shipments: Down 4.2% at the Harima Division, but up 4.5% at the Gotemba Division

・Shipment frequency in the Asian region: 25 times per month

Issues

・In CO2 emissions reduction activities at major sites, enhance the degree of achievement of sites other than the Harima Division and promote progress management and dialogue

・The need to select transportation vehicles to accommodate larger products, as a transportation efficiency issue

Future Activities

・Successively expand managed sites with a goal of attaining a coverage ratio of more than 80% at some Group companies, in conjunction with grasping conditions and implementing initiatives

・Manage the numerical targets aggregated from each site, focusing on initiatives to reduce electricity used by lamp lifetime tests
(The target for the seven major sites is to reduce electricity consumption by 1,440,000 kW annually)
Managing Progress on the Environmental Action Plan
USHIO has a CSR Committee chaired by the president and comprising members of the executive officers as its members. Typically, the committee makes progress reports to executive management on the three-year Environmental Action Plan and shares upcoming challenges, while continuing to go through the PDCA cycle. Beneath this CSR Committee is the Global Warming Countermeasure Subcommittee, which extracts the part which is the mission of each issue committee such as the CSR Action Plan and Phase Five of the Environmental Action Plan, and specifically promotes these.
Scope 3 Initiatives
USHIO is working to reduce CO2 emissions at its business sites through energy-saving activities, and recently, there has been a call to grasp indirect CO2 emissions that occur throughout the product life cycle, for example, when products are being used. This is because the wide scope of activities that cause corporations to produce CO2 emissions range from not just energy used at business sites, but also all phases from component procurement to product distribution, use, and disposal. In addition to previous activities to grasp and reduce CO2 emissions associated with activities at business sites under Scope 1 and 2, USHIO has started to grasp CO2 emissions from all aspects of business under Scope 3, including use of products and materials, transportation, and movement of people.
Under Phase Four of the Environmental Action Plan, we have focused on reducing CO2 emissions in distribution operations. We recognized the importance of Scope 3, and started survey and analysis in fiscal 2013. From fiscal 2015, we have been monitoring CO2 emissions under Scope 3, not only at the parent company but also throughout the Group.
In fiscal 2016, we will continue to calculate CO2 emissions under Scope 3, expanding the scope of aggregation to include sites that have newly joined the USHIO Group. Although CO2 emissions have increased in each category, we believe this is due in large part to the expanded scope of aggregation and the impact of increased production volumes. Going forward, we will continue to monitor the impact of business activities and put what we learn to good use in mitigating the impact across all aspects of our business activities.
SCOPE 1, 2, and 3 (Main Group Companies in the fiscal year ended March 31, 2016)
Category
SCOPE1
SCOPE2
SCOPE3
Purchased goods and services
Capital goods
Fuel and energy-related activities not included in Scopes 1 and 2
Upstream transportation and distribution
Waste generated in operations
Business travel
Employee commuting
Use of sold products
End-of-life treatment of sold products
t-CO2
3,542
30,694
540,621
22,299
3,125
371
661
765
2,291
964,201
13
Percentage
0.23%
1.96%
34.77%
1.42%
0.20%
0.02%
0.04%
0.05%
0.15%
61.47%
0.00%
Sharing Information and Analysis Assessment Implementation through the Environmental Management Information System (ECO-SYS)
The USHIO Group has been collecting highly efficient environmental data from each Group base since 2006 through the Environmental Management Information System (ECO-SYS). In fiscal 2013, USHIO installed a system tool to automatically collate the data, aggregate it and improve analysis. In recent years, it has periodically analyzed trends in the entire Group's CO2 emission volume. In addition, every month, it confirms progress status through monthly report figures collected from each base, confirms if there is an irregular reading at any ofthe bases, or shares with each base in the Group any improvements or favorable examples that have been found to continue improvements across the entire Group.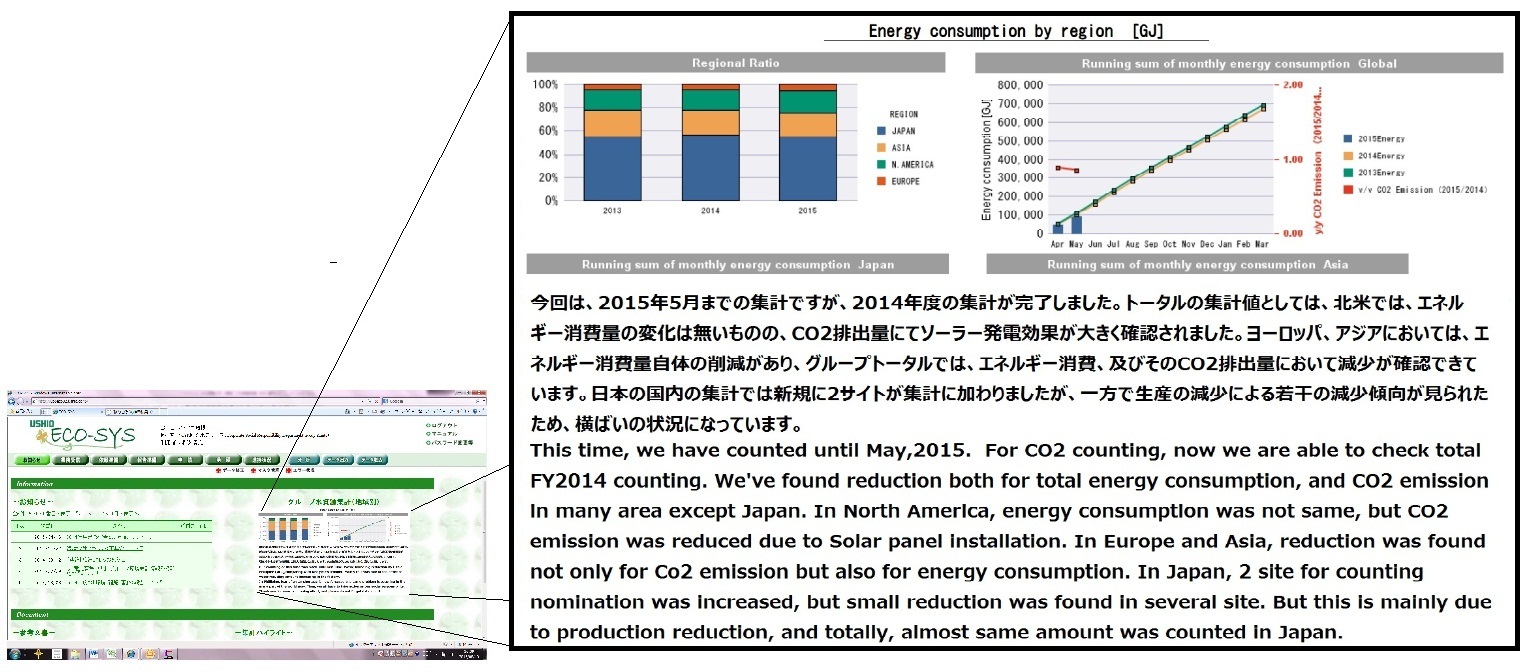 Contributing to Industry Organization Activities
USHIO takes part in the Japan Electrical Manufacturers' Association's plan for a low-carbon society. By sharing long-term numerical targets and regularly submitting progress reports, it promotes efforts to reduce CO2 emissions on a unified industry basis. USHIO also promotes active participation in the Ministry of the Environment's Environmental Information Disclosure Base Maintenance Project by reporting on Scope 3 aggregates for the Carbon Disclosure Project*.
* The Carbon Disclosure Project is a project through which institutional investors collaborate and request that companies announce their strategies regarding climate change and specific greenhouse gas emissions. The Carbon Disclosure Project is also the name of the non-profit organization headquartered in London that operates the project.
Third-Party Verification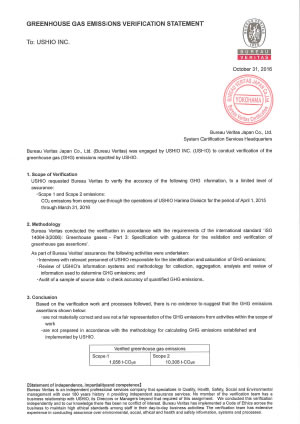 The Harima Division has received third-party verification from Bureau Veritas Japan Co., Ltd., mainly to guarantee the validity of the data measurement methods for Scope 1 and 2 for greenhouse gas emissions in fiscal 2016. For the verification method and results, please see the following report.
Initiatives at Main Business Sites
Harima Division
The Harima Division accounts for about 27% of the USHIO Group's total CO2 emissions. The Harima Division reduced its electric power consumption by 1.92 MWh (86.4 t-CO2 equivalent) in fiscal 2016 as a result of autonomous efforts to evaluate and reduce standby power consumption in all buildings and life tests of lamps, as well as activities to conserve energy in clean rooms.
Every summer and winter, USHIO cooperates with energy conservation initiatives in the Kansai region by reducing electricity usage during peak demand periods based on demand projections for production facilities and the power usage of life tests of lamps.
USHIO has also made considerable improvements over the past few years on a per-unit basis. Since measures to conserve energy have become more complex, looking ahead, USHIO aims to further advance measures to conserve energy from a medium- to long-term perspective while reducing costs by proactively incorporating external information on energy conservation.
Gotemba Division
The CO2 emissions of the Gotemba Division account for around 8% of the USHIO Group's total. Since most of the products manufactured at the Gotemba Division are assembly-type products, the power used for air conditioning accounts for a relatively high proportion of the division's overall power consumption. The division has worked to reduce the energy used by installing solar power generation equipment and promoting improved operation of air conditioners, upgrading and refurbishing them to power-saving models, and installing LED lighting and human-sensor lighting switches. Moreover, the division has carried out emergency electricity-saving measures in response to the tight power supply-and-demand situation after the Great East Japan Earthquake as requested by the Japanese government, along with electricity-saving measures for the summer season. The division implemented electricity-saving efforts by using an electricity monitoring system and by reviewing floor layouts, resulting in sustained energy conservation activities. In recent years, the optimal amount of watering for the roof and air-conditioning outdoor unit is being automated by taking advantage of sensors, and further reductions of the air-conditioning load are being promoted. As a result, the effect on the volume of CO2 emissions is projected to be a reduction of 12.8 kl per year.
CHRISTIE DIGITAL SYSTEMS USA, INC. (CDSU)
Wireless Thermostat for Air Conditioning System
CHRISTIE USA has installed a new air conditioning system that can appropriately monitor the temperature and air conditioning levels for the entire head office building and warehouse to reduce energy consumption. The system uses a wireless thermostat that can track, monitor, and report on energy use in the air conditioning system 24 hours a day so that problems can be resolved immediately, even from a remote location, thereby increasing energy efficiency.
LED Lighting in the Employee Car Park and Other Areas
CHRISTIE USA has replaced the lights in the employee car park and wall lighting in company buildings with LEDs. This has improved the appearance of the company buildings and made the car park lighter and safer to use. The head office No. 1 Building car park has achieved a 64% reduction in electricity use following the change over to LEDs, and the No. 2 Building has achieved a reduction of 87%.
At the same time, LED lighting has also been used in a project to extend the offices of the Legal Division. In the working areas, the LED lighting has incorporated sensors to detect sunlight, enabling the same level of brightness as usual but with lower power consumption during fine weather.
CHRISTIE USA aims to achieve the energy saving targets of Phase Four of the Environmental Action Plan through these initiatives.
Replacing Lighting at Each Business Site with LEDs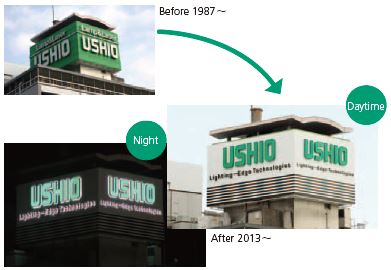 Upgrading USHIO's rooftop sign with LEDs

Himeji City in Hyogo Prefecture is USHIO'sbirthplace and the site of the Company's largest business site, the HarimaDivision. To mark our 50th anniversary, we changed this rooftop sign in front ofJR Himeji Station to an LED sign. We used waterproof LED modules from USHIOLighting, using 615 high-power, wide-angle modules for the USHIO logo section,and 2,022 narrow, thin-profile LED modules for the backlight. The new sign usesonly about one third of the electricity of the old fluorescent lights, and thelight sources will not need to be replaced for 10 years.
Yokohama Division

At the Yokohama Division, we have beenupgrading our fluorescent lighting with LEDs in stages. Currently, we arereplacing around 100 lamps every six months in planned stages, focusing mainlyon the floors for business operations such as the reception room and conferenceroom.
USHIOPHILIPPINES, INC. (UPI)

At UPI, around 10% of the company's totalelectricity usage was related to lighting, so we began changing theconventional 72 W fluorescent lights to 20 W LED lights as part of our energyconservation activities. We expect to achieve a significant energy saving with our plan to successively change all ofthe approximately 1,800 fluorescent lamps in our factory to LEDs.
USHIO ASIA PACIFIC PTE. LTD. (UAP)

At UAP we have also started changing ouroffice lighting to LEDs. Once we have completed changing the 80 fluorescent lampsin the entire office, we plan to change the fluorescent lamps in the warehouse.
USHIO Harima Division Introduces Gas-Powered Electricity Generator
The Harima Division has introduced a small gas-powered electricity generator that has a minimal impact on the environment and low noise levels. To further ensure that people in the surrounding area are not bothered by noise, the division has worked to achieve highly effective noise prevention in the facility, including construction of a 10-meter-high noise barrier. The generator can be used to provide emergency power for reducing demand on the grid during the summer peak, and to provide assistance during power cuts. This allows some equipment that cannot be easily shut down to continue ticking over, even during planned blackouts.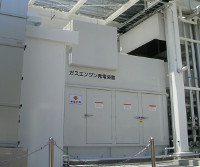 CHRISTIE DIGITAL SYSTEMS USA, INC. (CDSU) and USHIO AMERICA INC. (UAI) Introduce Solar Power Generation
CDSU and UAI have installed 2,190 solarpanels on their three office roofs, and expect to generate 832,981 kW in theirfirst fiscal year. A monitoring system has been installed to keep track of thepower generation status, and the monitored items can be viewed over the Internetas well as on a micro-tile video wall that has been newly installed in thelobbies of both CDSU and UAI. Displaying the monitor output in the lobbiesenables both visitors and employees to see at a glance the solar powergeneration status and CO2 reduction volume, helping to raise awareness about energyconservation.
Introduction of Solar Power Generation Equipment (Gotemba Division)
In January 2012, the Gotemba Division introduced a solar power generation system which has a generation capacity of 100kW, and is capable of generating around 100,000 kWh of electric power per year. The Gotemba Division has made extensive efforts to promote environmental activities in the past, and had already introduced an electric power monitoring system and other features to reduce its power consumption. The introduction of a solar power generation system will complement past measures to analyze, manage and reduce power consumption, creating greater synergy, and helping to conserve power on a daily basis. On sunny days, the system generates around 60kWh of electricity.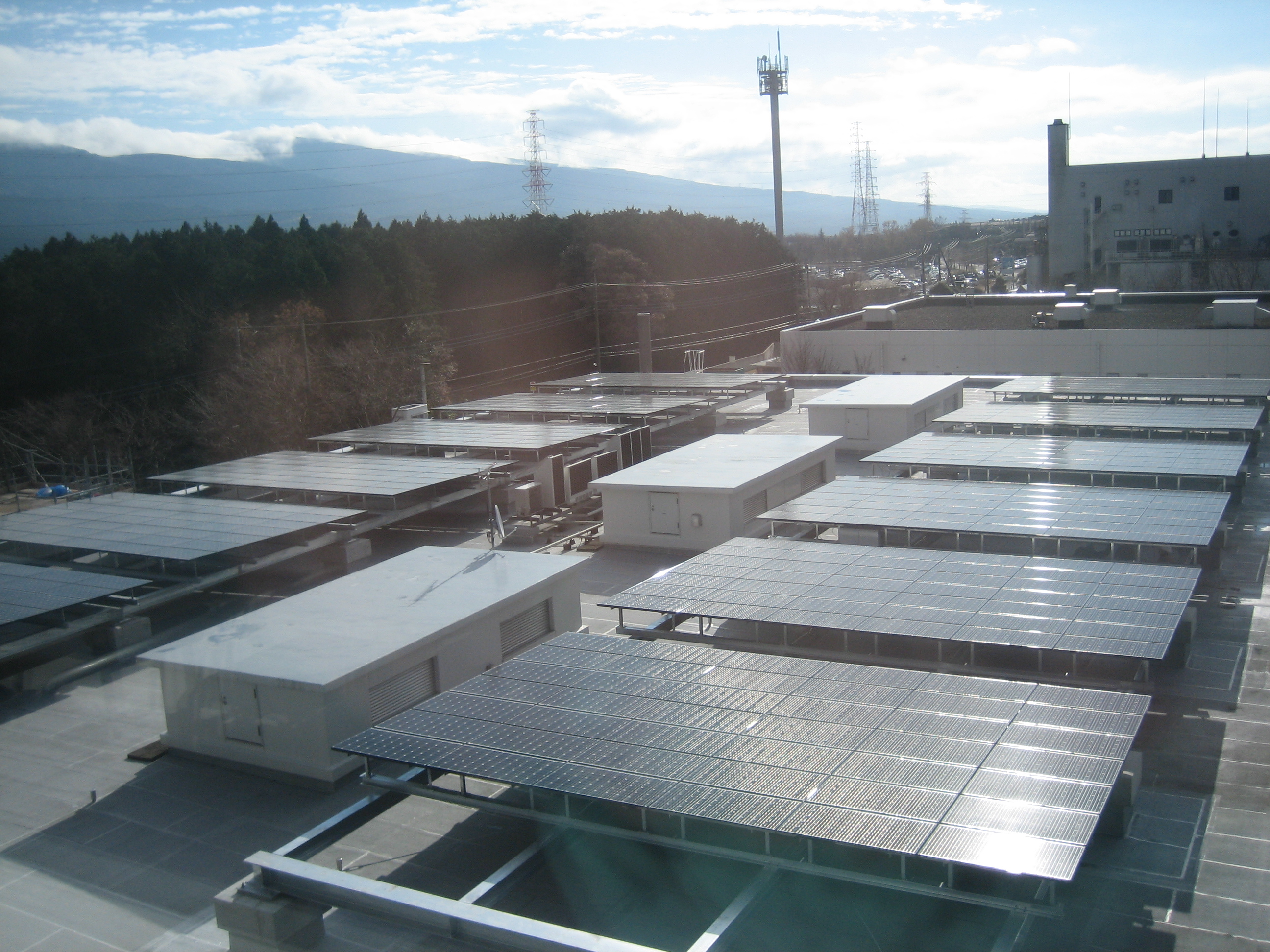 Changeover to Hybrid Vehicles (USHIO LIGHTING)
USHIO LIGHTING is taking steps to replace its company vehicle fleet with hybrid vehicles. The changeover is already under way at each business site, and with all 12 of the long-distance-running sales vehicles already hybrids, the company has reduced annual CO2 emissions by approximately 420,000 tons (total annual travel distance of 12 vehicles is 304,315 km, representing a CO2 emission volume of 700,000 tons for an ordinary gasoline vehicle and 280,000 tons for a hybrid vehicle).