Conserving Resources
Since the fiscal year ended March 2014, USHIO has promoted activities focused on each business site. These included having the 3R Committee determine Group issues, completing the case example development stage, and proceeding to set targets at each business site. Moreover, under Phase Four of the Environmental Action Plan that started in the fiscal year ended March 2014, we have set a target of achieving a 3% reduction in resource use per unit of net sales compared with the fiscal year ended March 2013.
Targets and Results for Fiscal 2016 under Phase Four of the Environmental Action Plan (Fiscal 2014 to Fiscal 2016)
Fiscal 2016 Target

Reduce waste by 3% from the fiscal 2013 level on a sales unit basis

Initiatives

1. Incorporate activities into the overall plans of each business site and push ahead with a structure where each business site's promotional organization promotes and manages the progress of those activities

2. Promote activity monitoring, numerical analysis and information sharing by the CSR Department

Fiscal 2016 Results

Reduce waste by 19.7% from fiscal 2013 levels on a sales unit basis
Review of Targets and Results of Phase Four of the Environmental Action Plan
Resource conservation

Reduce waste by 3% from the fiscal 2013 level on a sales unit basis ⇒ Achieved a 19.7% reduction
Issues and considerations

Need to increase the effective resource usage ratio, which has been on a downtrend
Initiatives for Reduce Waste
As a result of waste-reduction initiatives, USHIO made progress on achieving zero emissions at multiple sites, with advances in the sharing of waste-processing information at each site. Meanwhile, waste ultimately increased compared with the fiscal 2011 level, as the Company has had less freedom to procure certain materials due to the impact of the Great East Japan Earthquake. Going forward, USHIO will continue working to reduce waste by, for example, stepping up the expansion of activities in the Group.
Initiatives at the Harima Division
In fiscal 2016, annual total waste emissions were 283 tons, compared with our target of reducing waste to 340 tons. Waste emissions also improved on a production unit basis, finishing 18.4% below our target for fiscal 2016. (The target was set at a 3% reduction in waste emissions over three years based on the fiscal 2013 level.)
In fiscal 2016, the Harima Division took initiatives such as reducing the use of isopropyl alcohol, changing packaging materials, and reusing cardboard. In fiscal 2017, the Harima Division will work to reduce the use of chemicals such as cleaning chemicals (ammonium fluoride), take measures to reduce the defect rate in product production processes, and reduce the use of wooden pallets, in addition to continuing to implement measures from the previous fiscal year. By doing so, the Harima Division will work to effectively utilize finite resources.
Initiatives at the Gotemba Division
As with the Harima Division, the Gotemba Division has set a target of reducing waste by 3% over three years based on the fiscal 2013 level. In fiscal 2016, the Gotemba Division reduced waste by 12.3 kg on a production unit basis, compared with a target of 18.9 kg. This represented a waste reduction of approximately 35%.
The main factor behind the reduction was that lamp production undertaken at the Gotemba Division until December 2014 was transferred to the Harima Division, resulting in a substantial decline in glass and liquid wastes that were present before. In fiscal 2017, the Gotemba Division has been repositioning waste storage sites from July 2016 in order to grasp the amount of waste from each building. It is closely assessing additional measures to further reduce waste. The waste recycling ratio was 99.99% (as of fiscal 2016). Going forward, the Gotemba Division will continue working to maintain this waste recycling ratio.
Collection of Lamps for Recycle
A recycling program was started in 2007 for super high-pressure UV lamps for semiconductor and LCD exposure operations. We have since also launched a recycling initiative for xenon lamps for cinema projection equipment. Xenon lamps contain tungsten, one of the rare metals. Lamps collected by the program are turned into products or returned to society through 3R activities.

Recycling Program
In August of fiscal 2008, Christie Digital Systems USA reviewed its recycle programs to date to improve their functionality. The company further clarified procedures for achieving targets and created two types of new documents (container recycling guidelines and solid waste processing procedures). The initiative was called EMP (Environmental Management Program) Number 02.The company is currently involved in EMP No. 4, checking on progress made on targets since that time and revising programs accordingly. As a result of its efforts, Christie Digital Systems has succeeded in greatly reducing waste volume.
Initiatives for Reduce Water Use
This theme has been newly added to Phase Three of the Environmental Action Plan. We analyzed water usage by the USHIO Group as a whole for fiscal 2009, and came up with measures to suit the level of need. At USHIO PHILIPPINES, where water use was found to be particularly high, we switched to a recycling system for reusing water from April 2011. This resulted in a 35% improvement for the Group as a whole. USHIO PHILIPPINES has continued to increase the ratio of recycled water it uses, moving forward on creation of a system that reduces the volume of water used on a production per unit basis. The total amount used in the year ending March 2016 is forecast to decrease significantly compared with the previous fiscal year.
Since 2006, the USHIO Group has collected data through the Environment Information Management System (ECO-SYS), enabling efficient environmental data collection at each Group company. Periodical analyses of the volume of water used throughout the entire Group have been conducted. In addition, each month, every base makes a progress report on numerical targets, enabling progress checks. This enables confirmation in the event of an irregularity being detected at any base and disseminating information or examples of successful measures throughout all Group bases and helps with improvements across the Group.
An example of an irregularity being discovered came from a base in China, where a monthly report showed a sudden increase in the amount of water being used. This analysis was confirmed and an on-site confirmation discovered a leak in the piping, which resulted in corrective measures being implemented.
In regard to sharing improvement measures, as shown in the diagram below, the person in charge of inputting information for each Group and each company takes into consideration ease of visibility of information when launching the ECO-SYS operation display as part of efforts to spread awareness throughout the entire Group.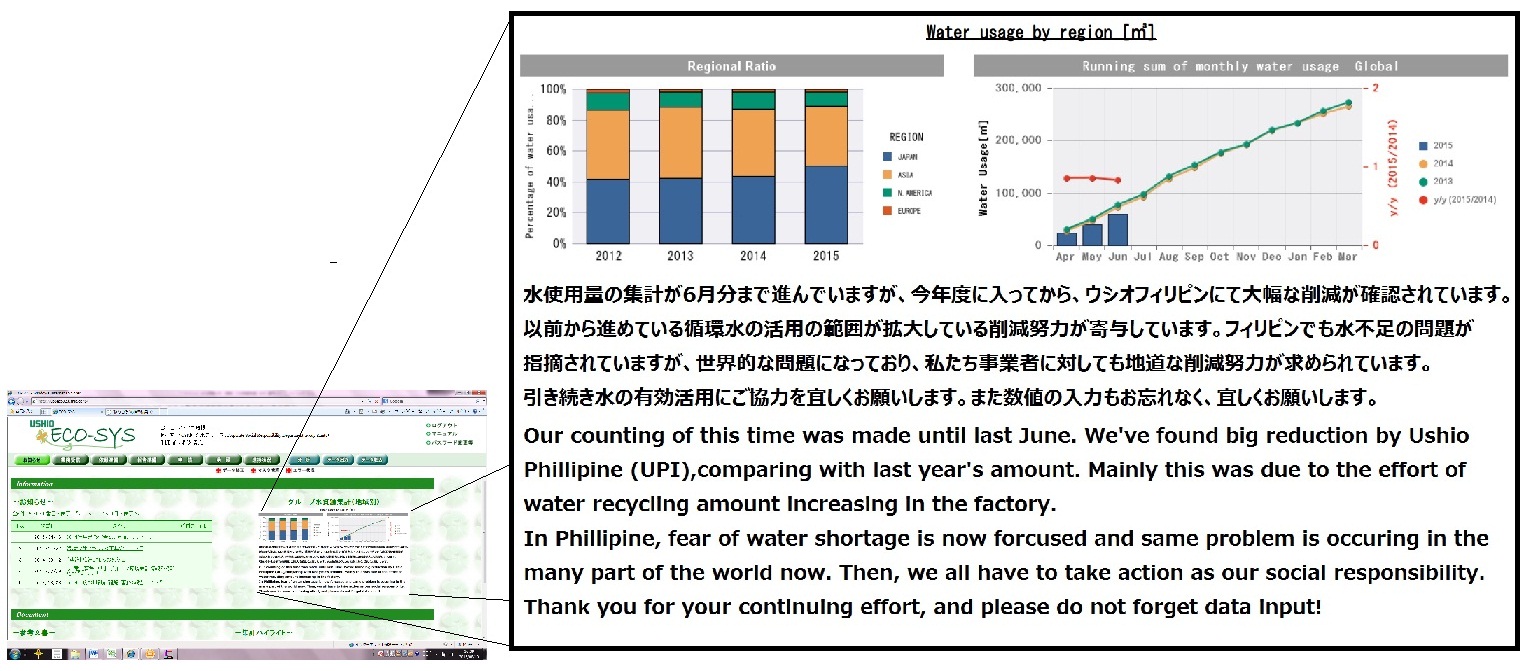 【 Ushio Philippine Inc. - Reduction of water resources use, Water recycle rate improvement by circulating water using 】
We produce several electric-discharge lamps, as our core products. These lamps are mainly produced in Harima division of Ushio Inc., but recently, these productions are increased also in Ushio Philippine Inc. Presently, Philippine is recognized as water-deficient region, and Ushio Philippine also recognize the importance of efficient use for water resources. We are expanding circulating water using mainly for lamp production usage. In addition, aiming to targeted further reduction until 2017, we are now trying water pressure control. Also after this, Ushio Philippine will develop several businesses and considering several social agenda.


*1: Inside this factory, water use is closely related to production amount. We are showing application rate of circulating water inside this factory. We started use circulating water from 2011, and these figures were made based on 2010's contrast between production amount (based on monetary amount) and water use amount.
*2: In 2015, we changed basis of calculation for production amount, and almost same figure comparing with 2014 was found. But actual production amount (not based on monetary) was increased comparing with 2014's. Then, we assume actual application rate of circulating water use was increased.
Reducing Harmful Chemical Substances
In fiscal 2011, our efforts to reduce harmful chemical substances included gathering information about their status at each business site and selection of the chemical substances to be reduced. As a result, we decided to reduce our use of volatile organic chemicals (VOCs) in line with the recommendation of four electrical machinery and electronics associations in Japan. Since fiscal 2012, we have been reducing the consumption of VOCs by means of reviewing our production facilities.
Initiatives at the Harima Division
At the Harima Division, USHIO has been reducing the amount of chloroform used in the lamp manufacturing process because of concerns that the chloroform produced is an air pollutant. We plan to methodically reduce by half the amount of chloroform used, which has been roughly approximately 10 t annually, by fiscal 2017. More specifically, USHIO had deployed sealed automated equipment, and has methodically applied measures to reduce the size of openings when equipment is used on each of its production lines. Chloroform usage has been trending as shown below. In addition to helping conserve the environment, the installation of the new equipment has also proved to be an effective method in terms of safety by eliminating any contact of chloroform with workers' skin by avoiding the risk of an exposure aperture.
In September 2016, USHIO installed its second unit, following the installation of the first one in 2015. The amount that chloroform usage is reduced depends on the volume of lamps that we produce. Like the first unit, USHIO expects the second unit to reduce chloroform usage further by reliably lowering the evaporation amount through sealing the unit, automation, and shrinking the size of apertures.
Amounts of Chloroform Usage
| Fiscal 2013 | Fiscal 2014 | Fiscal 2015 | Fiscal 2016 |
| --- | --- | --- | --- |
| 8.15 t | 8.70 t | 7.00 t | 6.80 t |
In addition, USHIO makes a concerted effort to act appropriately, including by using alternatives to other chemical substances.
Initiatives at the Gotemba Division
In response to concerns about soil pollution that could be caused by the leakage of chemical substances from pipes, the Gotemba Division has been adopting double-pipe structures and making pipes visible.
Looking at pollution prevention initiatives in fiscal 2016, the Gotemba Division improved how it handles the alkali waste liquid shipped to waste-treatment contractors. Previously, alkali waste liquid was manually transferred from a tank to transport containers. This process was improved by depositing the waste liquid directly in transport containers. As a result, the Gotemba Division helped reduce the risk of soil pollution caused by alkali waste liquid.
Moreover, since February 2015, the Gotemba Division has started an application system for use of new chemical substances at its business sites. Before new chemical substances enter use, they are assessed using Safety Data Sheets (SDS) to determine, among other issues, whether they will have an environmental impact or present any safety management problems during use, storage or disposal. If no problems are identified, the Gotemba Division grants permission to use the substances.