Message from the President
USHIO Aims for Sustainable Development in Harmony with Society, with the Intention of Solving Social Issues through the Provision of Solutions that Use Light.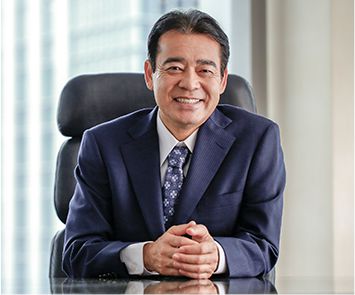 Working to Solve Social Issues with Light Technology
Since its founding in 1964, USHIO has based its business aims on creating new markets that use light, and has continued to offer products and technologies to cutting-edge industries that support the development of society. Today, USHIO is pursuing new possibilities with light in the three business fields of electronics, visual imaging and life sciences.
USHIO believes in contributing to society while growing its businesses. Contributing to society through superior products and innovative research and development is a part of our management philosophy. This principle embodies our intentions toward society and forms the basis of our CSR activities.
USHIO aims to help realize a sustainable society by working to solve various social issues through the provision of products and services that use light technology. We believe this is our mission at USHIO.
CSR Activities Form the Basis of Management for Supporting Business Growth
Without a stable business foundation and growth, it would be near impossible to consistently provide value through the development of superior products. The USHIO Group aims to transform into a highly profitable company, and is pursuing new growth opportunities while maintaining and improving earnings capabilities in existing businesses.
The USHIO Group's CSR activities are the basis of management and the foundation for business growth in line with the objectives of the medium-term management plan. Starting in fiscal 2016, USHIO formulated the CSR Action Plan based on the five pillars of governance, people, quality, society, and the environment, and clearly positioned this plan as the basis of management for supporting business growth.
Based on a fusion of its business strategies and CSR objectives, USHIO aims to develop further as a company while advancing social responsibility at the same time.
A History of Business Growth Consistent with Changes in Society
Looking back at USHIO's CSR activities, it is evident that they are rooted in the spirit of manufacturing. Our activities aimed at providing superior products have led to improvements in quality that fulfill our responsibilities to our customers as a manufacturer. At the same time, we have aggressively pursued environmental initiatives with the aim of reducing our burden on nature.
Moreover, USHIO has expanded the scope of its initiatives to encompass governance, society and people in order to grow as a company, meet the expectations of stakeholders, and fulfill its increasing social responsibilities by strengthening corporate governance through better transparency regarding the Board of Directors and greater dialogue with shareholders, by encouraging Group companies to give back to their local communities, and by maintaining a positive work environment and offering training to employees.
As a Group, we are advancing the globalization of management, promoting diversity through personnel exchanges among employees of different backgrounds, formulating green procurement standards to minimize our environmental impact based on the laws and regulations of each country, and strengthening CSR procurement based on fair and proper transactions on international markets.
To remain a truly global company, USHIO partially amended its 10 Action Guidelines in December 2015 to reflect support for the Universal Declaration of Human Rights and the Guiding Principles on Business and Human Rights, based on the understanding that all people must respect each other's rights and to align awareness of human rights with international norms. In addition to setting guidelines for respecting the rights of employees, suppliers and all other stakeholders, we aim to foster a corporate culture that respects diversity and its role in promoting innovation.
USHIO has engaged in CSR activities in tandem with its growth as a Group and changes in society. We believe it is important to continue advancing CSR activities as a fundamental tenet of management and business and as a primary driver of our growth as a company.
Deeper and Broader: Stepping Up Group Activities Based on the New Medium-Term CSR Plan
USHIO launched a new medium-term CSR plan in fiscal 2017. To take CSR one step further at USHIO, the Company aims to "dig deeper" by redoubling efforts to address key matters that have been screened again as priorities from among initiatives to strengthen the management foundation, including the seven topics it introduced in 2015 (management transparency, communication with stakeholders, human rights and diversity, human resource development, supply chain and CSR procurement, customer satisfaction, and improving the ISO management system). In addition, the Company is "broadening" its scope of CSR activities while sharing more information among USHIO Group companies scattered around the world.
In going "deeper," USHIO has re-examined the importance and priorities of its initiatives by interviewing members of committees who are involved in CSR procurement and efforts to combat global warming, gathered internal information via surveys of Group companies, and discussed issues with stakeholders outside the Company. Through this process, USHIO has selected five key issues to address: green products, human resource management, supply chain management, prevention of corruption, and corporate governance.
While following through on ongoing initiatives, USHIO will dig "deeper" into the aforementioned initiatives. The Company will constantly reinforce these initiatives through the PDCA cycle, setting key performance indicators (KPIs) for each initiative, drawing up and implementing plans, and then disclosing the outcomes.
Meanwhile, "broadening" the scope of our CSR activities is a bottom-up trial for the entire Group. USHIO engages in Renpo Keiei Management (roughly translated as Mountain Peak Management) where everyone learns from each other, instead of trying to normalize all aspects of operations at Group companies. Our CSR activities take a similar approach.
With the assumption that Group companies will respect diversity in their initiatives, we aim to create a common framework for approaching CSR activities, including the sharing of more information among Group companies while conducting surveys, taking a more methodical approach to our initiatives, and promoting the PDCA cycle. By spreading awareness of the CSR Action Plan across the Group, USHIO shares its vision of CSR activities.
Broad Range of Initiatives Aiming for Sustainable Development
As a specific initiative for CSR activities and as a part of our efforts to strengthen corporate governance, we have transitioned to a company with audit and supervisory committee structure from fiscal 2017. We did this in order to accelerate decision-making by reinforcing the oversight functions of the Board of Directors and delegating decisions on certain important business matters to directors and executive officers in charge of business execution. A majority of the members on the Board of Directors are now independent outside directors.
One of the most important issues we have focused our efforts on is human resource development. With the aim of being a group of people with strong aspirations that make dreams a reality, we have put in place the "Young Executives Scheme" to equip young employees with the global awareness of CEOs.
In fiscal 2017, USHIO made major changes to its personnel system. The Company changed its seniority-based pay system into a system that seeks to maximize the capabilities and ambitions of each and every employee within a framework that recognizes high-performing employees.
Moreover, USHIO promotes diversity through equal opportunities for human resource development and activity regardless of gender or ethnicity. The Company also encourages the hiring of people with disabilities, offers an updated re-employment system, and focuses on promoting women in the workplace. While emphasizing measures based on promoting the individuality, independence and autonomy of each Group company, USHIO proactively promotes locally hired employees into management and upper management (i.e., executive officer) positions.
USHIO made an effort to improve work styles accompanying our head office relocation in March 2016. As a result, we are increasing the efficiency of business operations, and are moving quickly to create a framework for further growth.
In our business activities, we aim to contribute to society through the development of products that help raise the quality of life for people, such as blood analyzers and skin therapy devices that are getting regulatory approval in Asian countries. We also do this by providing industrial solid-state light sources (LEDs, LDs, etc.) that conserve energy and reduce waste, and by providing light solutions that advance next-generation plant growing businesses.
Helping Solve Social Issues through Business Activities
In September 2015, the United Nations adopted the Sustainable Development Goals (SDGs) while calling for companies to take action and help solve these priority issues affecting the world.
USHIO has declared its stance on corporate social responsibility, signing in October 2010 the UN Global Compact in agreement with its 10 Principles. Looking ahead, USHIO will continue contributing to the resolution of social issues through its business activities.
As a light innovation company, USHIO aims to achieve sustainable development in harmony with society. We ask for your understanding and cooperation as we continue to engage in business activities.
October 2016
Kenji Hamashima
President and Chief Executive Officer