Relationship with Society
As a member of various regional communities, the USHIO Group will contribute to the development of the respective regions where it conducts business, in Japan and overseas. I n addition to the initiatives reported here, the Group is engaged in various activities to contribute to the sustained growth of society, including in the fields of education, culture, disaster support, and exchanges with local society.
Promoting Participation in Volunteer Activities
USHIO has a leave-taking system for doing volunteer activities. In addition, the Company cooperates with various events held within local communities in areas around business sites, takes part in markets aimed at aiding recovery from the Great Eastern Japan E arthquake in Tohoku, and holds science events. T he Company promotes participation in events it holds to support contributing to society. USHIO is also proactively engaging in such activities as the participation in volunteer activities by employees within the Group.
USHIO INC.
USHIO DAY 2016 at Earth Cinemas Himeji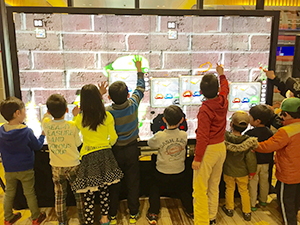 With support from the people of Himeji, the city in which we were born, USHIO INC. is celebrating its 50th business anniversary. To show our appreciation, we held our very first USHIO DAY 2016 at Earth Cinemas Himeji on March 26, 2016. To give thanks to the local community for supporting our business activities, we provided special discounts to customers making online reservations at this cinema complex and invited children and their guardians to watch a complimentary movie. Our paying and complimentary guests watched a movie on SCREEN9, equipped with the latest USHIO Premium Theater System*, which we had delivered and installed.
Many guests, especially the children, also enjoyed our event booth featuring a workshop for handcrafting an original eco bag or a traffic-safety key holder shaped like a projection lamp. The booth also showcased interactive content on the MicroTiles display wall system manufactured by Group company, Christie Digital Systems. We heard later that this was the first time for some of the children to watch a movie in a theater. We received many letters afterwards thanking us for a moving experience and voicing the desire to go see another movie once again.
Apart from the more than 1,000 guests, USHIO employees from Himeji as well as Tokyo were there to participate in the event. The employees felt that the event provided an important social opportunity to be connected with the community and see firsthand how their work contributed to bringing smiles and enjoyment to movie goers. As always, we look forward to conveying the wonders of the movie theater through close contact with local communities, and working together with people who love the movies to advance our business activities.
* USHIO Premium Theater System: A high-end theater installed with the USHIO Group's cutting-edge projection and sound systems that also increases seating capacity by eliminating the projection room.
Holding Workshops at Tsukuba Science Edge 2016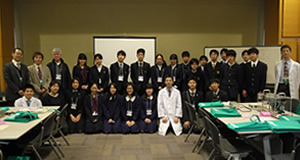 On March 26, 2016, USHIO exhibited at Tsukuba Science Edge, an annual event held for junior high school and high school students studying sciences. This was the third year that we participated.
This year, our New Technology Development Department ran a workshop on "welding with light." The event this time had a fair number of female student participants, and many students proactively participated in a quiz-format Q&A session.
We surveyed the students (the second time so far) who participated, and more students than on the previous occasion said that the workshop increased their interest in or understanding of science. We believe it provided a valuable learning experience that opened students' eyes to the potential of light.
In the future, we will continue to talk about the fascinating aspects of light, the core of USHIO's business, while stimulating the intellectual curiosity and spirit of inquiry of as many students as possible.
Organizing a Local Market to Support the Tohoku Region
In March 2016, USHIO's Head Office, along with the Tokyo Sales Office and other companies in the same building in Chiyoda-ku, Tokyo, jointly sponsored a local food market to support the Great East Japan Earthquake victims in Tohoku.
This market is an activity aimed at revitalizing the shops and regional industries that bear responsibility for the economic restoration of the three prefectures of Iwate, Miyagi and Fukushima since the year after the disaster. This market was held for the fifth time and approximately 900 people came this year, making it a great success. Stores from each of these prefectures opened stalls in the market and kindly expressed comments to the organizers including their appreciation of the continued holding of the market and their desire for it to be held in the future as the restoration is yet to be completed.
Although this market is only a small-scale activity, USHIO would like it to continue and thereby contribute to the regional restoration.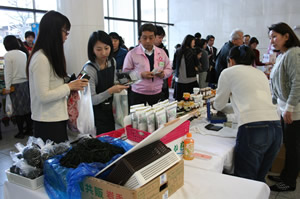 Receiving Students for Factory Tours
The Gotemba Division had previously been asked by a neighboring high school to allow a factory tour as part of the students' curriculum, enabling them to see what their local USHIO factory is making and how. This resulted in the Company conducting factory tours for students. On February 5, 2015, 40 first-year students from the Information Systems class at Shizuoka Prefectural Gotemba High School visited the Gotemba Division. On their tour, the visitors saw a factory where large-scale equipment is manufactured and learned about the manufacture of ultra-high-voltage mercury lamps, which are a type of discharge lamp, among other things.
Summer Holiday Children's Open Day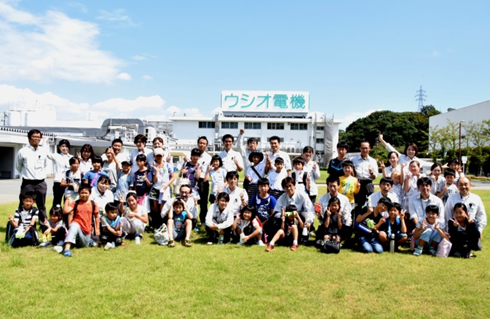 On August 26, 2016, USHIO held its Summer Holiday Children's Open Day at Harima Division, and 31 elementary school-level children of employees participated. The Summer Holiday Children's Open Day is held to deepen the bonds between family members, and to provide them all with good memories of their summer vacation.
The participants enjoyed a lot of activities, including an introduction to the company that enabled them to get to know USHIO and a workplace tour that enabled them to see people at work, the making of 3D glasses from which a photograph pops out and of an illumination using optical fiber, both of which could also be used for their free-research summer vacation school homework, and participating in video conferencing with Group companies. USHIO considers that the day was a good opportunity for children to deepen their understanding about their parents' work activities.
Holding a Family Day in Tokyo
On August 7, 2016, USHIO held a Family Day at the Company's Head Office in Tokyo. Employees' children were invited to the workplaces, and visited the office of the president, listened to an explanation about the Company, went on a workplace tour, and made decorative accessories based on the theme of "creating with light." It was an opportunity to deepen communication between employees and their families as their children got to know where their parents work and what they do.
Participation as Volunteers and Runners in the World Heritage Himeji Castle Marathon 2016
On February 28, 2016, USHIO employees once again participated as runners and volunteers in the World Heritage Himeji Castle Marathon 2016, which is held in Himeji. A total of 10 employees participated as volunteers, helping to keep spectators from entering the course and preventing people from throwing objects.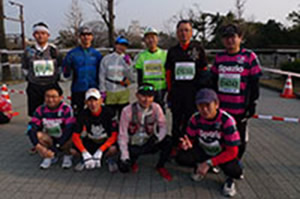 USHIO LIGHTING (ULI)
Supporting the "Pink Ribbon Illumination" through Dynamic Lighting at the JR Himeji Station Building
The Pink Ribbon Movement* has gained recognition around the world as an educational campaign. As a part of this movement, the Pink Ribbon Illumination event was held in Himeji on Oct. 1 to 3 in 2016. USHIO LIGHTING, INC. (ULI) supported part of this event as lighting provider. ULI graphically illuminated the JR "piole HIMEJI" Building at Himeji Station on Oct. 3.
Piole HIMEJI's wall has approximately 1,560 full-color LED light bars and 45 LED floodlights. Normally, the wall is filled with multi-colored illuminations of dancing white-necked herons (symbols of Himeji) or rippling water, which lights up the street brilliantly. The event held on Oct. 3 was a special program depicting pink ribbons. This pink illumination serves to raise everyone's awareness of breast cancer and aims to increase the rate of breast cancer screening.
* This movement aims to spread correct information about breast cancer and encourage women to have breast cancer screening at an early stage. The ribbon movement differs by country in terms of what each color theme means, but the pink ribbon has become universally known to represent breast cancer awareness.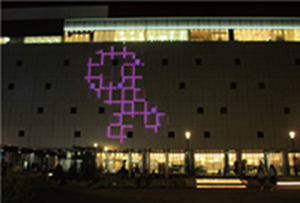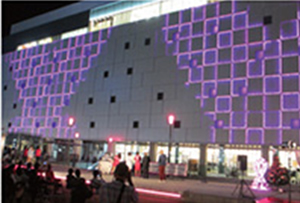 CHRISTIE DIGITAL SYSTEMS CANADA INC. (CDSC)
Employee Engagement with Charitable Partners
Christie Canada has been an active member of the community and charitable organizations for numerous decades. It has held true the belief that a strong community is made up of engaged employees and dedicated support for community projects. At the core of Christie's corporate citizenship is the belief in individuals, the power of communities and the cultivation of a greener future for all. Through various causes and charities, Christie helps foster innovation in arts, culture, design, business and education. Christie Canada plays an active part in the success of the community, often tasked to re-engineer and drive progress forward, making an indelible mark on an ever-changing community.
Christie's leadership in support of charitable organizations, local arts & culture is essential to enrich our communities and attract talent no matter where we conduct our business. We have found that the most powerful and engaging way to create meaning and culture, or a highly-valued community, is to support local creative projects and provide opportunities for the global creative community to convene and connect.
Christie Canada is proud to actively support and encourage employee participation to improve our community through support to charitable organizations and foundations through volunteering and donation focused programs.
Humanitarian Leadership Program
In 2010 Christie Canada introduced a program we call our Humanitarian Leadership Program where we provide up to 5 employees per year with one month paid leave of absence to support the work of a not-for-profit organizations of their choice involved in caring for those in need in communities around the world. Christie also provides a travel allowance to assist with the costs associated in travelling to the various work locations. Christie received at remendous response from employees to join this program. Volunteers are requested to provide awareness training (Lunch and Learn) to share their experience with employees. We also encouraged volunteers to document their experience in a Blog which is provided in the link below.
Christie has supported employees to do work for international groups such as GIVE INTERNATIONAL, WorldVision and the Red Cross. Thirteen (13) Christie volunteers have taken part in the program to date and their experiences are captured in the following webpages: http://www.volunteerleadershipprogram.ca/.
Applications for the next Humanitarian Leadership Program will be accepted in the Spring of 2016.
Participation in the United Way Campaign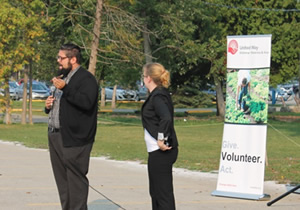 Approximately 300 employees at Christie Canada, a business site of CHRISTIE DIGITAL SYSTEMS, participated in a kick-off event for the United Way campaign. The theme of this year's campaign was "healthy people, strong communities." Aiming to support a variety of programs and services in local communities, United Way provides assistance to local residents for improving their physical and mental health to support healthy family lifestyles.
Christie Canada helped to promote the annual United Way campaign through the kick-off event and by offering employees the opportunity to participate via a payroll deduction system. The campaign raised a total of 47,062 Canadian dollars (about ¥4.33 million) in donations.
Day of Caring - Christie Medical
In early June 2015, the Christie® Medical Holdings team in Kitchener participated in the United Way's "Day of Caring". The team volunteered to do yard work at the Kitchener-Waterloo Alzheimer's Society'shead quarters and spent the morning together landscaping, planting gardens, pruning, mulching and weeding.
The United Way, an umbrella organization of dozens of charities, organizes "Day of Caring" to connect groups of volunteers from local businesses with member charities that need hands-on help with projects. The "Day of Caring" is a win for volunteers and charities alike. The teams of volunteers can get work done injust hours that might take a charitable organization days to complete (or that might not get done at all!). The volunteer group members get to know each other in a new light – away from the office – and leave with the satisfaction of having done something good for the community.

Supporting an Electric Car Race at a Local High School and Bluebell College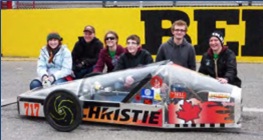 Although not a charity, Christie has for the past 8 years supported a local high school with funds and manufacturing technology to help teach young students to design, make and race electric vehicles in acompetition. Students learn electric vehicle technology, have an opportunity to manage a large difficult project and learn how to work together effectively for a common goal. Students have fun, compete against other schools and in many cases win races. Their wonderful story is available via this link
http://bcielectriccarclub.weebly.com/
In May 2014, the students of a local highschool and students from Bluebell College formed the Bluebell CHRISTIE Team toenter a race at the National Electric Cart Association with an electric carthey designed and assembled themselves. CHRISTIE DIGITAL SYSTEMS supported theteam not only with funding, but also design and provision of production technology.
Second Round of the School Supply Backpack
Campaign The summer in 2013 the employeesof CDSC cooperated with the Global Interior Foundation to give back packsfilled with school supplies to children living in the town of Stanton (the neighboringtown to Cypress, where CHRISTIE USA is headquartered). This time they were ableto buy 45 back packs.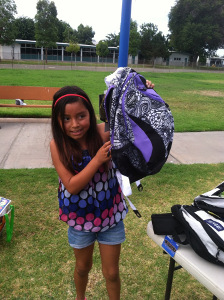 The Gift of Life—Blood Donation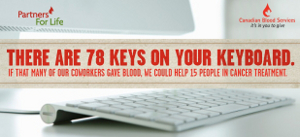 A message from the Canada Blood Service: "There are 78 keys on your keyboard. If that many of your coworkers gave blood, we could help 15 people in cancer treatment."
Canadian Blood Services is a Not-for-Profit organization structured to help volunteers donate life giving blood to hospitals which in return helps the community. Throughout the year Christie organizes Blood Donor Clinics either at our facility or we provide transportation to and from the nearest blood donor clinic. Information on this organization can be found at: https://www.blood.ca/
CHRISTIE DIGITAL SYSTEMS CANADA INC. has been running a campaign to promote blood donation among employees since February 2012. The company held seminars and lectures about donating blood for all employees at the Canada Division, and 71 had donated blood by December 31, 2012. In 2013 the company participated in the Waterloo Region High-Tech Companies Blood Donation Race, organized by local companies, and as of July 2013, has set a target of 75 blood donors for the year.
Waterloo Region Food Bank's Annual Food Drive
Each year Christie Canada organizes a food drive tocollect food for our local food bank. Food donated by Christie employees goesdirectly to help families in need. The Waterloo Food Bank is a charitableorganization and very active in our local community: http://www.thefoodbank.ca/en/index.asp
Lecture on Environmental Concepts
Every year since 2009, USHIO has given lectures on environmental concepts at Wilfrid Laurier University in Waterloo, Ontario. The university is well known for its outstanding business and economics programs, and has taken a leading role in promoting educational quality by integrating sustainability practices in its education programs. These programs include units on ISO14001, sustainable development and environmental accounting. When students of the lecture voiced a request to see how environmental concepts were put in practice in a real-world context, USHIO responded by organizing a factory tour. In 2011, the Company invited students in MBA and BBA courses at Wilfrid Laurier University to attend an orientation lecture and tour of the company's facilities. In addition, similar presentations were given to local business leaders at Communitech Hub.
Leadership Waterloo Region
Christie supports this Leadership Waterloo Region by sending two applicants a year to this program and/or through tuition scholarships to non-profit participants who cannot afford the tuition amount.
Christie UK – Prostate Cancer Charity Barbecue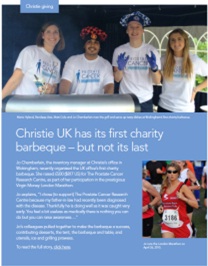 The CDS-UK office held a charity barbecue at its workplace on August 15, 2014 to raise funds for the supporting people entering the London Marathon (a charity marathon). With support from many employees, including a charity group, the event managed to raise one quarter of the target amount. CDS-UK plans to continue these kinds of activities in future.
The inventory manager at Christie's office in Wokingham, recently organized the UK office's first charity barbeque. She raised £500 ($817 US) for The Prostate Cancer Research Centre, as part of her participation in the prestigious Virgin Money London Marathon. She explains, "I chose [to support] The Prostate Cancer Research Centre because my father-in-law had recently been diagnosed with the disease. Thankfully she is doing well as it was caught very early. You feel a bit useless as medically there is nothing you can do but you can raise awareness…." Her colleagues pulled together to make the barbeque asuccess, contributing desserts, the tent, the barbeque and table, and utensils, ice and grilling prowess.
Movember Foundation
Although not an official Christie sponsored foundation, 20-30 Christie employees have for the past 6 years organized fund raising events during the month of November to support the good work done by this organization. Charitable donations provided to the Movember Foundation are used to fund over 1,000 programs focusing on prostate cancer, testicular cancer, poor mental health and physical inactivity. Movember Foundation is a global charity and in 2014, Christie employees held numerous fund raising and fun events, collecting $10,323 in donations. Information about this foundation can be found at: https://us.movember.com/about/foundation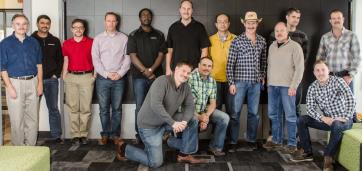 CHRISTIE Community Garden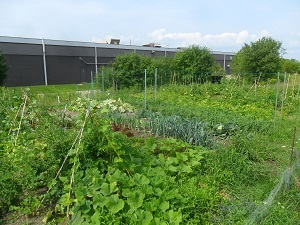 At a community garden started by CHRISTIE Canada's Facility Department in April 2013, staff cooperate with one another under a "Health, Wellness, Green Initiative Participation Drive" to plant various vegetable and flower seeds in unused spaces. The program continues to expand, with a dedicated wiki website for participants, featuring photographs of vegetable and flower growth and a guide to harvesting, as well as recipes using the harvested vegetables.
CHRISTIE DIGITAL SYSTEMS USA, INC. (CDSU)
Employee Engagement in the Community
Our employees work together with our corporate charitable initiatives to accomplish our great level of giving. The efforts of our employees giving combined with corporate donations results in a successful combination. Christie USA is proud to be associated with the following charitable organizations and events:
School Backpack Drive
Christie USA partners with Global Interior Foundation each fall in purchasing school backpacks that are filled with employee donated school supplies for the under privileged. Educationis critical to our children, without the benefit of education; the challenges of today's world are almost unsurmountable. Christie employees are asked to donate needed school supplies for the upcoming new school year. Christie USA funds the school backpacks based on the number of school supply donations. Since 2012, over 190 school backpacks have been filled and distributed to local communities where Christie employees reside or where Christie does business.
Holiday Food and Toy Drive
Christie USA employees partner with local charities to aid disadvantaged families in brightening their holiday season by donating non-perishable food and unwrapped toys. During a month-long food and toydrive at both facilities, employees are encouraged to donate various food items as well as new toys.
Disaster Aid and Response
Donations of projectors / technology after a major disaster or providing emergency relieff or those in need are made locally and globally (Haiti, Philippines, Louisianaand Japan). – Employees are encouraged to donate through payroll pledges that are then matched up to 50% by Christie USA. Since this program has been implemented, the combined contributions from Christie and their employees total$97,227.
Projectors Donated to American Red Cross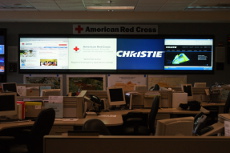 CHRISTIE DIGITAL SYSTEMS USA responded to a request for help from the American Red Cross to donate projectors by supplying four digital projectors to emergency centers operated by the U.S. government. The LWU420 3LCD projectors can show information in real time, helping emergency centers to minimize damage and help protect areas during a disaster or emergency situation. In the southern California emergency centers for Orange County, Riverside County and San Bernadino County, the projectors play a critical role in protecting people.
Helping to Pack Food for Children Facing Starvation
Christie USA has partnered with Stop Hunger Now for four years. Stop Hunger Now operates meal-packaging programs and provides these nutrient-rich meals to over 65 countries. Volunteers are educated about hunger and are inspired to help end it.Christie sponsors the cost of the event and is held during regular work hours. All employees are encouraged to volunteer for one hour and a half session to help package meals. Since 2012, Christie employees have packaged over 57,000 meals which feed more than 342,000 under nourished globally.
CDSU continued to support the humanitarian food aid organization, Stop Hunger Now through volunteer activities again this year, with around 80 employees managing to pack around 13,196 meals. These meals were sent to facilities and schools in Central Asia and Southeast Africa under the International School Feeding Program.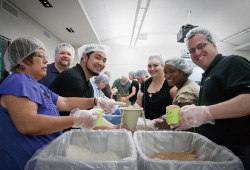 Donation to California Cypress High School FBLA Program
The Future Business Leaders of America (FBLA) program is a non-profit educational organization comprising 250,000 students preparing for future careers in business or in fields related to business. The organization runs a contest where students can pit their business knowledge and skills against one another. This year, we supported the students of Cypress High School as they participated in the national FBLA contest.
Employee Volunteerism and Giving
Christie encourages their employees to volunteer their time and money to causes that are important to them.
Donation of Electronic Parts Waste Materials
CHRISTIE DIGITAL SYSTEMS salesforce member Christie Arizona donated electronic parts waste materials to a local non-profit organization called AZStRUT (Arizona Strut), a student group in Arizona that has formed partnerships with local schools and companies.
The donated electronic parts waste materials are repaired or remodeled by AZStRUT and given to high schools and universities in Arizona, thereby enabling students learning about computers to have the opportunity to work with actual electronic parts. Equipment that cannot be remodeled is recycled.
We contribute to society by recycling monitors, PCs and video processors that had originally been designated for waste landfills.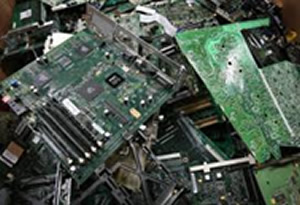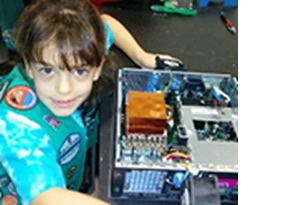 USHIO AMERICA INC. (UAI)
Donation of Toys to the "Spark of Love Toy Drive"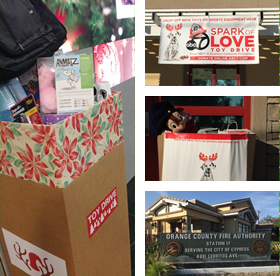 Toys that Were Donated by UAI
In the US, the holiday season starts around Thanksgiving in November and runs through Christmas in December, with a variety of events held around town as people go shopping for food and gifts. However, some families do not have enough money to pay for holiday dinners and Christmas presents for their children, so this period is also a time for charity work. Toy drives collect unwrapped toys, sporting goods and other presents, and are then delivered to local children (who want them) for Christmas.
UAI and the Irvine Plant called upon its employees to give donations for Christmas presents. The boxes full of gifts were handed over to the "Spark of Love Toy Drive," a program that has been run for more than 20 years by the local TV station and fire department.
UAI plans to participate in toy drives every year as a part of its CSR activities.
USHIO HONG KONG LTD. (UHK)
Tree-Planting Activities on Lantau Island, Hong Kong
UHK members participated in a volunteer tree-planting activity on Lantau Island, the site of Hong Kong International Airport. Around 40% or 440 km2 of Hong Kong is designated as a national naturepark, and nature in the park is managed strictly by the government. However, frequent forest fires have prompted private organizations to conduct tree-planting activities with special permission from the government. UHK members helped with the planting of around 50 saplings.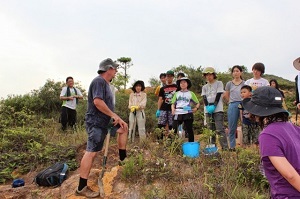 USHIO ASIA PACIFIC (THAILAND) LTD.
Completing a Charity Marathon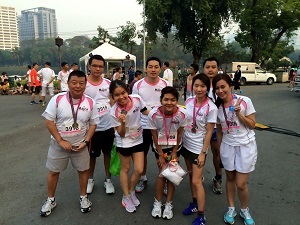 On February 8, 2015, UAPT participatedi n a charity marathon held in Lunpini Park in Bangkok. The event was organized by Thailand's largest cinema chain, Major Cineplex Group Plc., which put out a callon its website for participants from movie theaters and related equipment companies. Almost all of the participation fees were donated to buy wheel chairsfor children in need through an NPO.
USHIO KOREA, INC. (UKI)
Paying Respects to Local Elderly People
In fiscal 2016, USHIO KOREA decided to hold a CSR Day (volunteer day) on September 11. Volunteers delivered rice, fruit, canned goods and other daily necessities to local elderly people living around the facility.
Among the elderly we visited, some were unable to walk freely or go shopping, so we hope our help had a positive impact on their lives.
Looking ahead, we will continue to give back to local communities with the aim of contributing even a little to the development of society.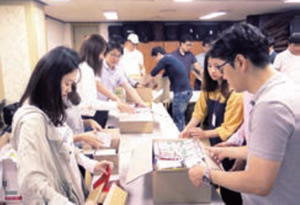 Offering Work Experience Targeting Junior High School Students
As a part of its contributions to local communities, on November 20, 2015, UKI once again offered junior high school students an opportunity to experience working at a company.
The participating students learnt about actual work situations, including by watching a video introducing the Company, exchanging business cards with the president, participating in a video conference, and sending emails. Although shy at first, the students were eager to take advantage of this experience, describing in the end how they felt glad to have had a fruitful day in which they engaged in actual work while learning more about UKI.
Moreover, this work experience program also served as an opportunity for us employees to reaffirm the new value that we create through our work. We hope that this experience will give the students a better understanding of the importance of work.
USHIO PHILIPPINES, INC. (UPI)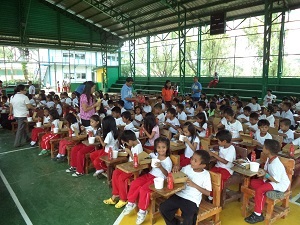 In the Philippines, many companies take part in various activities during July, which is volunteering month. UPI has won the Best of SCR (Social Company Responsibility) award at its industrial park each year. This year, UPS volunteered in a blood donation drive, a prison visit, and soup kitchen program.
Donation of School Uniforms to Elementary School Children
On June 26, 2015, USHIO PHILIPPINES collaborated with other companies in the industrial park to give donations to elementary schools nearby. These elementary schools have many children who come from economically disadvantaged homes, so UPI gave them new school uniforms.
The children who received new school uniforms said "malaming salamat po" (thank you) with smiles on their faces. Seeing children smile is wonderfully rewarding, no matter which country it is.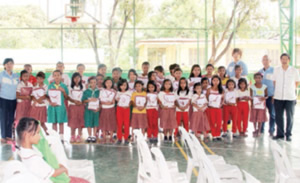 BLV LIGHT-UND VAKUUMTECHNIK GmbH (BLV)
RSV Steinhoering Wins BLV-Sponsored Indoor Cycling Competition
The town of Steinhoering is home to BLV and a variety of local sports clubs, among them soccer, table tennis, volleyball, gymnastics, and swimming. One club that shines among them is RSV Steinhoering, an indoor cycling club of which the town is extremely proud.
BLV became a corporate sponsor of the club in 2001. First established in 1979, the club's total membership has since grown to 80, and it has turned in stellar performances at numerous domestic and international competitions over the years.
At a domestic tournament held in October 2015, RSV Steinhoering won the women's four- and six-rider cycling figure divisions, and the four- and six-rider unicycle performance divisions. The club also clinched its third consecutive title in the women's four-rider cycling figure division at the UCI Indoor Cycling World Championships held in early November each year.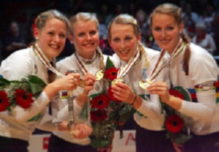 Joint Ecocap Movement Initiative
USHIO head office, the Tokyo Sales Headquarters, USHIO LIGHTING, INC., and XEBEX INC. are all involved in a joint campaign to collect bottle caps from plastic ("PET") bottles. The project started in March 2009 at USHIO, and the activity has now spread to encompass nearby Group companies, with each company joining to work as one in this effort. The polypropylene bottle caps from PET beverage bottles are sent to cooperating organizations which use the proceeds derived from recycling the bottle caps to send vaccines to children in developing countries. For example, a polio vaccination to protect one child against acute poliomyelitis costs about ¥20, so a single ¥100 coin can save the lives of five. A single vaccination can be bought for approximately 800 bottle caps. Group companies within the Kanto region working together have collected around 120,000 bottle caps weighing 315.56 kg since 2008 to generate enough proceeds for vaccinating 157.8 people. Since these caps are usually incinerated or buried in landfill, collecting and recycling them can not only reduce CO2 emissions and prevent soil pollution, but also help to make a small contribution to children's health.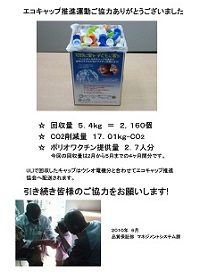 USHIO LIGHTING Ecocap Poster