Working Together with Customers
We strive to think from the perspective of our customers and provide products and services with appealing quality that goes above and beyond run-of-the-mill quality.
Supporting the Studies of Junior High and High School Students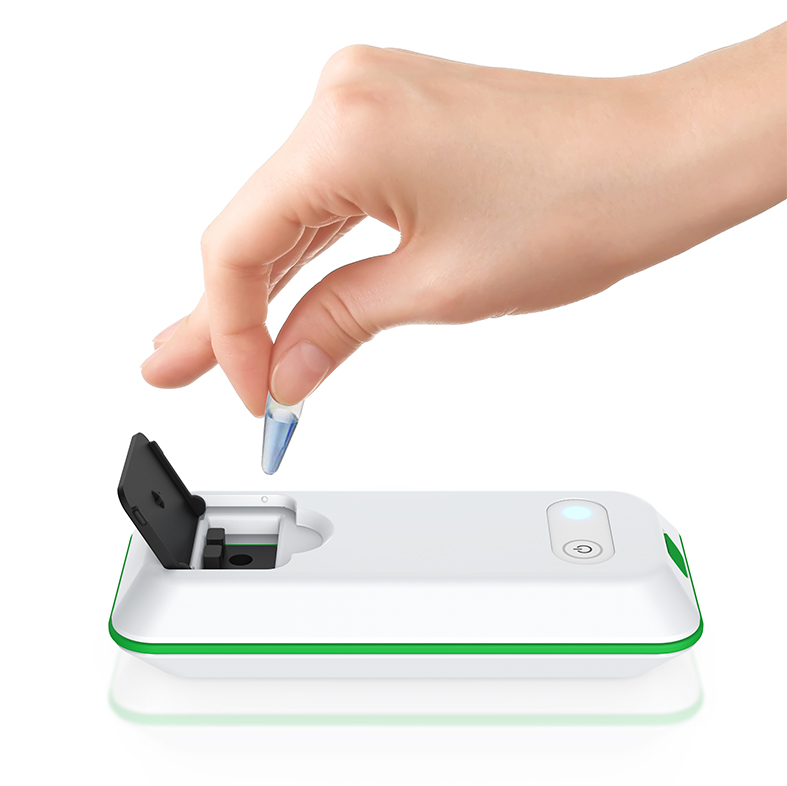 Since October 2016, USHIO has cosponsored the Science Castle (main sponsor: Leave a Nest Co., Ltd.), a conference for junior high and high school students engaging in research and development work. USHIO provided its spectroscopic analyzer PiCOSCOPE® free of charge to the research teams as a teaching aid, and started assisting with the teams' research expenses and supporting their activities. The PiCOSCOPE® has even been chosen for use as a teaching aid in experiment-based courses for high school students that are sponsored by universities.
USHIO will continue to contribute to raising the level of the research activities of junior high and high school students and to broadening the scope of science education through its products and businesses, while also contributing to the development of human resources who are trained in science.
Experiments Using the PiCOSCOPE Being Conducted at a University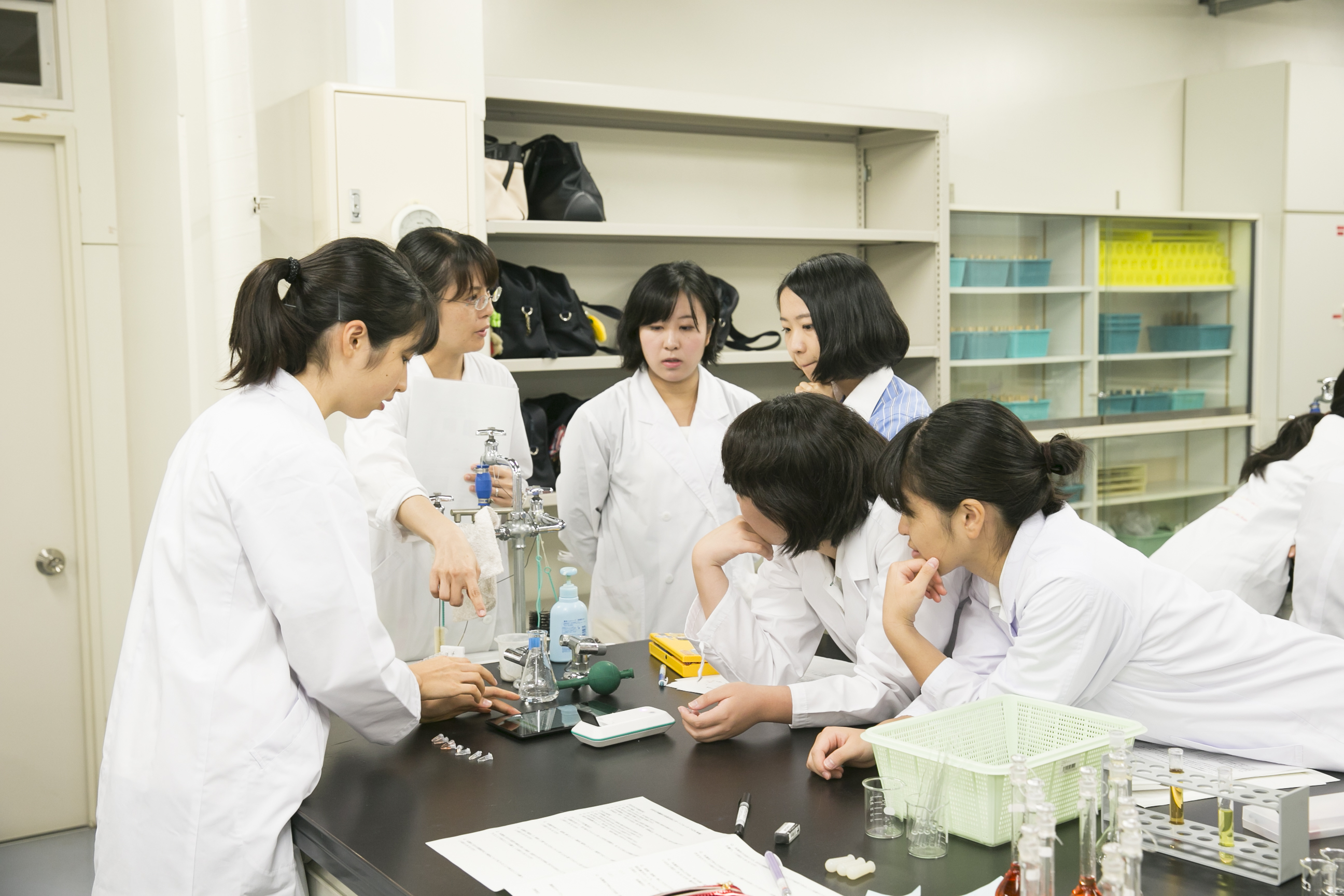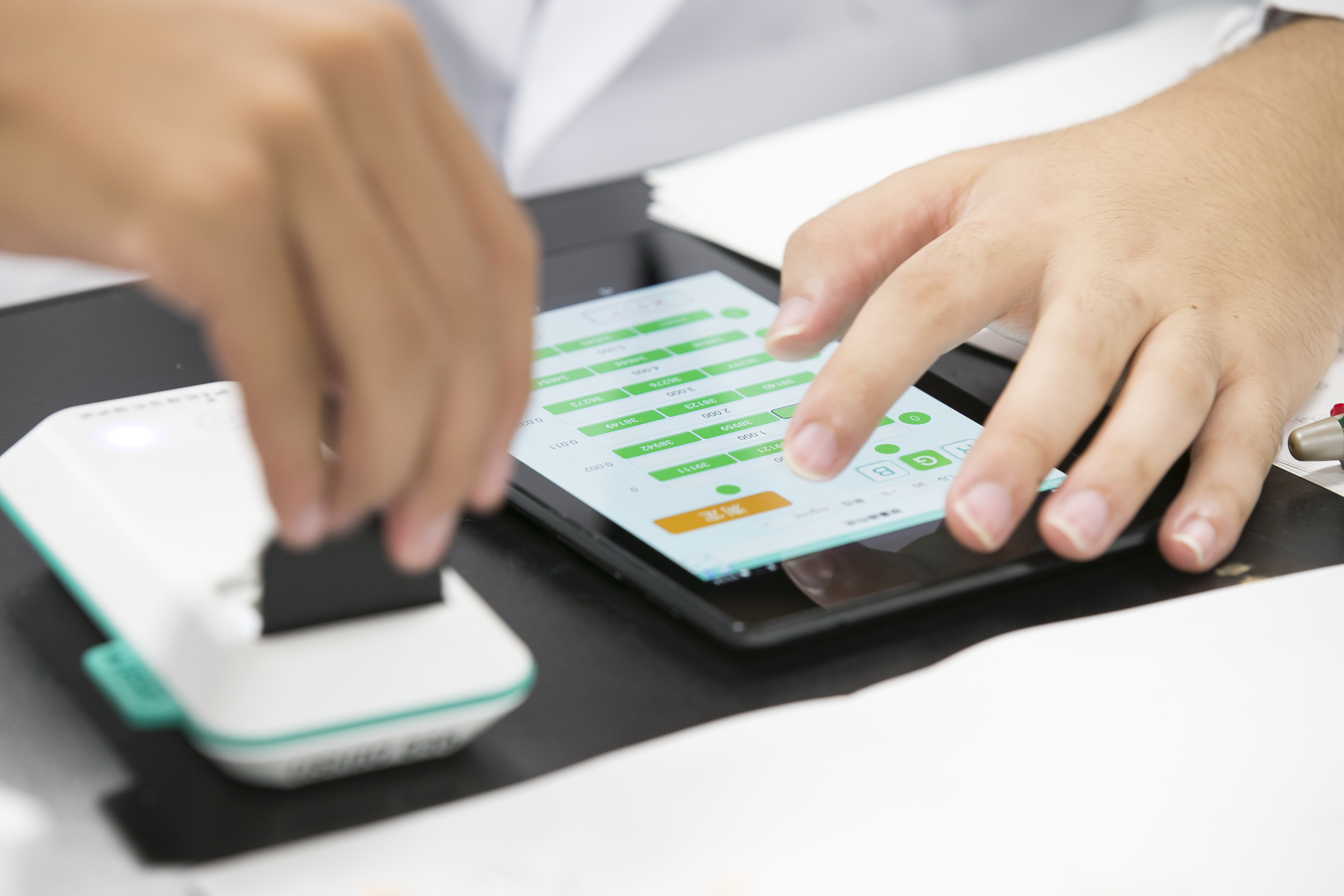 An experiment-based course for Bunkyo Gakuin University Girls' Senior High School students being taught by Kae Sato, a lecturer from the Analytical Science Laboratory, Department of Chemical and Biological Sciences, Faculty of Science, Japan Women's University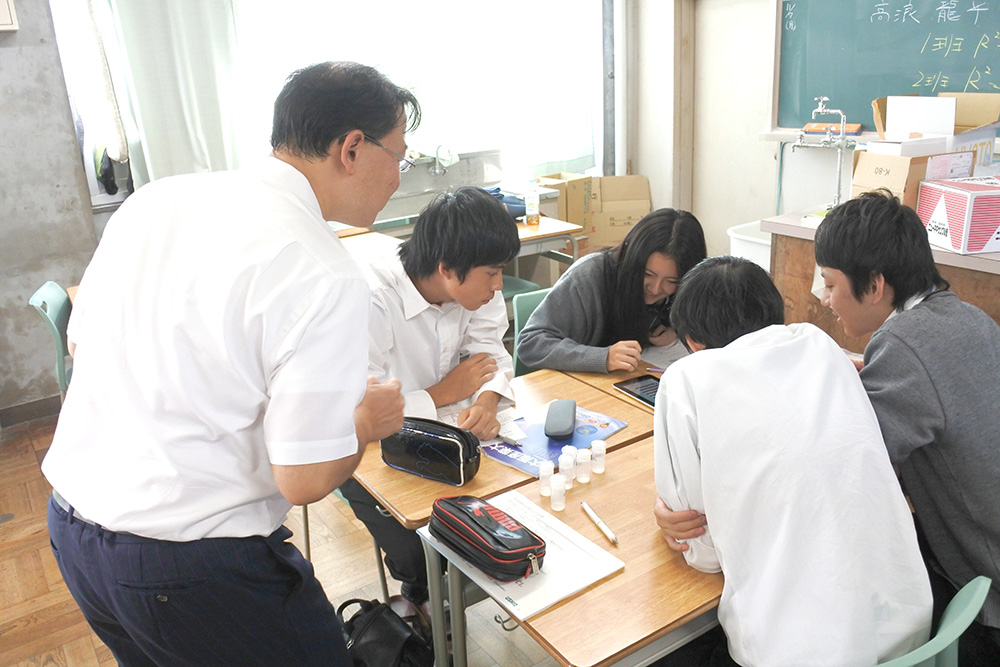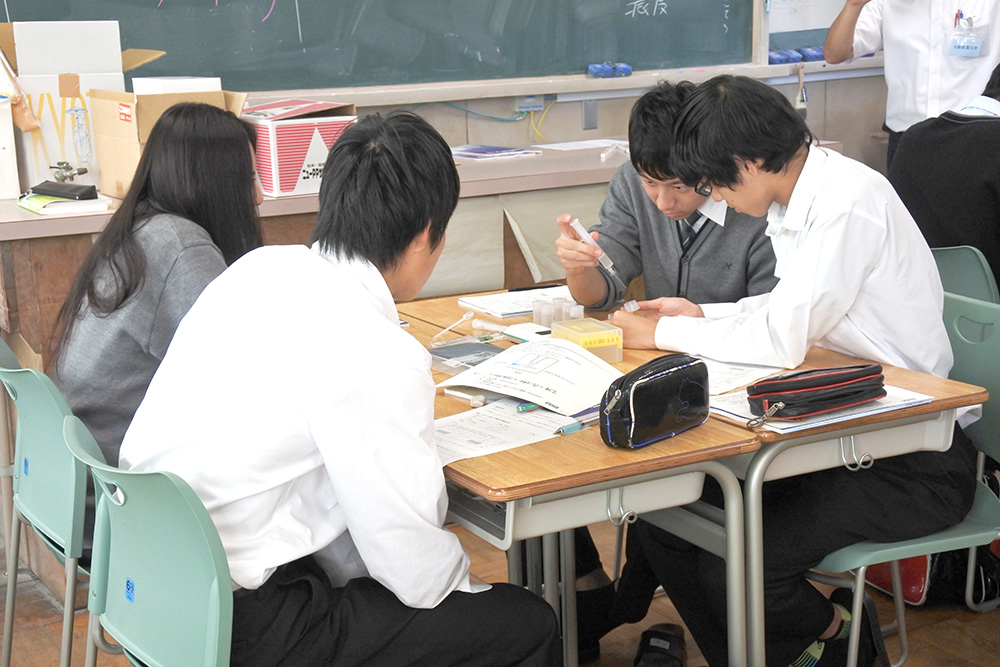 A simulated lesson being taught at Osaka Prefectural Hirakata High School by Professor Takanami Ryuhei of the Department of Architectural and Environmental Design, Faculty of Design Technology, Osaka Sangyo University
Contributing to Society with USHIO Products
Having started out as a manufacturer of light sources for industrial applications, USHIO has continued to develop products to meet the needs of the times. Recently an important theme for us in fulfilling our corporate social responsibility is contributing to society through our main business. In line with this, we have been aggressively launching products to solve issues in a variety of fields through the application of light.
In the year ended March 2014, we focusedon broadly extending the scope of our super green products, which have environmentalassessments from the product development stage, and have been strengthening ourinitiatives to renew the performance of our products. We will use the lighttechnologies we have developed through the years, applying them and developingthem to address problems that must be solved at the global level such asmedicine, health, the environment, energy, water, security, and food. At the sametime, we will provide products and services that offer high added value to meetour customers' needs.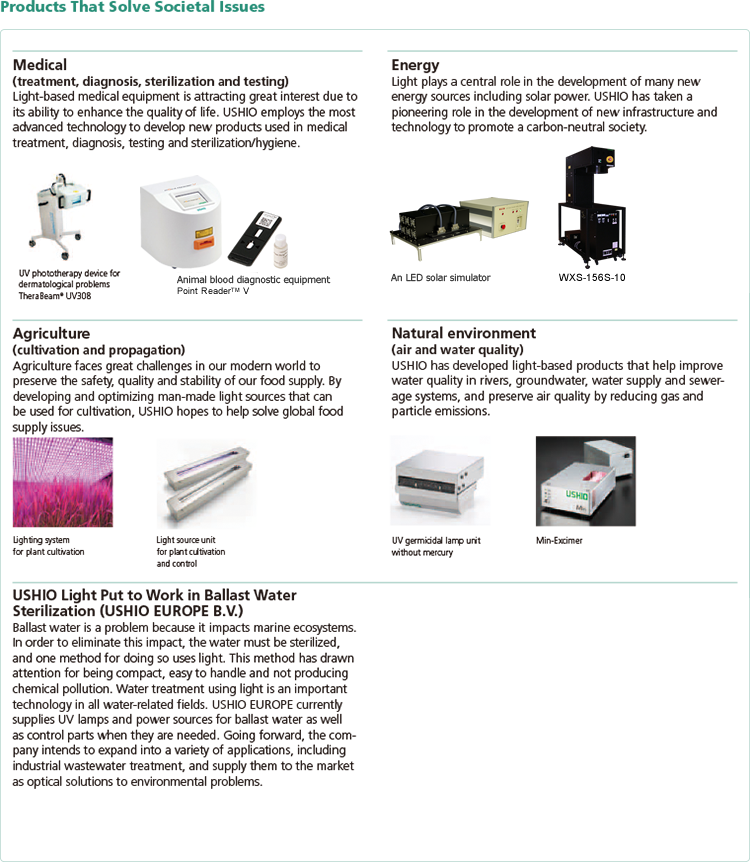 Product Development Related to Biomedical QOL Improvement
The TheraBeam® UV308 excimer light phototherapy device, which uses ultraviolet light to treat skin disorders, was the Biomedical Business Division's first product. Since then, USHIO has obtained the legally required permits and expanded into other business fields, ranging from medical equipment to external diagnostic reagents.
Moreover, together with a Group company and a clinical diagnosis company, USHIO has launched a blood analyzer business for the early detection of risks for contracting colorectal cancer and diabetes, diseases that are afflicting an increasing number of people. These risk analysis operations can lead to the preventative treatment of diseases by halting their progress, thereby improving quality of life and reducing medical expenditures.
XEBEX's Recovery Assistance to Cinemas
The Great East Japan Earthquake of March 11, 2011 did extensive damage to the region's cinemas who were customers of XEBEX INC. We immediately split up into sales and technology teams to collect information on the situation and help customers restore operations. However, because calls had such difficulty getting through, we were not able to reach some customers until more than a week had passed. We were also not able to drive cars due to the temporary gasoline shortages that immediately followed the earthquake, so making use of the limited modes of transport that were available, we managed to reach the affected cinemas, though it took much, much longer than normal. At times, the work involved travelling 50 or 100 kilometers everyday to a cinema from where we were staying. With no power in some areas and endless aftershocks, the work of cleaning up projectors weighing several hundred kilograms one piece at a time while ensuring the safety of employees involved a great deal of difficulty. Our job was to restore cinema operations, but actually with so many people dealing with such hardship in the wake the disaster, what motivated workers on the ground was the determination of our customers to bring smiles to people's faces as quickly as possible by giving them the opportunity to see a movie. Inspired by this determination, most cinemas in the region impacted by the earthquake were reopened and showing films by around July 2011. Our customers report that this helped reenergize many people living in the area.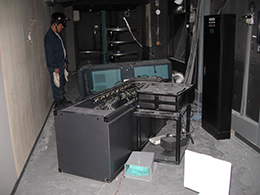 Initiatives for Improve Customer Satisfaction
Customer Service Center Initiatives
At our Customer Service Center, we take the customer's viewpoint and prioritize stable operation of customers' equipment and customer satisfaction. We work to provide them with confidence and safety, on time, while continuing to take various measures to ensure that we retain their trust and reliance.
Recently, more and more of the end users for our equipment products are spread throughout the world, so we are taking steps to enhance our local service systems through links with our bases in the US, China, Taiwan, and South Korea. While strengthening our local service systems, we will seek to provide enhanced proposal-based services. We will continue striving to enhance service products and provide the value that customers require to increase customer satisfaction even further.
Hikari no Torisetsu
USHIO INC.'s product catalogs generally introduce the products we sell and manufacture, but up until now they have not been designed to allow customers to browse through products based on their particular objectives. We have therefore created a catalog called "Hikari no Torisetsu," which straightforwardly explains the functions of light to customers without extensive background in the field and makes it easy for customers to consult with us on any additional concerns they may have. At the same time, the Ushio Techno-Lab was established at the Harima Division for joint research in order to help customers solve some of the bottleneck-type issues they face. Customers can request a copy of Hikari no Torisetsu on our website, and it will be sent out within several days.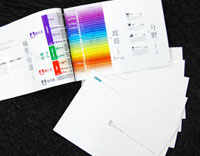 Lamp Handling Manual
Many of the lamps that USHIO handles are extremely specialized and require users to have specialist knowledge. Realistically, many of the people using our lamps in their workplaces do not have specialist knowledge, and USHIO has received numerous inquires from customers asking about the correct way to use its products. To meet one area of this need, we for instance created a dedicated user's manual for the xenon lamps that are used in cinema projectors, and distributed it to cinemas throughout Japan. The manual uses photographs to enable even first time users to understand, and covers the construction of the lamp, the operation of each component, handling and disposal, troubleshooting, and more. We also offer to dispatch staff to conduct onsite training sessions on request.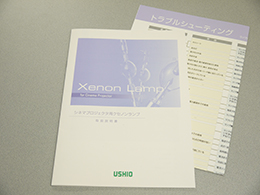 Creation of Business Models with IT
In fiscal 2017, USHIO reorganized its IT division. In the fields of the administration of internal IT systems, security and education, USHIO has reorganized and further strengthened its organization, including by updating platforms that contribute to business, adding roles for adapting to new business models and promoting innovation through internal business process reforms.
As new added value for existing business models, USHIO has become aware of automation with IT solutions, and started to examine the creation of solutions to enhance productivity and quality for the IoT business and for its customers that possess manufacturing sites.
BCP Initiatives
USHIO commands extraordinarily large market shares for many of its light source products used in various industries. Recognizing our important responsibility to ensure stable supplies of these products, we have been actively promoting business continuity plans (BCPs).
In April 2012, USHIO established the BCP Committee as an entity for the entire Company and formulated a business continuity plan for its key bases in the light source business, while starting to build a framework for mitigating damage and quickly recovering from a natural disaster and collaborating with other bases.
In April 2014, we created the USHIO BCP, an integrated business continuity plan for the entire Company that covers all of its bases. This BCP defines the organizational entities that oversee labor, capital procurement and public relations, and calls for periodic drills and training for these entities in a constant review of the structure and its responsiveness. Through training sessions, we spread awareness of our BCP activities to other layers of the organization. Looking ahead, we will address issues related to our response to additional risks, such as damage from natural disasters and incidents caused by people, as well as the proliferation of BCPs throughout the Group.