Excimer Lamps and Excimer Irradiation Unit
Excimer lamps (dielectric barrier discharge excimer lamps) filled with xenon gas emit vacuum ultraviolet (VUV) rays of wavelengths 180nm or less wavelengths. This enables it to corse chemical reactions unattainable by a conventional lamp and allows acceleration of the reaction speed.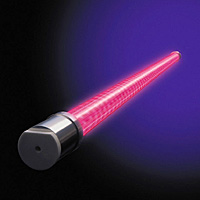 ---
Characteristics
Single Wavelength
A feature of excimer light emission is that it has only one emission peak; it emits light within an extremely narrow wavelength range, with the peal as its center. This permits efficient radiation of only the UV energy requied for the chemical reaction.
---
High Efficiency
The lamp's high energy conversion efficiency from power to light (the energy conversion efficiency of a 172nm excimer lamps is 10%) allows generation of high UV energy even at low power.
---
Instantaneous On/Off
This lamp allows radiation of just the required amount of energy, and only when it is necessary. Therefore, it offers the following advantages for practical use:

No shutter required
Long effective lamp life
---
Free Radiation Direction
The lamp mounting direciton is not limited; the system allows radiation of VUV light to substrates arranged upright in order to meet the requirements of a production line.
---
Spectral distribution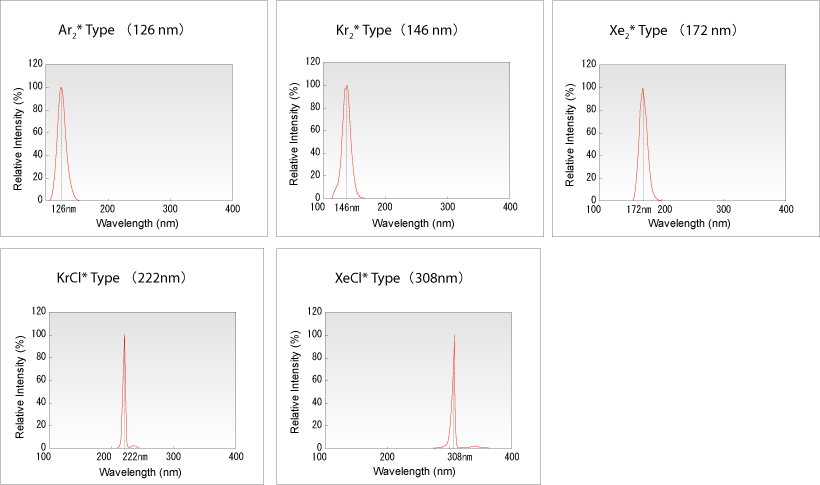 ---
Examples of excimer irradiation unit for semiconductor manufacturing process

---
Example of excimer irradiation unit for FPD manufacturing process

---
Applications
Deelectrification(charge erase)
Cleaning HDD disks
Ashing resist
Ashing resist residue
Cleaning plastic substrates
Cleaning and improving metal surfaces
Low-k cure
Assessment of PDP phosphor
Cleaning befor analysis and assessment
Gas dissolution
Oxide film
Drying
Pasting glass and film
Improvement of fibers
Promoting adhesion for organic EL encapsulating tubes
Work function improvement of organic EL encapsulating tubes
---
---
For further information, please contact:
---