Environmental Communication
Exhibiting at LED Next Stage 2016 Exhibition (USHIO LIGHTING, INC.)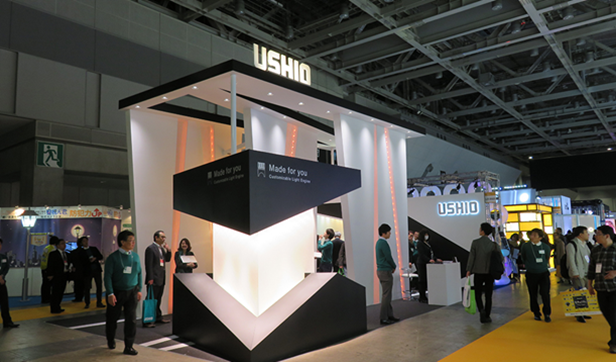 Entire exhibition booth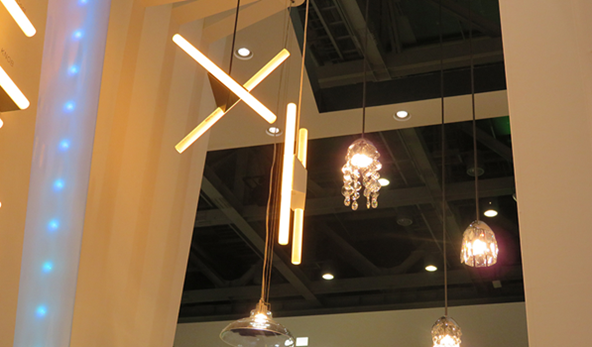 MAXRAY lighting fixtures
This year, the theme of our booth was "Center of Light, Light Innovation." With an attention to detail as a maker of light sources and with a diverse lineup of products as an integrating lighting maker, we exuded the appeal of our core identity as a provider of lighting solutions.
Our light source products on display included the LED Light Engine, which can be customized to user needs, and Retrofit LED Bulbs, which now includes a single core model compatible withφ70 modulated light. Our products received positive feedback for their light quality, light color variations, light distribution, and dimming control, underscoring their future potential.
Our balanced lineup of lighting fixtures also attracted attention, including MAXRAY pendant lights that specialize in light quality and design, as well as lighting fixtures for LINESTRA lamps. The exhibition booth was turned into a light show with stage lighting set up by the lighting solutions business, drawing strong interest from visitors about color representation capabilities and control techniques.
Eliminating Wasteful Printing with Standby Printing (ADTEC Engineering Co., Ltd.)
In March, ADT (@Tokyo) moved its head office into the same building as UI. With only half the office space as before, the number of printers was reviewed. Previously, there were two copiers and five printers, including two printers for management. At the new office, everyone uses two copiers. Since confidential documents are also printed out for anyone to see, we added standby printing functions to the copiers, requiring someone to stand next to the copier before documents can be printed.
After sending a print job from a PC, the documents are not immediately printed out. The file is printed only after the employee pushes a button on the copier touch panel to start the printing.
In addition to protecting confidential information, this function also reduces wasteful printing. After clicking on print, users often realize they have made a mistake, like printing all the pages instead of a single page, or information spilling over onto another page that needs to stay on one page, or accidentally printing in monochrome instead of color. These mistakes can be caught before printing begins, because the user has to walk over to the copier to initiate the print job. Although this adds the step of using the touch panel, the amount of wasted paper is reduced.
Initiatives to Reduce Waste at the Tsukuba Division (USHIO LIGHTING, INC.)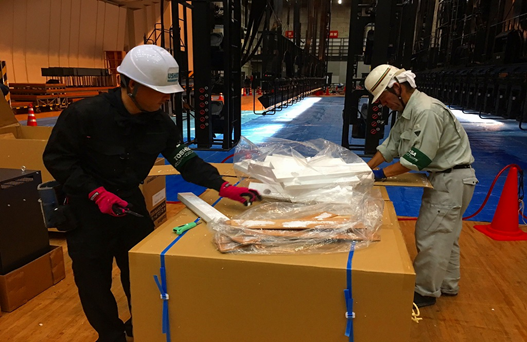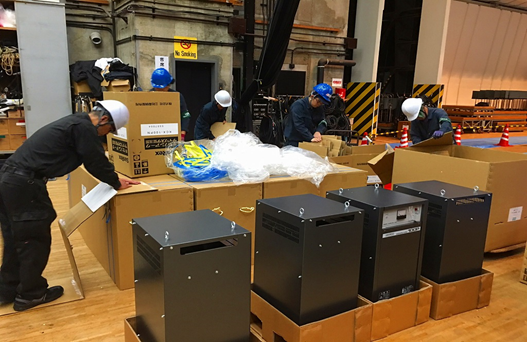 The Tsukuba Division (1) develops and produces pin spotlights, (2) maintains, repairs, installs and adjusts products, and (3) inspects, stores and ships out products and service parts supplied from within Japan and from overseas. Unrepairable products for which customers have requested maintenance are often discarded, resulting in various types of waste including metal parts, cables, glass shards, wood chips and waste plastic. As a part of EMS activities and to reduce the cost of waste disposal, in the first half of fiscal 2017, we began to separate waste more carefully based on the advice of a waste management company in order to derive value from plastic and other waste. We expanded the waste disposal site outside and changed the layout of waste collection bins. These activities to reduce and separate industrial waste are also being conducted elsewhere.
When delivering and installing six sets of 3kW xenon pin spotlights at the NHK Hall, we worked with the supplier to separate packaging materials, and loaded the truck that came to collect the separated waste materials.
* Separating packaging materials at NHK Hall
In the second half of fiscal 2017, we are preparing to install a roof over the outdoor waste disposal site, and are procuring the necessary construction materials. We aim to preserve the local environment as much as possible by coordinating with waste management companies to reduce the volume and cost of waste.
Environmentally Friendly Document Shredding (CHRISTIE DIGITAL SYSTEMS USA, INC.)
Eight years ago, Christie USA set up a paper shredding program with Shred-it for confidential documents and sensitive documents that no longer need to be stored. Shred-it is a document management specialist company that moves trucks with massive paper shredders to local business sites to shred paper onsite. Shred-it provides containers made from 100% recycled paper that has been compressed into plywood. A number of these containers are used throughout the company.
Shred-it provides a highly secure and safe service for shredding documents onsite in order to ensure secret information remains confidential. Each month, Shred-it also creates and delivers an environmental report for each of its clients.
Below is the amount of resources that Christie USA has saved by shredding unneeded documents between 2013 and 2015.
(Annual average)
・Number of trees saved by reducing copier paper: 570 trees
・Amount of water saved by reducing water usage: 887,213 liters
・Amount of electricity saved by reducing electricity use: 137,433kWh
・Reduction in atmospheric pollution: 913 kilograms
・Gasoline saved by reducing gasoline use: 58,284 liters
・Amount of recycled paper: 30,420 kilograms
Next is the same report for the period between January and October 2016.
・Number of trees saved by reducing copier paper: about 563 trees
・Amount of water saved by reducing water usage: 875,437 liters
・Amount of electricity saved by reducing electricity use: 135,608kWh
・Reduction in atmospheric pollution: 901 kilograms
・Gasoline saved by reducing gasoline use: 57,512 liters
・Amount of recycled paper: 30,016 kilograms
Put in simple terms, reducing one ton of copier paper saves the following resources.
・17 trees
・26,498 liters of water
・15,838kWh of electricity
・27 kilograms of air pollution
・1,438 liters of gasoline
These environmental reports are informative tools for better understanding how our business has grown and our contribution to environmental preservation.
This partnership with Shred-it is an essential part of Christie USA's sustainability program.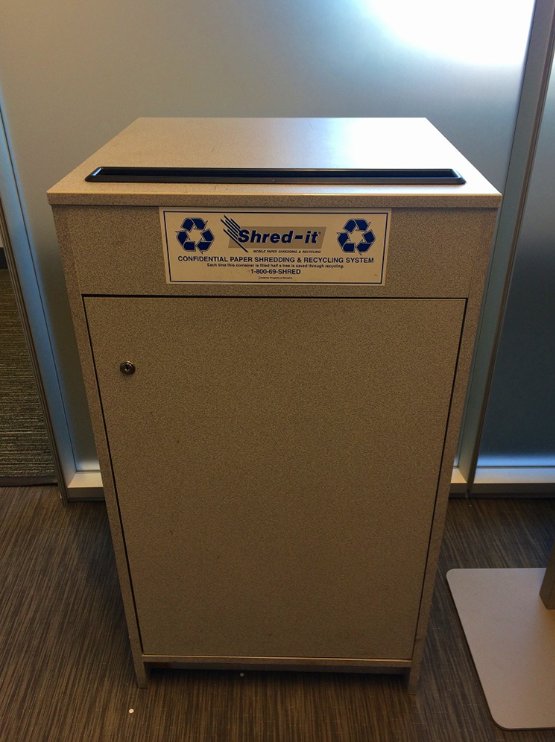 Switch to LED Lighting at the Fukuzaki Plant (USHIO LIGHTING, INC.)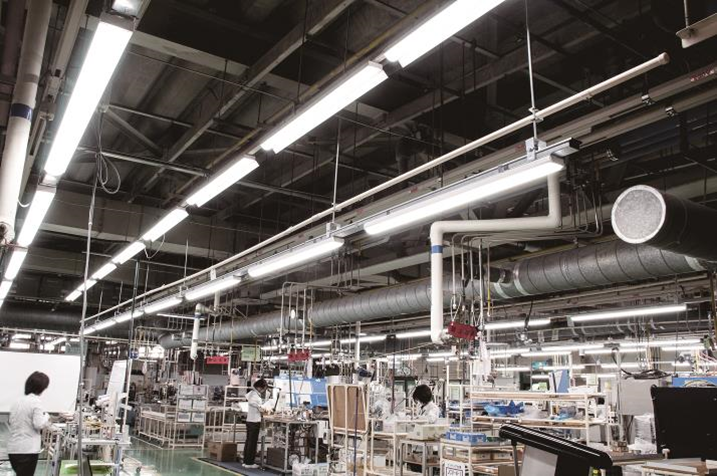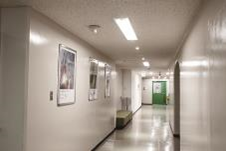 The Fukuzaki Plant took advantage of a government grant program that encourages energy-saving and productivity-enhancing investments by small and medium-size enterprises to install all-new lighting in the L-1 and L-2 buildings, replacing fluorescent tubes with high-efficiency LED bulbs. In addition, the Fukuzaki Plant upgraded its transformers with cutting-edge technology.
■ Background of Switch to LED Lighting
The L-1 and L-2 buildings have been around since operations commenced. Their florescent lighting fixtures and transformers had aged considerably, already passing their rated service lives. For this reason, the performance of the lighting was insufficient, and fluorescent tubes were frequently replaced. To solve this problem, we decided to switch to LED lighting by utilizing the government grant program for energy-saving businesses.
■ Scope of Upgrade and its Impact
The facilities department took the lead in identifying equipment eligible for the grant program and proceeding with the upgrade work with an eye on conserving energy.
Lighting fixtures were upgraded throughout the L-1 building and areas in the L-2 building that date back prior to the 2005 expansion where lighting has been used for relatively long period of time. Four transformers that had been around since operations commenced were also replaced with three new transformers.
A total of 870 lighting fixtures were updated with LED lighting of the same brightness as 40-inch fluorescent tubes. We estimate the update will reduce electricity consumption by the lighting fixtures by about 50% and the transformers by about 40%.
■ Thanks for Everyone's Efforts
A lot of time and effort was spent on this project to create the plan, such as identifying the equipment and measuring actual electricity consumption, in addition to assessing the location, type and operating hours of equipment installed around the buildings. The grant application also took considerable time and effort. For this, we are very thankful for the efforts of everyone involved in this project.
■ Future Developments
Our only remaining task related to the grant program is reporting on the outcome. The report will require measuring electricity consumption for a set period after the new equipment is installed and comparing it to electricity usage last year. While there are other variables involved, we have achieved 133% of the target as of January 15, and if all goes well, the project will be safely completed.
With good timing, we were able to take advantage of the government grant program to replace aging equipment and save energy at the same time. However, there is still equipment at the plant that is ripe for energy conservation measures. Taking into account the balance of benefits with the return on investment, a large number of projects require more careful consideration before action is taken. In this regard, the facilities department is working to obtain information in a timely fashion, like it did with the government grant program this time around. (Masayuki Nagata, Facilities Department, Fukuzaki Plant)
Exhibit at Agro Innovation (USHIO LIGHTING, INC.)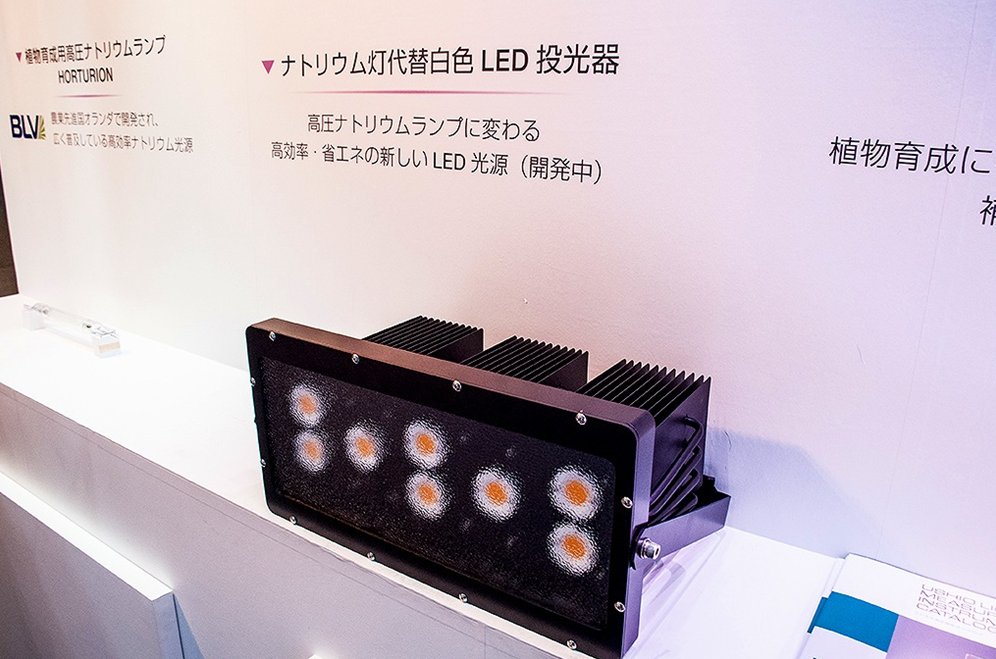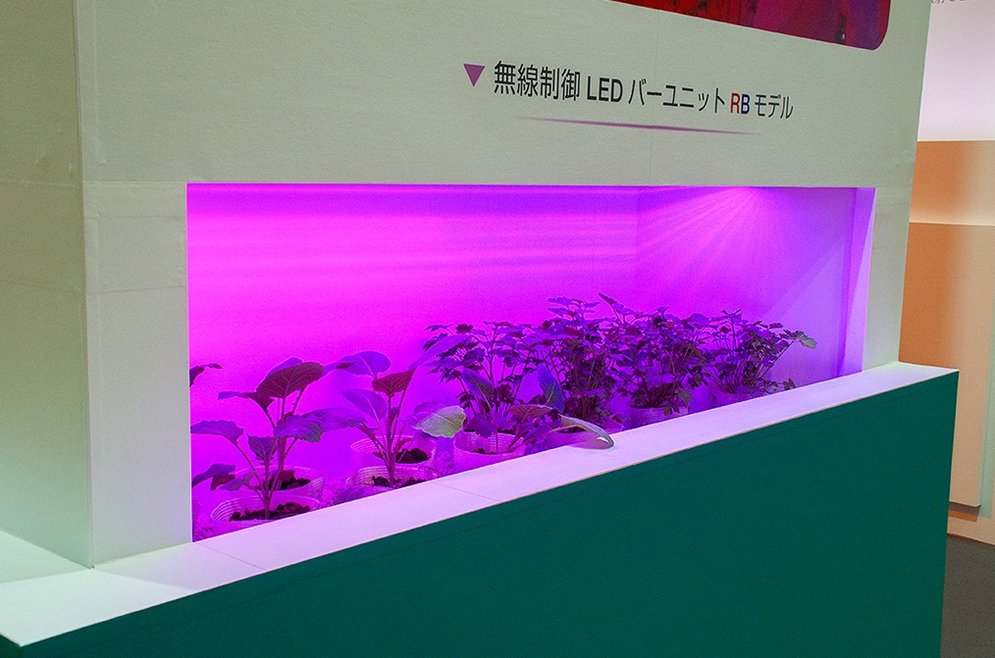 Photo of the exhibit booth
We had an exhibit booth at Agro Innovation 2016, an exhibition for facility horticulture held at Tokyo Big Sight during December 14-16, 2016. Our company is not that well-known on the domestic market for LED lighting used in plant cultivation. Hardly anyone in Japan knows about the HPS series of sodium lamps for cultivation made by BLV Licht-und Vakuumtechnik GmbH, which boasts a market share of over 40% in Europe and the U.S. To change this situation, we decided to participate at this exhibition to increase awareness of the USHIO brand and products by exhibiting at an event where research organizations and related businesses gather to see plant cultivation technology.
Our exhibit booth had two differently themed corners. One was about nurturing plants with light, and we had on display wirelessly controlled LED bar units and two types of straight-tube LED lamps for plant cultivation factories.
The other corner was about supplementing light. We had on display the HPS series of sodium lamps made by BLV for greenhouse cultivation, LED bulbs we delivered to Tomatoh Farm last year, and newly developed high-output LED lighting as an alternative to sodium lamps. Visitors were able to witness the actual lights and its performance.
2017 Earth Hour (USHIO SHANGHAI, INC.)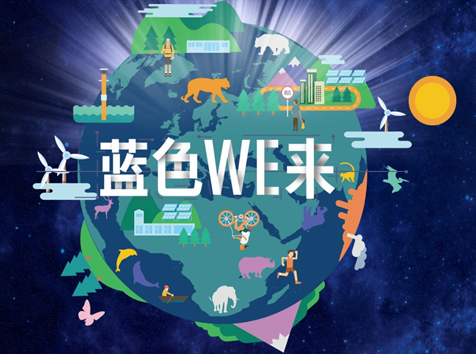 One day, the building management department sent us an invitation to participate in Earth Hour in fiscal 2018. In 2017, Earth Hour will be held on March 25 (Saturday) from 8:30pm to 9:30pm. Building management asked each office to either turn off their lights or close their window blinds during this hour. "Climate, humankind and society" is the theme for Earth Hour in 2017, a global environmental conservation event. In China, air pollution has attracted the most attention as an environmental problem, so a decision was made that this year's theme would be "Indigo WE". We hope for clear blue skies will result from everyone's concerns and efforts to clean up air pollution.
This year, the lights will be turned off for one hour at landmark buildings in Shanghai, including the Mori Building where USHIO's Shanghai representative office is located, as well as the Oriental Pearl Tower, the Shanghai World Financial Center, and the Jin Mao Tower. Although only a small amount of energy can be conserved in one hour, we believe it will have the effect of raising awareness among many people.