Initiatives for Reduce Waste
At USHIO, waste processing information is shared between Group companies and business sites in Japan. In addition, initiatives such as recycling have been strengthened, aiming to curb total waste emissions.
Initiatives at the Harima Division
In fiscal 2017, annual total waste emissions were 261 tons, compared with our target of reducing waste to 271 tons. Waste emissions also improved on a production unit basis, improving to 42.2% below our target for fiscal 2017. (The target was set at a 3% reduction in waste emissions over three years based on the fiscal 2016 level.) *USHIO changed the target for fiscal 2018 from 17.3 kg/¥ million to 15.1 kg/¥ million.
In fiscal 2017, USHIO reviewed the use of methanol from the manufacturing process onward, and reduced the amount used. We also implemented activities to reuse shelves, desks and suchlike that were to be discarded from its business sites, thereby reducing waste emissions by 1.2 tons over the year. In fiscal 2017, USHIO reduced waste by 5.3 tons over the year, compared to the waste reduction plan target of 4.2 tons. Looking ahead, USHIO will continue striving to make effective use of limited resources.
Initiatives at the Gotemba Division
In fiscal 2017, annual total waste emissions at the Gotemba Division were 74.7 tons. Waste emissions per production amount also improved, dropping 43.0% year on year to 7.0 kg/¥ million from fiscal 2016. The main factor behind the reduction was that lamp production undertaken at the Gotemba Division until December 2014 was transferred to the Harima Division, resulting in a substantial decline from previous-year levels of glass waste and waste liquids. In fiscal 2017, the Gotemba Division started repositioning waste storage sites in July 2016 in order to grasp the amount of waste from each building. The division is closely assessing additional measures to further reduce waste. In fiscal 2017, the waste recycling ratio was 99.99% again. Going forward, the Gotemba Division will continue working to maintain this recycling ratio.
Collection of Lamps for Recycle
A recycling program was started in 2007 for super high-pressure UV lamps for semiconductor and LCD exposure operations. We have since also launched a recycling initiative for xenon lamps for cinema projection equipment. Xenon lamps contain tungsten, one of the rare metals. Lamps collected by the program are turned into products or returned to society through 3R activities.

Initiatives for Reduce Water Use
Since 2006, USHIO has been collecting environmental data from Group companies and business sites through the Environment Information Management System (ECO-SYS). Since 2012, we have introduced an information system application to perform automated data aggregation, thereby increasing the reliability of data aggregation and analysis. We regularly conduct periodic analyses of trends in the total volume of water used throughout the Group.
We have analyzed the amount of water used by USHIO Group companies and business sites, and have implemented measures according to their level of priority. A Group company in a region that has high water-stress concerns has started using a recycling system for reusing water from April 2011 as a measure to improve water use. Ever since, the Group company has continued to increase the ratio of recycled water it uses, moving forward on the creation of a system that reduces the volume of water used on a production per unit basis.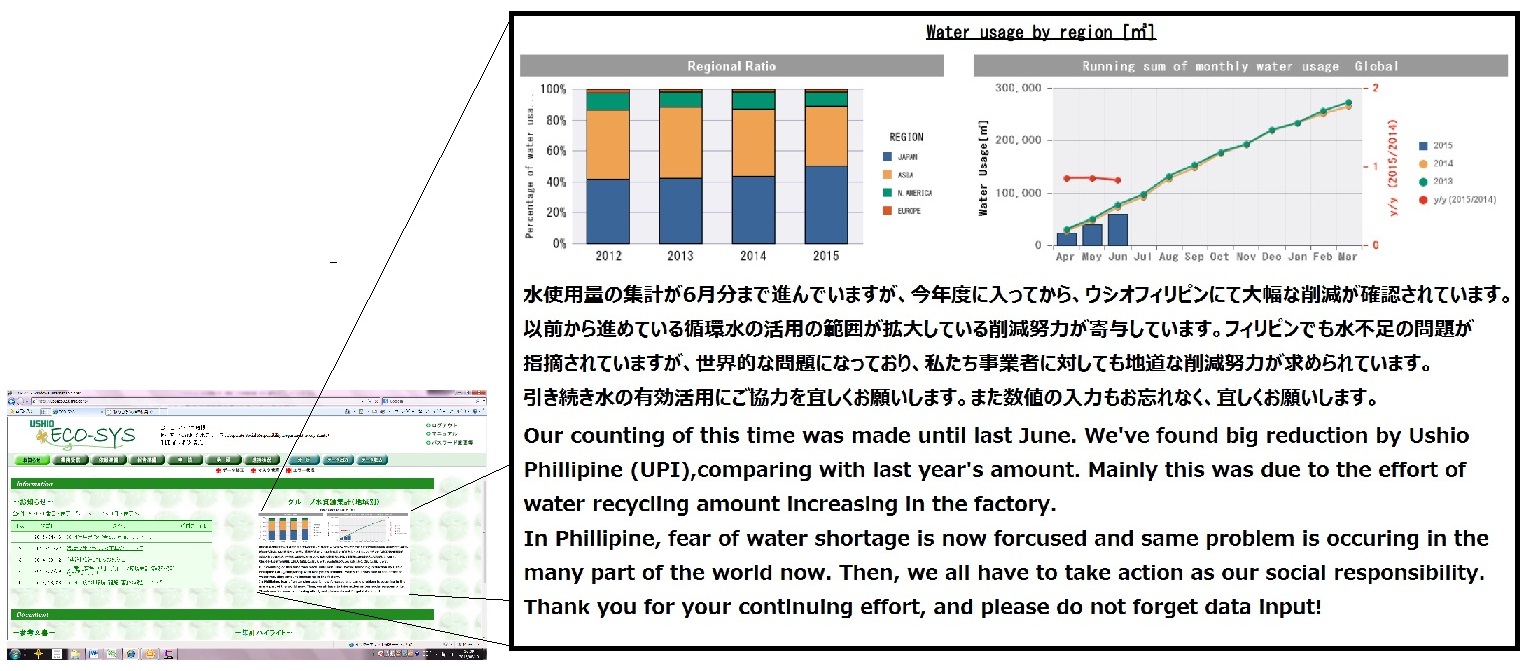 Reducing the Amount of Harmful Chemical Substances Used
In fiscal 2011, our efforts to reduce the amount of harmful chemical substances used included conducting a survey of the status of usage at each business site. Based on the survey findings, we decided to reduce our use of volatile organic chemicals (VOCs) in line with the recommendation of four electrical machinery and electronics associations in Japan. Since fiscal 2012, we have been reducing the consumption of VOCs by means of reviewing our production facilities.
Initiatives at the Harima Division
At the Harima Division, USHIO has been reducing the amount of chloroform used in the lamp manufacturing process because of concerns that the chloroform produced is an air pollutant. We plan to methodically reduce by half the amount of chloroform used, which has been roughly approximately 10 t annually, by fiscal 2017. More specifically, USHIO had deployed sealed automated equipment, and has methodically applied measures to reduce the size of openings when equipment is used on each of its production lines. Chloroform usage has been trending as shown below. In addition to helping conserve the environment, the installation of the new equipment has also proved to be an effective method in terms of safety by eliminating any contact of chloroform with workers' skin by avoiding the risk of an exposure aperture.
In September 2016, USHIO installed its second unit, following the installation of the first one in 2015. The amount that chloroform usage is reduced depends on the volume of lamps that we produce. Like the first unit, USHIO expects the second unit to reduce chloroform usage further by reliably lowering the evaporation amount through sealing the unit, automation, and shrinking the size of apertures.
Amounts of Chloroform Usage
| Fiscal 2014 | Fiscal 2015 | Fiscal 2016 | Fiscal 2017 |
| --- | --- | --- | --- |
| 8.70 t | 7.00 t | 6.80 t | 7.00 t |
In addition, USHIO makes a concerted effort to act appropriately, including by using alternatives to other chemical substances.
Initiatives at the Gotemba Division
In response to concerns about soil pollution that could be caused by the leakage of chemical substances from pipes, the Gotemba Division has been adopting double-pipe structures and making pipes visible.
Looking at pollution prevention initiatives in fiscal 2016, the Gotemba Division improved how it handles the alkali waste liquid shipped to waste-treatment contractors. Previously, alkali waste liquid was manually transferred from a tank to transport containers. This process was improved by depositing the waste liquid directly in transport containers. As a result, the Gotemba Division helped reduce the risk of soil pollution caused by alkali waste liquid.
Moreover, since February 2015, the Gotemba Division has started an application system for use of new chemical substances at its business sites. Before new chemical substances enter use, they are assessed using Safety Data Sheets (SDS) to determine, among other issues, whether they will have an environmental impact or present any safety management problems during use, storage or disposal. If no problems are identified, the Gotemba Division grants permission to use the substances.