Message from the President
USHIO Aims for Sustainable Development in Harmony with Society, with the Intention of Solving Social Issues through the Provision of Solutions that Use Light.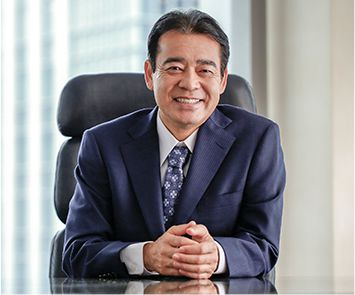 Working to Solve Social Issues with Light Technology
Since its founding in 1964, USHIO has based its business aims on creating new markets that use light, and has continued to offer products and technologies to cutting-edge industries that support the development of society. Today, USHIO is pursuing new possibilities with light in the three business fields of electronics, visual imaging and life sciences.
USHIO believes in contributing to society while growing its businesses. Contributing to society through superior products and innovative research and development is a part of our management philosophy. This principle embodies our intentions toward society and forms the basis of our CSR activities.
USHIO aims to help realize a sustainable society by working to solve various social issues through the provision of products and services that use light technology. We believe this is our mission at USHIO.
CSR Activities Form the Basis of Management for Supporting Business Growth
In May 2017, the USHIO Group announced a new, three-year medium-term management plan. In a departure from the rolling format that we have used for our medium-term management plans to date, this new plan is a fixed plan with new KPIs that we are committed to achieving for our stakeholders. The plan's theme is to solidify the foundation for taking the next leap forward. In executing the plan, we will strive to achieve management priorities based on our previous medium-term management plan and maintain momentum to see its initiatives through in order to ensure that we achieve our goals.
Our priority fields for pursuing new growth opportunities are imaging solutions, solid-state light sources, EUV*, development of new light-source markets, and medical. We will make a Company-wide effort in these priority fields, while maintaining and securing earnings in our existing businesses. In the new medium-term management plan, we will focus on increasing our fundamental stamina to drive our measures forward continuously and on expanding our ability to achieve these goals.
As globalization and market changes accelerate, we have entered an age where society makes strong demands of companies regarding corporate social responsibility (CSR). The USHIO Group will work to maintain its status as a good corporate citizen by sincerely addressing aspects such as environmental initiatives, compliance, and social contributions, while constantly innovating management by strengthening its corporate governance and working to increase its corporate value.
In particular, having examined the CSR-related aspects of our business activities from various perspectives, we have identified five main categories for issues that the Group needs to address: governance, people, quality, environment, and society, and incorporated specific measures to resolve these issues into the Group CSR Action Plan.
By fusing our business strategies and CSR objectives, we aim to develop further as a company while advancing social responsibility at the same time.
*Extreme Ultra-Violet: light with an extremely short wavelength of 13.5 nm. Lithography technology using EUV is capable of processing to finer dimensions that are difficult to handle with conventional technology.
A History of USHIO's CSR That Has Comprised Business Growth Consistent with Changes in Society
Looking back at USHIO's CSR activities, it is evident that they are rooted in the spirit of manufacturing. Our activities aimed at providing superior products and our recent initiatives in IT and robotization have led to further improvements in quality that fulfill our responsibilities to our customers as a manufacturer. At the same time, we have aggressively pursued environmental initiatives with the aim of reducing our burden on nature.
Moreover, USHIO is aggressively pursuing initiatives to encompass governance, society and people in order to grow as a company, meet the expectations of stakeholders, and fulfill its increasing social responsibilities by strengthening corporate governance through better transparency regarding the Board of Directors and greater dialogue with shareholders, by encouraging Group companies to give back to their local communities, and by maintaining a positive work environment and offering training to employees.
As a Group, we are advancing the globalization of management, promoting diversity through collaboration with human resources of different values and backgrounds, formulating green procurement standards to minimize our environmental impact based on the laws and regulations of each country, and strengthening CSR procurement based on fair, proper, and highly transparent transactions on international markets.
To remain a truly global company, USHIO partially amended its 10 Action Guidelines in December 2015 to reflect support for the Universal Declaration of Human Rights and the Guiding Principles on Business and Human Rights, based on the understanding that all people must respect each other's rights and to align awareness of human rights with international norms. In addition to setting guidelines for respecting the rights of employees, suppliers and all other stakeholders, we aim to foster a corporate culture that respects diversity and its role in promoting innovation.
USHIO has engaged in CSR activities in tandem with its growth as a Group and changes in society. A corporation should build good relationships with its various stakeholders and advance by creating and offering new value to contribute to society. USHIO will continue working to be such a corporation going forward.
Towards Our Vision for USHIO for 2030
USHIO has established a 2020 Environmental Vision that aims to realize the creation of a low-carbon society, the conservation of resources, and the preservation of biodiversity. We have now taken the next step and started discussing our 2030 Vision, which will define the society that USHIO wants to realize from the broader perspective of CSR.
We are currently preparing to launch the Vision Formulation Working Group (provisional name), and aim to complete the formulation during 2018.
In September 2015, the United Nations adopted the Sustainable Development Goals (SDGs) while calling for companies to take action and help solve these priority issues affecting the world. The 2030 Vision will be built in consideration of targets such as the SDGs and the Paris Agreement.
Broad Range of Initiatives Aiming for Sustainable Development
As part of strengthening our initiatives with regard to people, we have started a new diversity project aiming to realize the creation of values by diverse human resources. I am the owner of this project, which forms one of our management strategies. We have assembled a diverse team of employees from different business sites and departments, and together we will promote diversity through providing employment opportunities for people with disabilities, encouraging the participation of women, providing career support, and driving forward work style reforms.
We have also established a new Nomination and Education Advisory Committee to select and educate the management human resources who will lead the USHIO Group in the future. The committee was established to ensure transparency and accountability in this process, and is chaired by an outside director.
Furthermore, in our existing initiatives on Green products and Super Green products (green products that achieve especially high performance), we are rolling out Phase Five of the Environmental Action Plan. This involves incorporating a safety and security aspect to provide solutions that correspond to today's needs for environmental considerations and social contributions.
In our business activities, the fields that we should focus on are those where we can leverage our strengths in "light" to contribute to society. Examples include provision of industrial solid-state light sources (LEDs, LDs, etc.) that conserve energy and reduce waste, and the provision of light solutions that advance next-generation plant growing businesses. In the field of life science, especially, we aim to help raise the quality of life for people through "light," through the development of products such as blood analyzers and skin therapy devices that are getting regulatory approval in Asian countries. Going forward we will also strengthen our business activities as a solution provider supplying experiences and services.
Driving Forward as a Light Company
"Light" has great potential for providing solutions to common problems affecting people all over the world, such as environmental pollution, food shortages, high healthcare costs, and population aging. Light can create the sense of inspiration and value that people seek.
USHIO's traditional role as a "light company" is being transformed daily through its own efforts. We will work in harmony with society through the innovation of light, contributing to the realization of an abundant society as we ourselves continue to grow.
I hope you will continue to offer your understanding and support for our efforts.
August 2017
Kenji Hamashima
President and Chief Executive Officer