Message from the President
Since the day of its founding, Ushio as a "light innovation company" has consistently provided solutions for issues confronting customers and society. It has done so through unique technologies involving a breakthrough in the light phenomenon, which provided the seeds for innovation and gave form to light.
We believe that it is our responsibility to stakeholders and the community to help society achieve sustainable growth by sharing our solutions.
These values are embodied in our USHIO GROUP Management Philosophy. In particular, the first paragraph is the most fundamental and unique of the four philosophies, calling for us to "Achieve prosperity both for the Company and its employees." We believe that our own success leads to innovations that contribute to a sustainable society, and that this in turn leads to the prosperity of our employees.
To actively embody this fundamental philosophy and vitalize our corporate social responsibility (CSR) activities, we developed a Medium-Term CSR Plan and a CSR Action Plan. We also declared our support for the United Nations Global Compact, the universal doctrine on human rights, labor standards, environment, and anti-corruption. Meanwhile, in September 2015, the UN adopted the Sustainable Development Goals (SDGs), and amid rising interest in social issues, we are working to promote all facets of CSR among stakeholders. To this end, we continue to share information on key specific measures and encourage the activities of each company.
We will continue to contribute to creating a sustainable society, using the solutions that Ushio's light offers for social issues, together with our active commitment to CSR.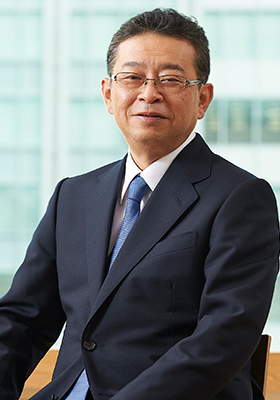 Koji Naito
Chief Executive Officer