Relationship with Society
As a member of various regional communities, the USHIO Group will contribute to the development of the respective regions where it conducts business, in Japan and overseas. In addition to the initiatives reported here, the Group is engaged in various activities to contribute to the sustained growth of society, including in the fields of education, culture, disaster support, and exchanges with local society.
USHIO AMERICA INC.
Participation in Food Drive with Orange County Food Bank
Orange County in California, the location of UAI's head office and the Irvine Plant, is famous for its portrayal in movies and TV dramas of people living extravagant lifestyles, giving the county an image as a wealthy area. On the contrary, Orange County is one of the top ten counties in the U.S. in terms of children who do not have enough food, and one in four people are living in poverty according to Orange County Community Indicators 2015. It is also an area with high rents, as in Los Angeles County. Even after working every day, many families do not have enough money to put food on the table.
With the aim of helping these people, we held a food drive at the UAI head office for a second year to coincide with the Earth Day events. In the food drive, companies, churches and other organizations collect canned goods and other preserved foods and donate them to the Food Bank, where people down on their luck can receive the food for free. UAI delivered three large boxes of canned food, pasta and pouched food donated by employees to the Orange County Food Bank. Food Banks receive funds from government organizations and donations from various organizations and individuals, and then engage in organizing volunteer activities.

We intend to make food drives like this an integral part of our CSR activities. Next year, we will make an extra effort to get as many employees as possible to participate in the food drive, such as by calling everyone out to the Earth Day event.
Toy Drive a Major Success for a Second Year!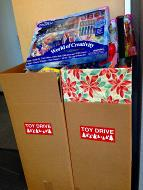 Toys donated by UAI
UAI's Toy Drive, which was launched last year, asked for donations again this year for the Spark of Love Toy Drive organized by a local TV station and the fire department. Last year alone, this toy drive collected half a million donated toys.
Although less effort was put into spreading word around the company this year about the toy drive, quite a large number of employees cooperated this year, perhaps because it was the second year we did it. The donation boxes in the front lobby were brimming with toys two days before the drive ended, so we quickly put out more more boxes, which also became full very quickly. A wide variety of items other than toys were also donated, including sports items, clothing and shoes. When we were loading the donated toys in our cars to take them to the fire station, we were warmly moved by the generosity of everyone for making the effort to buy the toys for children. In the U.S., year-end holidays are truly the season of giving.

In the U.S., there are many ways people can get involved in activities for the greater good, donating cash, goods and time as volunteers. At UAI, we encourage our employees to participate in the annual Food Drive and Toy Drive. Of course, employees willingly participate on their own volition, and they have different views and ways on how to donate. For now, we hope that our employees become more interested in giving back to their communities.
We plan to hold the Toy Drive every year as a part of our CSR activities at UAI.
CHRISTIE DIGITAL SYSTEMS USA, INC.
Sponsor of Student Film Festival at Local College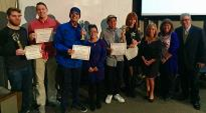 Christie USA helps as a sponsor for a student film festival held every year at the local college in Cypress City. Cypress College, a two-year community college, is located a few miles from Christie USA. The Media Arts Design Department offers 27 courses in the following five specializations in its digital cinema program.
・Digital Cinema Art & Industry
・Digital Cinema Production
・Digital Cinema Techniques & Technologies
・Cinema & Video Post-Production Basics
・Multimedia Production Basics
After taking these courses, students who graduate are qualified to try to enter a four-year university or art college, or start working with the cutting-edge skills they learned.

Christie USA provides the prize money for four awards among the many awards at the film festival, which include Best Script, Best Director, Best Cinematography, and Best Editing. A total of 52 films (including live action and animation) are nominated, and 24 films are shown to the public at the campus theater. Community college students and high school students in Orange Country, where Cypress City is located, can participate in the film festival. All of the awards are divided into college and high school divisions, and each one comes with a trophy and prize money. Voting on the best films is done by both graduates and faculty. Each movie is judged for its script, cinematography, direction, editing and acting. UAI's Senior Director of the Personnel Department, Anna Escudero, and EMS Manager Pamela Rossman attended the awards ceremony and presented the trophies to the recipients of the four aforementioned awards. The award-winning films were quite creative and wonderfully entertaining to watch. We are proud to help budding filmmakers in our community.
CHRISTIE DIGITAL SYSTEMS CANADA INC.
Amazing Race
In October 2017, Christie Canada held the Amazing Race Around the World Challenge as a part of a United Way campaign held every year. United Way is a non-profit organization that attracts a large amount of donations to fund volunteer and NPO activities.

Every year, Christie Canada holds enjoyable and entertaining events to collect donations for supporting United Way as a way of giving back to the community. United Way promotes the physical and mental health of everyone living in their communities by deepening understanding and mobilizing the caring power of communities to foster healthy families. United Way's three main objectives are to nurture strong communities, help children achieve their goals, and give people a chance to end poverty.

A total of about 40,000 Canadian dollars (about ¥3.44 million) was collected from employee donations via the campaign this year. It was promptly given to United Way.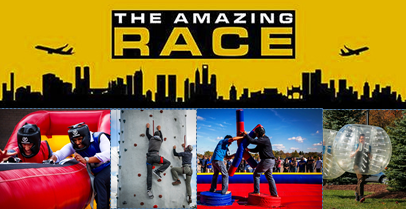 USHIO TAIWAN, INC.(UTI)
Donation of Used PCs to Indigenous People
Most companies dispose of their equipment and other assets when their useful lives have ended, but UTI takes a different approach. In October 2016, UTI donated around 30 used PCs to elementary schools for indigenous people, which have few resources to purchase new PCs. The elementary schools are located in an area called Taitung that is six hours by car from Taipei, the capital of Taiwan. This mountainous region is geographically difficult to develop and has relatively few natural resources. The schools there have not made much progress using PCs and other digital educational resources in the classroom. Once we researched the area and understood their needs, we launched the ECO Project. Before donating the PCs, we had PC experts reformat the hard drives to prevent any information from leaking, and then we gave the cleaned up PCs to the schools.

The school teachers were waiting for UTI staff to arrive with the PCs, and helped unload the boxes. Although a fair distance was traveled, we were moved by seeing the students happily looking at the sight of being surrounded by a mountain of PCs.

The school principal conveyed his appreciation for the donations, and send an official letter of thanks from the school to the president of UTI a month later. This successful project for giving back to the community carried a great significance for UTI.

The Ushio Group's policy of contributing to the development of regions was fulfilled by UTI.