Initiatives for Quality Improvement
Quality Policy
Based on its management philosophy, USHIO has created a unified quality policy for the entire Group, and continued its efforts to improve quality.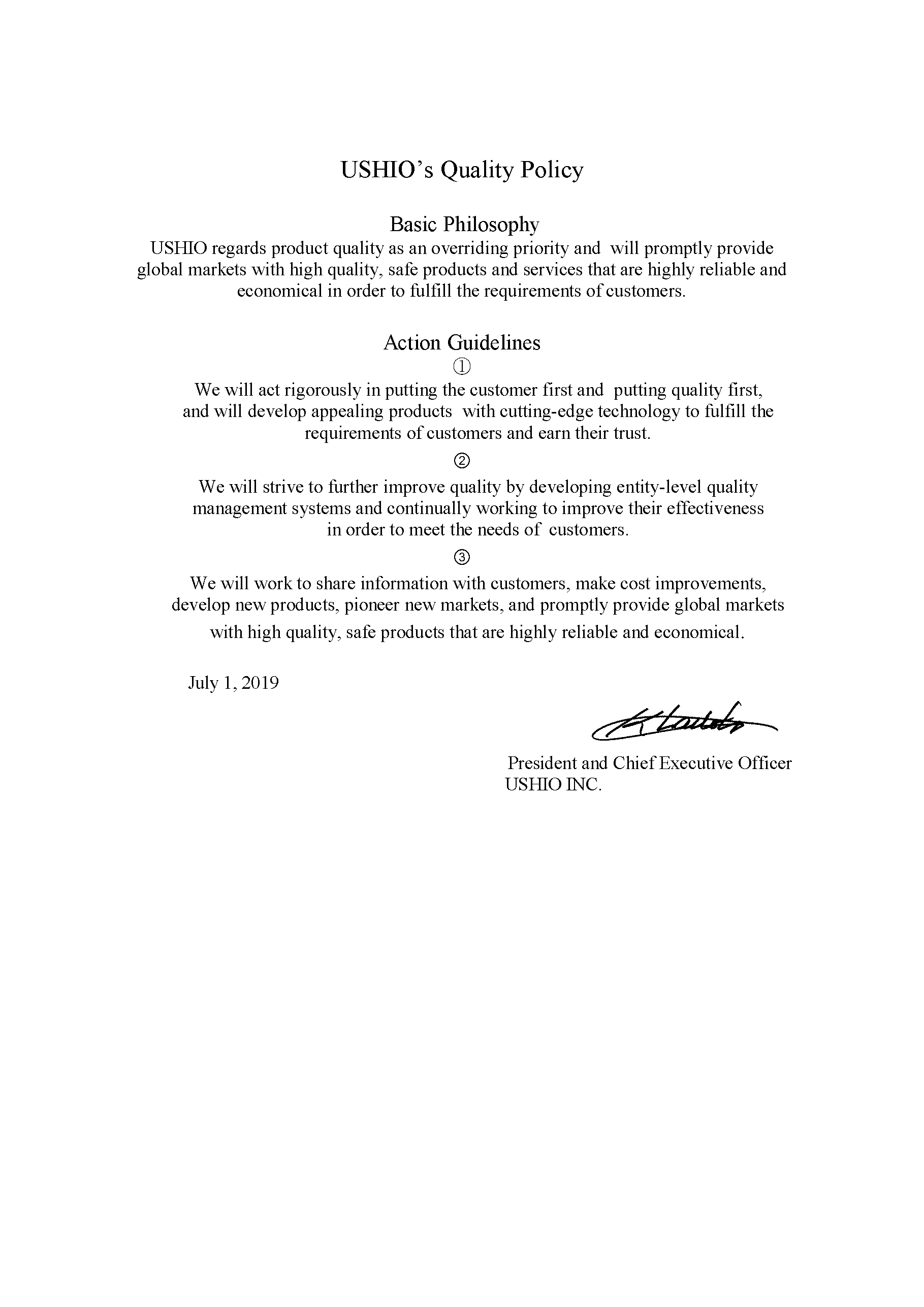 Quality Management System and Framework
Based on its management philosophy, USHIO has created quality policies. As the person in charge, the president and CEO designates the people in charge of quality at the various divisions and departments. USHIO also continually works to improve quality by applying standards such as ISO 9001 certification for quality management systems.
Framework

Specific Activities
Quality Assurance Divisions
USHIO has a system for improving the efficiency and speed of its quality management system, and started new activities in fiscal 2016. We will maintain our mechanisms for swiftly responding to customer needs while meeting the requirements of ISO 9001. We will aim to achieve radical innovation not bound needlessly to rules and firmly anchored in front-line realities, as we strive to achieve even higher levels of customer satisfaction.
We adopt best practices for ensuring quality from the accumulated expertise of each business division through collaboration between the Quality Assurance Division of each business division. We have also established quality management systems based on legal standards in the medical equipment business.
By strengthening our ties with overseas production affiliates and Group companies, we aim to improve the level of quality assurance throughout the entire USHIO Group.
UPS (USHIO Production System)
UPS (USHIO Production System) is an initiative aiming to establish a unique new production system that started at USHIO's Harima Division in fiscal 2012. Amid a rapidly changing business environment, it is important to be able to efficiently supply high-quality products in any environment. To achieve this, we saw the need to think outside the box and promote improvements from a broad-ranging perspective by integrating our ongoing UPS, TPM and TQC improvement activities, rather than repeatedly going over the same ground.
Using Manga to Raise Group-Wide Quality Awareness
Lamps, which are USHIO's main products and are widely used by customers in cinema equipment, projectors and lighting, are produced in a variety of different places, including at overseas bases. Great care needs to be taken to ensure that there are no defects in these products as it may have an incalculable impact on the lives of people.
Amid these conditions, USHIO's Light Sources Division issued an educational manga comic booklet called "Quality First" in fiscal 2015 to raise awareness. The manga uses a story envisaging a problem occurring in a cinema projector lamp to show how a production line employee's simple slipup can end up having a variety of effects on many people, including the ultimate end user. This is a tool that enlightens through prompting understanding the effects of actions, and it is already being used.
The manga has also been translated into English and Chinese and sent out so that all those involved in USHIO's product quality Group-wide, which includes overseas bases, can develop greater awareness. The manga aims to help maintain stable high quality in all USHIO products as well as to contribute to a higher level of customer satisfaction.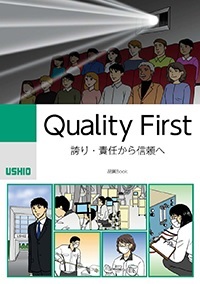 Customer Surveys (Harima Division)
At the Harima Division and led by the quality assurance department, each business unit within the Lamp Company conducts customer surveys and exchanges opinions on quality with customers through meetings and visits in order to collect data on customer satisfaction. The data are then analyzed and used to improve quality.
In particular, the customer survey is conducted every year. We numerically compare whether various criteria have improved over the previous year, and use this information to make further improvements.
Creation of a Quality Management Control Database (Gotemba Division)
Many of the products manufactured at the Gotemba Division have over 1,000 individual components. Therefore, there is an enormous number of items for which quality control must be conducted. To help in the process, we created a database of past instances of non-conformance, created a TO DO list of controlled items, and made it possible to post and share non-conformance information in technical manuals.
Moreover, working groups are also formed for processes and utilized to help share information and improve quality.