High power green laser devices NECSEL Green Laser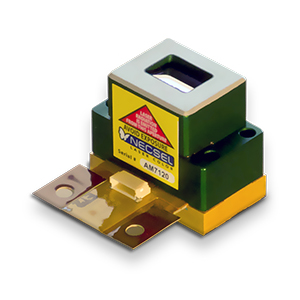 Inspection

Imaging

Biology and Chemistry

Video and Cinema

Illumination
Our patented technique enable selection of any wavelength from 530 to 555 nm while achieving 3 W output in less than one cubic inch. A 30,000-hour lifespan* is also achieved. Furthermore, fiber coupling is selectable
* Depending on temperature conditions and derating.
Select from 2 or 3 W output
30,000 hour lifespan
Multiple wavelengths from 530 to 555 nm
Dimensions
Free space: 40.5 × 34.0 × 29.0 (mm)
Fiber coupling: 40.5 × 34.0 × 64.0 (mm)
Digital projectors
Remote lighting
Hazard zone lighting
Theme park attractions
Forensics
Medical
Therapy and more
Attachment Developer's Kit
This evaluation kit includes an AC/DC power supply, driver, Windows GUI and connection cable to provide stand-alone control of laser operation. The driver features pulse operation by external and internal triggers, power control by analog input, and protective circuitry (temperature abnormality detection) functions. It also includes a proprietary diode protection circuit.