ESG Management
Ushio has established the shared goal to "support human well-being and societal growth" and work to achieve that goal by discovering major social issues that we can help resolve on our own initiative. To ensure the success of this approach, we transition from focusing on how our technologies will be used to thinking more about how we can resolve social issues through our technologies.
Vision for 2030
Management Policies—Vision for 2030
Seeking to achieve further growth leading up to 2050, Ushio has defined its new Mission and Vision for 2030.
In addition, we formulated a new Medium-Term Management plan to serve as a roadmap toward accomplishing our Vision. This plan is comprised of three pillars—basic policies, shifts in approach, and changes in mind-sets. Also, for the purpose of guiding us toward our long-term Vision for 2030, we have defined priority issues related to ESG management; Five Management Focuses; and KPI targets in relation to these objectives. Fiscal 2021 is the first year in which Ushio has used the word "ESG." However, even if we have not used the word before now, this does not change the fact that we have been practicing what could be considered ESG management since our founding in 1964 as we have worked to contribute to society and fulfill our social responsibilities as indicated in our Management Philosophy. In other words, ESG management is itself an act of enacting Ushio's Management Philosophy, and ESG management itself therefore does not represent the pursuit of a new goal. Going forward, we will advance ESG management based on a fresh perspective incorporating our newly revised philosophy and material issues.
Mission and Vision for 2030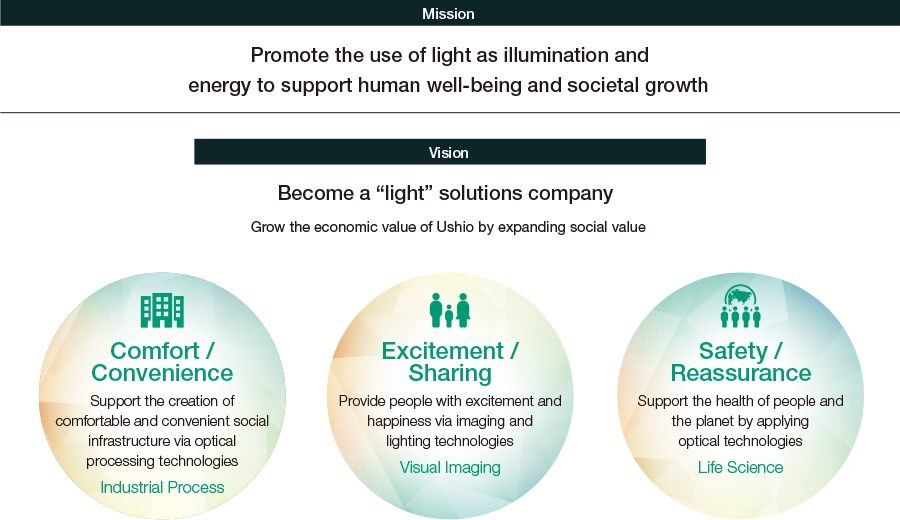 Shifts in approach・
Changes in Mind-Sets


Based on the belief that improvements to the social value of Ushio will contribute to the economic growth of the Company, "Creating Businesses with Greater Social Value" has been positioned as our top focus. Meanwhile, "Building a Robust Management Base" will be promoted to lay the groundwork for other management focuses as we accelerate initiatives based on our Five Management Focuses.
Transformation—Vision for 2030
A major element of the new Medium-Term Management Plan is its focus on shifting the emphasis of Group management from autonomy to solidarity to improve management efficiency. Tasks needing to be addressed to successfully complete this shift mainly include installing IT infrastructure, globalizing human resource and business activities, and enhancing corporate governance. While enacting the newly defined basic policies and the Five Management Focuses, we will manage KPIs to ensure that we can effectively address these tasks.
Furthermore, we intend to promote changes in mind-sets among management and all other employees to guarantee that our plans can contribute to long-term improvements in Ushio's corporate value.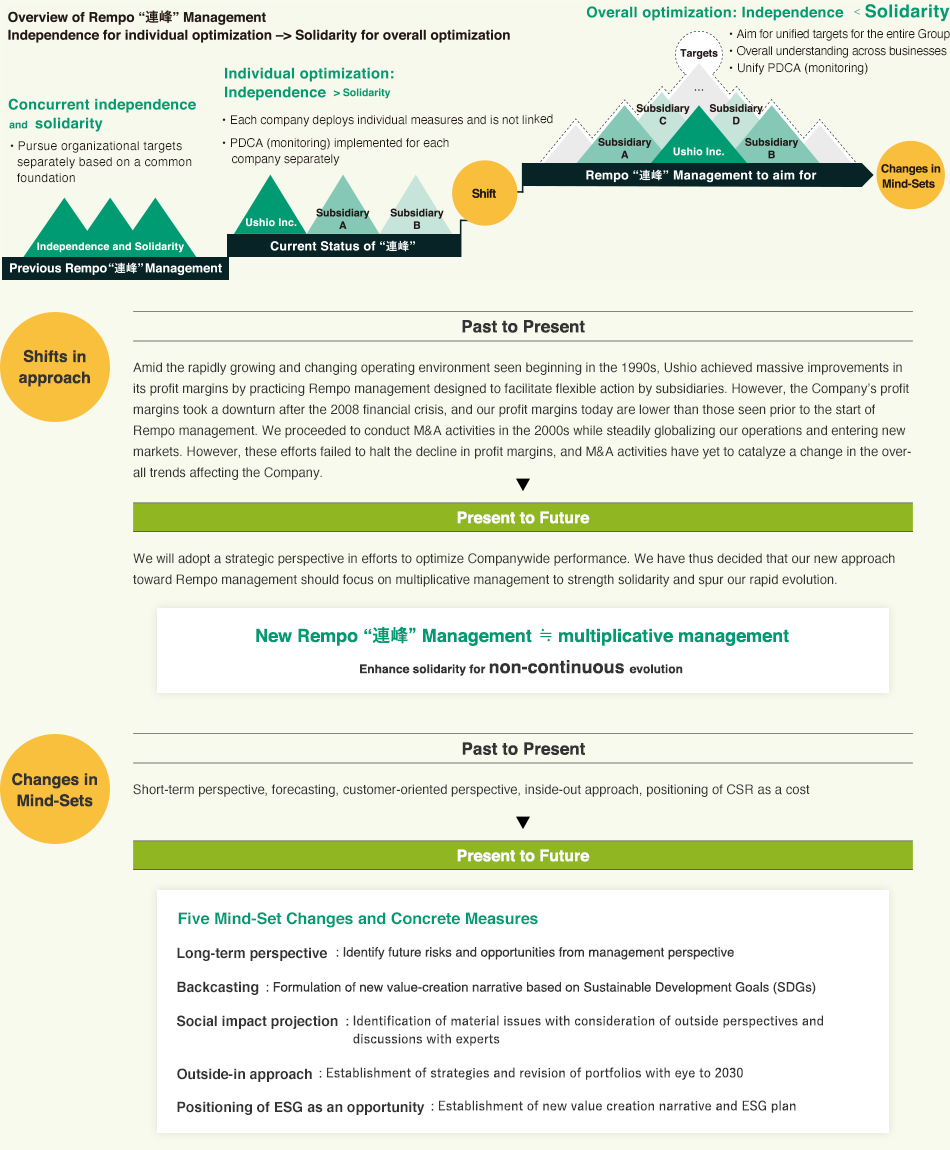 Print