Message from the President
Announced in July 2020, the new Medium-Term Management Plan for the three years until fiscal 2022 and the Long-Term Vision for 2030 stated that we would aim to be a light solutions company and that we would promote "the use of light as illumination and energy to support human well-being and societal growth ". On the basis of the light technologies we have cultivated since our foundation, Ushio has been exploring optical phenomena from which innovation may arise and has been turning them into tangible products that help overcome the challenges facing customers and society. The statements mentioned above verbally portrayed these activities.

While the current COVID-19 pandemic has triggered the collapse of medical systems and brought to the surface other problems arising from widespread infections, it led to mounting demand for safety and reassurance from living spaces. That is why our Care222® viral inactivation and disinfection technology that we have been developing over many years is attracting attention as a solution to this social problem.

The values mentioned above are reflected in the Ushio Group Management Philosophy. It is a foundation for everything about Ushio. Among its four components, the first, which is to "build both a prosperous Company and prosperous employees ", is the most fundamental and original. This embodies our idea that contribution to corporate prosperity and to realization of a sustainable society through innovation for society will enrich employees' life.

To make this concept a reality and to invigorate our corporate social responsibility (CSR) activities, we have drawn up the Medium-Term CSR Plan and the CSR Action Plan. In 2010, we expressed our support for the United Nations Global Compact's Ten Principles. They are universal human rights, labor standards, environmental and anti-corruption principles proposed by the United Nations. In addition, the United Nations adopted the Sustainable Development Goals in September 2015 and social issues have increasingly been attracting attention. Together with stakeholders, we have been taking active part in subcommittee activities for sharing information on specific measures for conducting activities addressing individual CSR elements and for enhancing activities at individual companies.
In recognition of our environmental, social and governance (ESG) efforts, Ushio is selected as a constituent for all four indices that Japan's Government Pension Investment Fund (GPIF), one of the world's largest pension funds, refers to for its ESG investments in Japanese companies. We will continue our CSR activities to fulfill our corporate social responsibility.

We will make full use of our light technologies to resolve problems facing society and to help realize a sustainable society.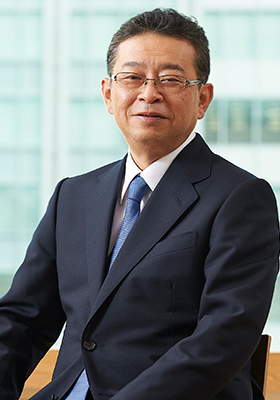 Koji Naito
Chief Executive Officer