Message from the President
The COVID-19 pandemic has brought about significant change to people's lives and to society as a whole. By promoting thorough measures to prevent the spread of the virus at our bases around the world and engaging in initiatives to visualize safety in the workplace, we have been able to continue our business operations without interruption, aside from when requested to do so by national and local governments in each country. In this way, we have been fulfilling our important responsibility of product supply as a company with numerous products that boast a high market share. There are a number of common sustainability challenges for humanity, including climate change, COVID-19, and human rights. In this environment, Ushio formulated the new Medium-Term Management Plan last year. And in this fiscal year, we announced our ESG management guidelines to achieve our Vision for 2030 in Ushio Report 2021.

Realizing our new Mission and Vision with society
Ushio has been pursuing the philosophy of ESG management—as expressed in its management philosophy—since its founding in 1964.
With its mission of "Promote the use of light as illumination and energy to support human well-being and societal growth", Ushio has a vision to expand its social value as a company leading to growth of economic value, by using its core technologies to solve larger social problems of the future as "a light solutions company" by 2030.
We will make sure to implement the Medium-Term Management Plan and achieve growth in results. In this process, we will attain resources and allocate them appropriately to, and invest in, initiatives to realize the new Mission, Vision and also the Five Management Focuses. In this way, we will create a virtuous cycle and strive to realize the 2030 long-term vision. Beyond that, we are drawing up a process for making Ushio a company that is good both in the eyes of its employees and those of society—in other words, a company that contributes to the sustainability of society.
In fiscal 2021, we have decided to focus on health-oriented management, which is related to Focus 3: Creating working environments where it is easy to produce results. Employees need to be healthy physically and mentally to realize the management philosophy and the Mission and Vision. We will help employees to maintain and improve their health and develop environments where employees can continue to tackle challenges, while maintaining their health, finding job satisfaction, and achieving personal growth.
In July 2021, we expressed support for the recommendations of the TCFD, which is related to Focus 4: Sustainably reducing our environmental impact. We are making preparations to disclose financial information and management information based on the recommendations.

In 2010, we expressed our support for the United Nations Global Compact's Ten Principles. They are universal human rights, labor standards, environmental and anti-corruption principles proposed by the United Nations. In 2015, we revised the 10 Action Guidelines as a Member of Society in accordance with the Universal Declaration of Human Rights and the UN Guiding Principles on Business and Human Rights. One of our guiding principles is respecting the human rights of employees, business partners, and other stakeholders, and we strive to fulfill our responsibility as a company to respect human rights in our management and behavior.

We will continue to make full use of Ushio's light technologies based on our ESG management to resolve the challenges facing society and help realize a sustainable society.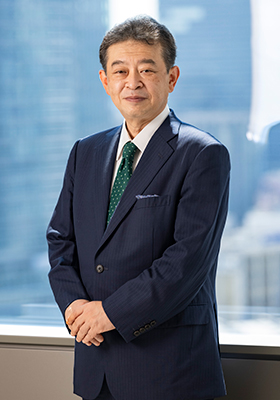 Koji Naito
Chief Executive Officer