Initiatives for Quality Improvement
Quality Policy
Based on its corporate philosophy, Ushio has established a company-wide unified quality policy and is working to resolve social issues by providing safe and reliable products and services, as well as further improving quality.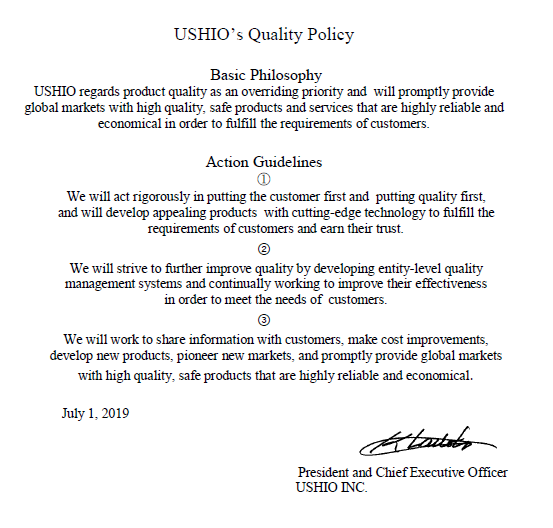 Quality Management System and Framework
Ushio has established a quality policy based on its corporate philosophy, and has established a PL Committee with the President and Representative Director as the person responsible, and assigned quality managers to each of the divisions.
Through the operation of the Quality Management System ISO9001, we are working continuously to improve quality in order to continue to provide high-quality and safe products and services.
In addition, we have established the ISO and Product Regulatory Management Department to promote and supervise quality and environmental management throughout the company, strengthen collaboration and development with each business division and Group companies, and supervise and manage product safety regulations. Through these efforts, we are undertaking activities aimed at total optimization of our management system.

Framework
Specific Activities
ISO and Product Regulatory Management Department
We are working to improve the efficiency and speed of our quality and environmental management systems. With satisfying ISO requirements, we are able to respond swiftly to customer demands, maintain and improve systems for solving social issues and contributing to the development of our business, and carry out fundamental reforms at the workplaces so that they do not become activities for rules. This activity leads to the provision of safety and reliable products and services and higher customer satisfaction.

The quality assurance departments established for each division work together to promote activities with an idea to share "strong points" for quality maintenance know-how among businesses, optimizing management as a whole, and improving quality under ESG management. In addition, there are "Sustainably Reducing Environmental Impact" and "Building a Robust Management Base" in the "Five Management Focuses" that accompany the shift to ESG management. We are promoting the development of environmentally conscious products utilizing ISO tools and strengthening product safety management in line with business expansion aimed at solving social issues.

We keep working to improve the level of quality assurance so that the Ushio Group as a whole can continue to provide high-quality, safe products and services by promoting collaboration with overseas production affiliates and Group companies.
UPS Activities; Enhancing factory Automation and Digital transformation
Since 2011, the Harima Plant has been implementing activities called UPS (Ushio Production System) from a diversified perspective by integrating the improvement activities (TQC and TPM) . It has cultivated over the years in order to respond flexibly to rapid changes in the business environment and transform it into a high-quality and highly efficient plant. We have the three pillars; "Small Group Activities," "Human Resource Education," and "Loss Reduction,"; in order to acquire the ability to identify problems and share problems with colleagues and improve them strongly. In particular, since 2018, we have been striving to raise the level of these indicators, which are visible in terms of the figures for each of the three pillars. The results of these efforts have been disseminated outside the company through presentations, exhibitions, and lectures, which has also contributed to local communities.
Based on this UPS improvement activity, we continue to promote activities aimed at reducing all types of losses in lamps and module products. At the same time, we strive to create a bright workplace environment, mutually acknowledge each other, work in friendly competition, and aim to be our aspiration. We continue our efforts to recognize, learn, and enhance each other for growth to tomorrow.

In the future, we will expand the scope of our activities to include not only the Harima Plant, which is the mother plant of Ushio, but also domestic and overseas production sites and our group companies.
Until now, we have achieved to reduce variations and strengthen process management by introducing a process management support system (Eagle Eye・Yellowfin) that visualizes each process in on-time for lamps and module manufacturing, and by introducing robotics.
Furthermore, we are building a system to reduce costs and shorten lead times by analyzing data using a process management support system to analyze defects and improve factory productivity.
The Gotemba Plant has integrated five functions (production planning, procurement, manufacturing, logistics, and quality assurance) into the production division to promote integrated production activities.
We are striving to become a "light" solutions company that is our vision. This is through our SVC (Sustainable Value Creation) activities, which lead to the reduction of environmental impact and the creation of digital and other sustainable values, while also leading to improvements in our workplaces, comfortable working environments and productivity improvements.

Change in the power supply production QA audits: Shift to new normal audit
Ushio's power supply products take the form of a fabless company and manufactured by domestic and overseas subcontractors.
In the past, our main focus was on auditing and quality activities by visiting subcontractors. However, due to the impact of COVID-19 pandemic, we are actively incorporating remote auditing methods, both domestically and overseas, to respond to this situation. Taking the shift to new normal as an opportunity for change, we are working with our subcontractors to reduce the rate of defects and improve quality.
We are actively incorporating ESG-oriented initiatives, such as eliminating the need for business trips and reducing CO2, and promoting the development of products that reduce environmental impact.