Health and Productivity Management
Health Declaration and Promotion System
Health Declaration
We believe that human resources are the most important management resource that supports Ushio's sustainable growth. Efforts in the health and productivity management also lead to the realization of the corporate philosophy of "build a prosperous Company and prosperous employees." As a "light" solutions company, we will contribute to society through high-quality, unique technologies, products, and services while working together to create an environment in which each and every employee is both in mentally and physically healthy, and continues to challenge while feeling job satisfaction and a sense of growth.
Promotion System
Ushio as a whole; directors, HR, Industrial Health Teams, Health Insurance Association and others; collaborate to ascertain the current situation and consider and implement various measures.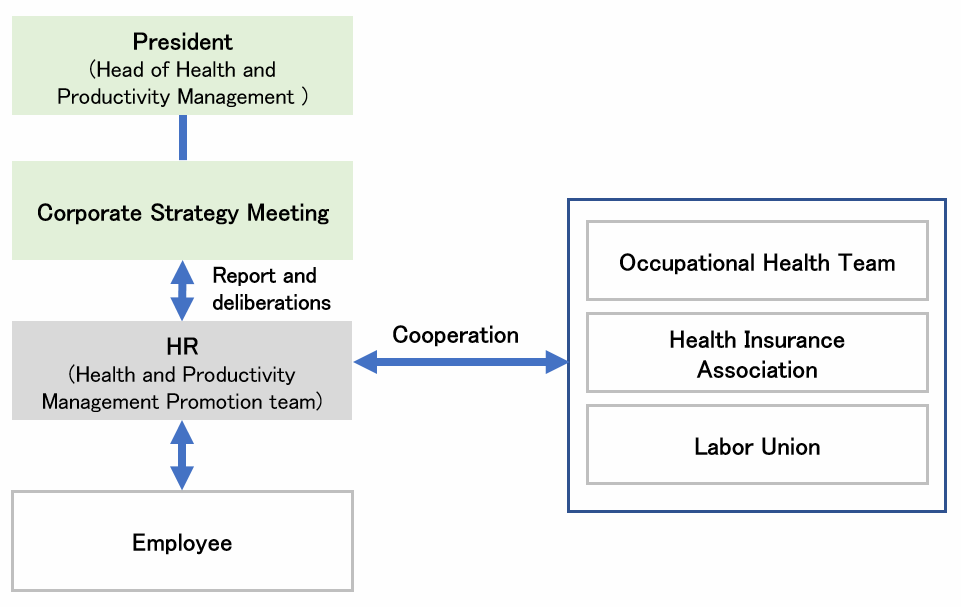 Work-Life Balance
Support for employee
Ushio aims to be able to flexibly accommodate diverse values and work styles regardless of system for childcare leave that offers much more than the legally required level of support.
Balancing work and childcare
As an additional support for employees balancing parenting with work, we uploaded the Work-Life Balance Handbook on our intranet portal for employees. The handbook contains information on programs for balancing work, as well as information on childrearing and maternal welfare, how managers should respond, and other tips for employees who would use the programs and for their managers.

We have also enhanced the work environment to enable people to balance work and parenting while encouraging them to review their way of working in order to achieve a good work-life balance. For example, we conducted "no overtime" days and put up posters to promote them, and organized visiting days for children and family day events. The ratio of women returning to work after taking maternity leave is virtually 100%, and several male employees also take childcare leave each year. Consequently, for the fourth time we earned the "Kurumin" certification as a company that supports the raising of children under the Act for Measures to Support the Development of the Next Generation.
People Taking Childcare Leave
| | Fiscal 2017 | Fiscal 2018 | Fiscal 2019 | Fiscal 2020 |
| --- | --- | --- | --- | --- |
| Men | 3 | 10 | 8 | 8 |
| Women | 27 | 21 | 21 | 18 |
| Total persons | 30 | 31 | 29 | 26 |

Balancing work and family care
Seminars have been held continuously since 2018 with the aim of easing concerns about the balance between work and family care. In 2021, we held it online on Sunday so that not only our employees but also their families could participate together. In addition, we have created opportunities to consult specialists on an individual basis. In this way, we are working to create an environment in which employees can continue to work with fewer concerns.
Support system
Caregiving leave
Paid vacation for caregiving
Short time work
Restriction on overtime work
Restriction on late-night work

・No limitation on count for a year

(per number of family)



・No pay


・Special paid vacation: 5 days per number of family, 80% of salary, no bonus, Can be taken for a half day or hourly

・Accumulated paid vacation: Available after all paid vacation are taken. 100% of Salary and bonus
・No limitation for three years (per number of family)


・Six-hour of flexible time work per day

・0-24 hours per month





・Restricted from 10 pm to 5am





Support for balancing work and health care
In the event of illness, you may add up to 40 days of accumulated paid vacation in addition to normal annual paid vacation. In both cases, the salary will be paid at 100%. Subsequently, employees may take sick leave (80% of salary) for up to three months and non-job-related sick leave (no salary) for up to 12 to 36 months, depending on the length of service.
As above, Ushio has enhanced the priority use of accumulated annual paid vacation and the temporary leave system so that even if an illness or injury occurs, employees can devote themselves to treatment and return to work thereafter. In addition, we have a system in which line managers, personnel officers, and industrial doctors can work together to support both treatment and employment in line with each individual's situation so that they can continue to work based on their treatment plans and physical conditions after returning after resuming.

In FY2020, we issued the Work-Life Balance Support Handbook (for treatment) so that employees understand various systems available when they get ill or injured in the future and eliminating concerns. In addition, we have introduced a GLTD (Group Long-Term Disability Income Compensation Insurance) that aids cost of living during treatment, and we are enhancing support from the perspective of compensation.
Understanding Appropriate Working Hours Together with Measures and Responses to Working Long Hours
Ushio works to understand what appropriate working hours are and enacts measures and responses to working long hours with the aim of realizing its management philosophy of "building both a prosperous company and prosperous employees."
Examples of Specific Initiatives
Visualization of the time employees spend in the workplace (combining the times employees arrive and leave as registered by card readers on the web system).
Using the web system to make automatic comparisons of each employee's working hours and agreements made regarding overtime and working on holidays, and to strengthen each employee's and their departmental manager's control over long working hours.
Ushio exercises thorough management, not only by implementing the proper operation of the Ministry of Health, Labor and Welfare's integrated measures for the prevention of health problems caused by overwork, but also by applying standards about working hours and health management that are even stricter than those set by the Ministry of Health, Labor and Welfare.
As a result of these initiatives, average monthly overtime per employee in fiscal 2020 amounted to 10.4 hours, a decrease of about 32% compared with fiscal 2015.

Paid Vacation and No-Overtime Days
Ushio promotes good work-life balance by establishing regular no-overtime work days and the use of planned annual paid leave in order to create a balanced work environment. In April 2021, we abolished the core time for flextime work and introduced an hourly paid leave system. We ensure all employees have time to spend with their families and friends, and time for self-development so that they will maintain their mental and physical health. Eventually we believe it leads to improved performance.

Percentage of Paid Vacation Days Used
| Fiscal 2017 | Fiscal 2018 | Fiscal 2019 | Fiscal 2020 |
| --- | --- | --- | --- |
| 71.1% | 72.8% | 71.8% | 68.5% |
Cafeteria Plan (Selective Benefit System)
As the social environment changes and lifestyles diversify, so do the needs of employees. In order to respond to these changes, we have introduced the "U's Club," a system that allows employees to select and use a wide range of benefits they wish to use.
As a result of links between the system operated by the Company and the services provided by a company acting in place of a welfare agency, the Company is able to expand the social-welfare menu items from those offered hitherto under the company system, including in the areas of childcare, nursing care, health and employee self-development. Through this, we aim to support each employee in living a more fulfilling and meaningful life and in expressing and making use of their abilities at work to an even greater extent. Moreover, Ushio is working to review and expand menu items as needed, in line with the needs of its employees.

Employee Shareholding Association
As one aspect of a welfare program, Ushio Inc. has an employee shareholding association. For employees, a financial incentive is provided, and this is beneficial for long-term asset building. Through this program, the Company gives employees support for each other's development from a sense of togetherness.