Human Resources Development
Human Resource Development Based on Ushio's Human Resource Vision, Image of Human Resources Required by Ushio, and Requirements
Ushio's management philosophy is to "build both a prosperous company and prosperous employees." To realize this philosophy, Ushio has set out a Human Resources Vision explaining the desired characteristics for employees, and has clarified and documented the image of human resources required by Ushio and conditions for human resources in order to realize the vision. We have also established an education system designed to foster such human resources and accelerate the growth of each employee.
Human Resource Vision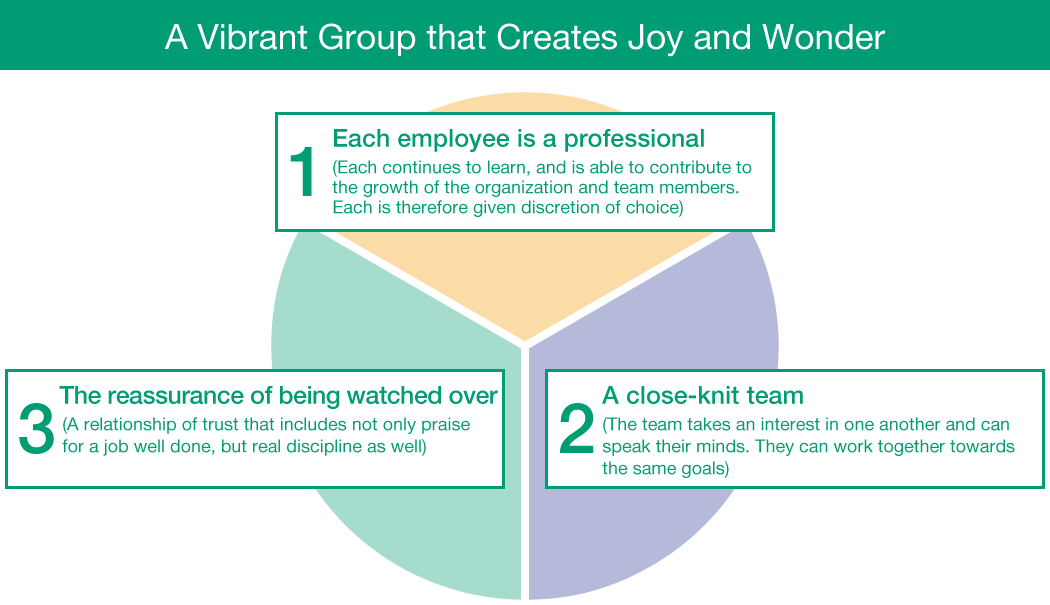 Ideal Human Capital and Requirements
Ideal Human Capital
Professional personnel who have "will" and "passion," respect diverse values, and continue to collaborate and take on challenges.
As business and social issues differ by country and region, and the business environment is changing on a daily basis, we need to ensure a wealth of diversity among our human resources. Or, in other words, we must step up our efforts to discover and develop global talent.
Requirements
In addition to below our human resources requirements (Conduct and Attitude) , we have defined "diversity management, "management literacy," and "global communication" as three conditions for being an employee of the Ushio Group.
Education and Training System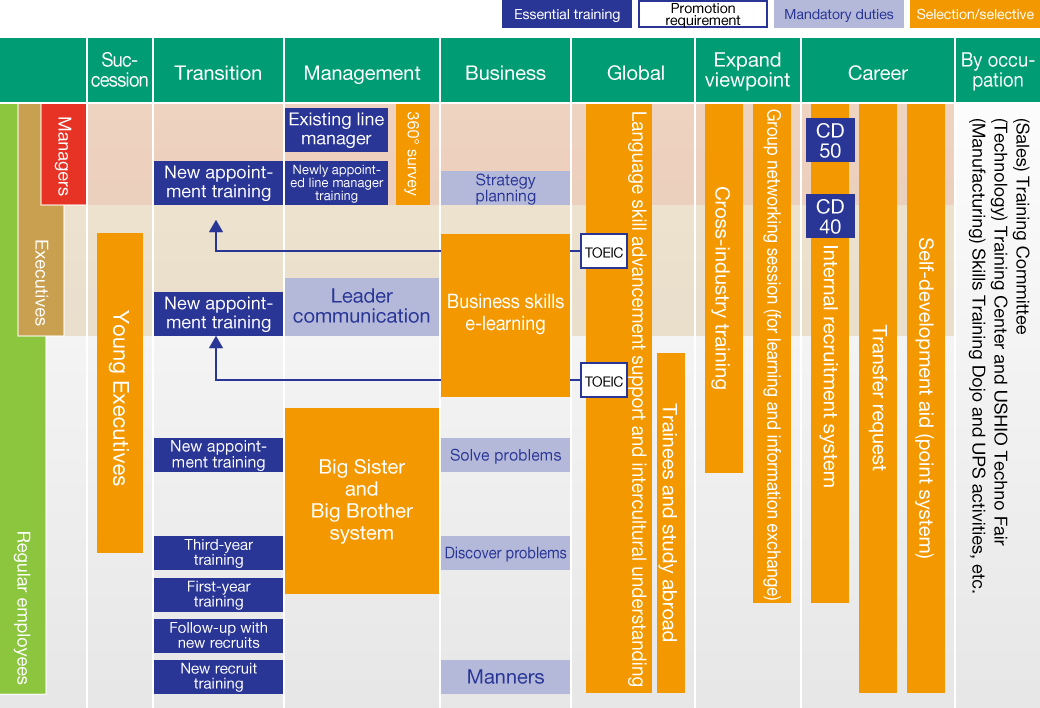 New Recruit Training
Our new recruit training is designed to foster recruits' awareness of themselves as members of Ushio and develop an attitude of proactive thinking and action. The training focuses on the acquisition of a professional attitude, basic operations, and business skills in the first year. To deepen their understanding of the Company, they experience onsite training in various departments such as manufacturing and customer service, where they learn, grow, and receive support from many people.

In addition, follow-up measures such as the Big Sister and Big Brother System, "Follow-Up Training," and "Regular Interviews," are in place to provide enhanced follow-ups on the status and growth of individual recruits after they have been assigned.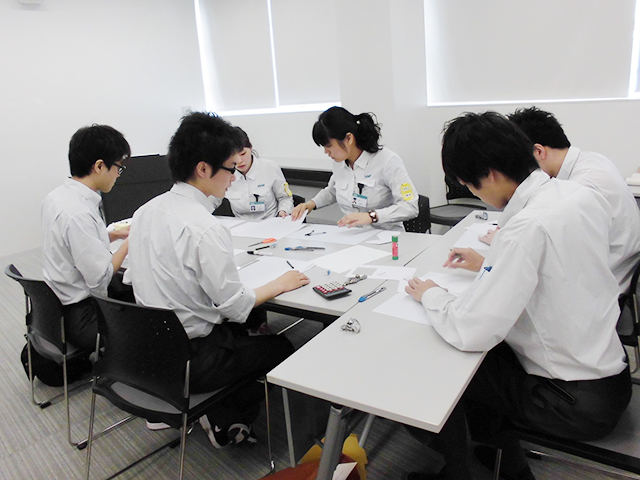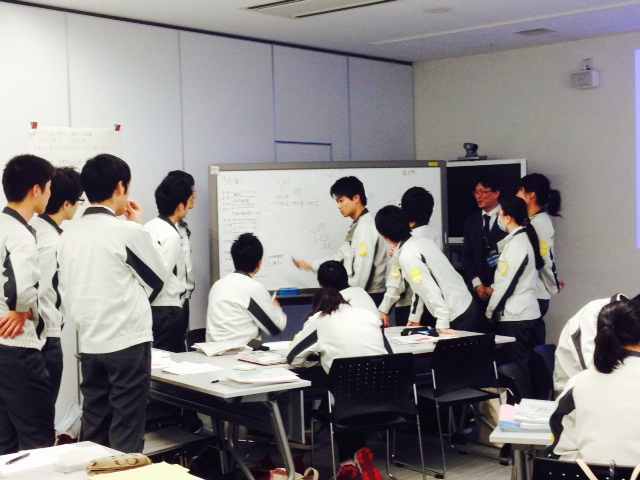 Sister / Brother Program
The Sister / Brother Program is a long-running training system that has existed for more than 30 years at Ushio for training new recruits. During the first year of employment, veteran employees act as one-on-one guidance counselors for new recruits to back them up. Female mentors are called Sisters and male mentors are referred to as Brothers. In addition to providing guidance about daily work activities, they support the growth of new recruits by helping them solve issues related to their corporate work lives and any personal struggles. The employees selected to be Big Sisters and Big Brothers also undergo training.

The Sister / Brother Program, in combination with other initial training for new recruits, has led to high retention rates of new employees in their third year (100% for new employees that joined out of college in fiscal 2018, as of April 2021).
Young Executives Group
This is one of our systems for nurturing future management personnel. Members of the group are chosen from an openly canvassed pool of applicants, typically young employees around 30 years of age from Group companies. There are five target criteria: a dream, strategy construction ability, ability to act, collaboration, and ability to work in a global setting. The participants learn theoretical knowledge, such as management strategy, and tackle specific initiatives relating to actual management issues. They undertake these activities while exchanging opinions with upper management, external executives, and experts, among others. Through this system, Ushio provides these highly motivated young employees with opportunities to develop their career paths.

Occupation-Based Training
In OJT and Off-JT that are directly linked to their duties, we are implementing improvement activities through small-group activities, revitalizing communications, and sharing information in order not only to improve the skills of expertise but also to increase motivation. In addition to this, we support training that is closely linked to the workplaces of each division.
Human Resource Strategy Division Training Center
The current Training Center formed as a result of a technician training course we started in 2012, and today it's function is to nurture engineers. Originally expected to perform an internal function of enhancing and diversifying the basic skills of Ushio technicians who contribute to society through optical technology, the Training Center now endeavors to provide opportunities to acquire technical knowledge in a broad range of fields. These include technical courses such as technical drawing CAD, and programming, as well as quality control and PC skills such as use of MS Word and Excel. In fiscal 2017, the Center started providing education to Group companies in Japan as well, helping to raise the technical ability of the entire Group.


UPS (Ushio Production System) Activities
Since 2011, the Harima Plant has been implementing activities called UPS (Ushio Production System) from a diversified perspective by integrating the improvement activities (TQC and TPM) . It has cultivated over the years in order to respond flexibly to rapid changes in the business environment and transform it into a high-quality and highly efficient plant. We have the three pillars; "Small Group Activities," "Human Resource Education," and "Loss Reduction,"; in order to acquire the ability to identify problems and share problems with colleagues and improve them strongly.
In particular, since 2018, we have been striving to raise the level of these indicators, which are visible in terms of the figures for each of the three pillars. The results of these efforts have been disseminated outside the company through presentations, exhibitions, and lectures, which has also contributed to local communities.

Activities until Now
Ushio has been conducting small-group activities at our business sites since April 2014 to engage all employees at each business site in activities to improve quality assurance and visualization. This initiative began with 91 groups that implemented specific measures to improve quality, trained personnel able to autonomously manage quality, and helped raise awareness of quality at sites.
Instead of follow-up from the Committee, we have newly established supporters from within the department, and are conducting activities to support each individual's independence for small groups in which women and young employees are active as leaders. On an organizational level, we were also triggered by a switch to a system of activities led by the front line, which unified the promotion of improvement activities into actual operations and created a system that supports the homogenization of mindsets and independence.

Improving and Embedding Value in Human Resource Development
With regard to human resource development, we believe that "in order to produce good products, it is first necessary to produce good workers." We are training supporters to encourage autonomous activities at business sites. From fiscal 2016, we aim to improve and embed the value of human resource development by enhancing our training curriculum into one that offers more practical lessons and techniques.
Going forward, through the continuous, steady accumulation of activities, we will establish platforms for manufacturing that can be visualized and build up expertise. At the same time, we will continue activities to enhance the efficiency and vitality of our workplaces.
Technical Training Dojo
The Meister group of the Light Source Division not only provides guidance on skilled work and inherits skills, but also develops methods for automation and works to improve production methods for quality improvement. In addition to the part directly related to the production of lamps, we have also begun efforts to produce highly difficult processed glass products, such as quartz glass jigs, in an effort to contribute to the improvement of manufacturing skills with a broad view to the future.

Members (Meister) have the leadership abilities to pass on and pass on skills to successors and possess high-precision specialized processing and other skills. With the introduction of the Meister System, we are recognized not only for our skilled knowledge and skills, but also for our trusted personality and communication abilities as a instructor, and we certify as a Meister.

Activities are carried out not only for the Light Source Division, but also for other divisions and Group companies, including those overseas, and are multifaceted and global initiatives. For example, we regularly conduct work checks and educate instructors at overseas Group companies. We also accept local staff for training, which leads to the improvement of the level of skills in the Group and the quality of our products.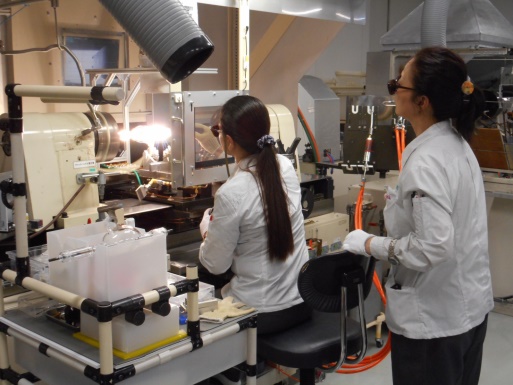 A Meister with Trainees from Overseas Manufacturing Sites
Support for Self-Development
We have introduced TOIEC Bridge exam system with the aim of enabling employees to understand their own English-level skills and improve their skills, and a portion of the exam fee is supported by the company. In fiscal 2020, a total of 203 employees took the exam. Currently, TOEIC Bridge score is one of the requirements for promotion to managerial positions.

Our employees can use U's Club menu as part of self-development assistance. Pre-awarded points can be used for correspondence courses, English conversation schools, and other schools, as well as for acquiring qualifications, depending on their needs and life plans.
New approach to education and training under COVID-19 Pandemic (Annual Employee Training Hours and Expenses)
In fiscal 2020, education and training for our employees focused on skill improvement (self-development assistance, the Young Executives Group, level-specific training, and job-specific training, and training for new employees) was affected by the COVID-19 pandemic. We were not able to conduct face-to-face trainings, and the opportunities for participation were greatly limited.
On the other hand, we have shifted to an online training programs and started a new selective training program under the name Ushio College. As a result, in fiscal 2021, the number of participants in the training program, the number of times of attendance, and expenses are expected to increase significantly.

In fiscal 2020, 15,152 hours of education and training were spent, at a cost of ¥23 million, with a total of 893 participants.