Our Mission
Management Philosophy of the USHIO Group
The Management Philosophy that underpins all activities of USHIO Group employees retains the spirit of the "Basic Policy" that was formulated when the Company was first founded, while also recognizing the social issues that have emerged with the changing times. Our Management Philosophy therefore calls us to "fulfill our corporate social responsibility."
Build both a prosperous Company and prosperous employees.
Deliver products and services that are competitive in the global market.
Contribute to society through superior products and innovative research and development.
Expand profits, corporate responsibility, and competitiveness through open and free-thinking business operations.
Our 10 Action Guidelines
These Action Guidelines describe how to realize the vision of the USHIO Group, and each and every employee abides by the Guidelines on a daily basis.
We shall aim to be a company that accepts diverse individual qualities and values and where people work together and pursue self-learning and self-improvement.
We shall strive for the company's sustainable growth through our innovative, proactive and prompt management.
We shall respect all the internationally recognized basic human rights relating to our business activities, and endeavor to create bright, safe and pleasant working environments.
We shall provide high-quality, safe products and services at appropriate prices and carry out fair and equitable business transactions.
We shall work to earn the understanding and trust of society.
We shall comply with laws and regulations and carry out fair business activities in accordance with socially accepted practices.
We shall fulfill our duties to the best of our abilities in conformity with internal regulations and standards.
We shall promote environmental protection and the efficient use of resources.
We shall carry out proactive public relations activities while respecting the value of information and intellectual property rights of third parties.
We shall contribute to the development of respective regions where we conduct business as a member of the international community.
Business Model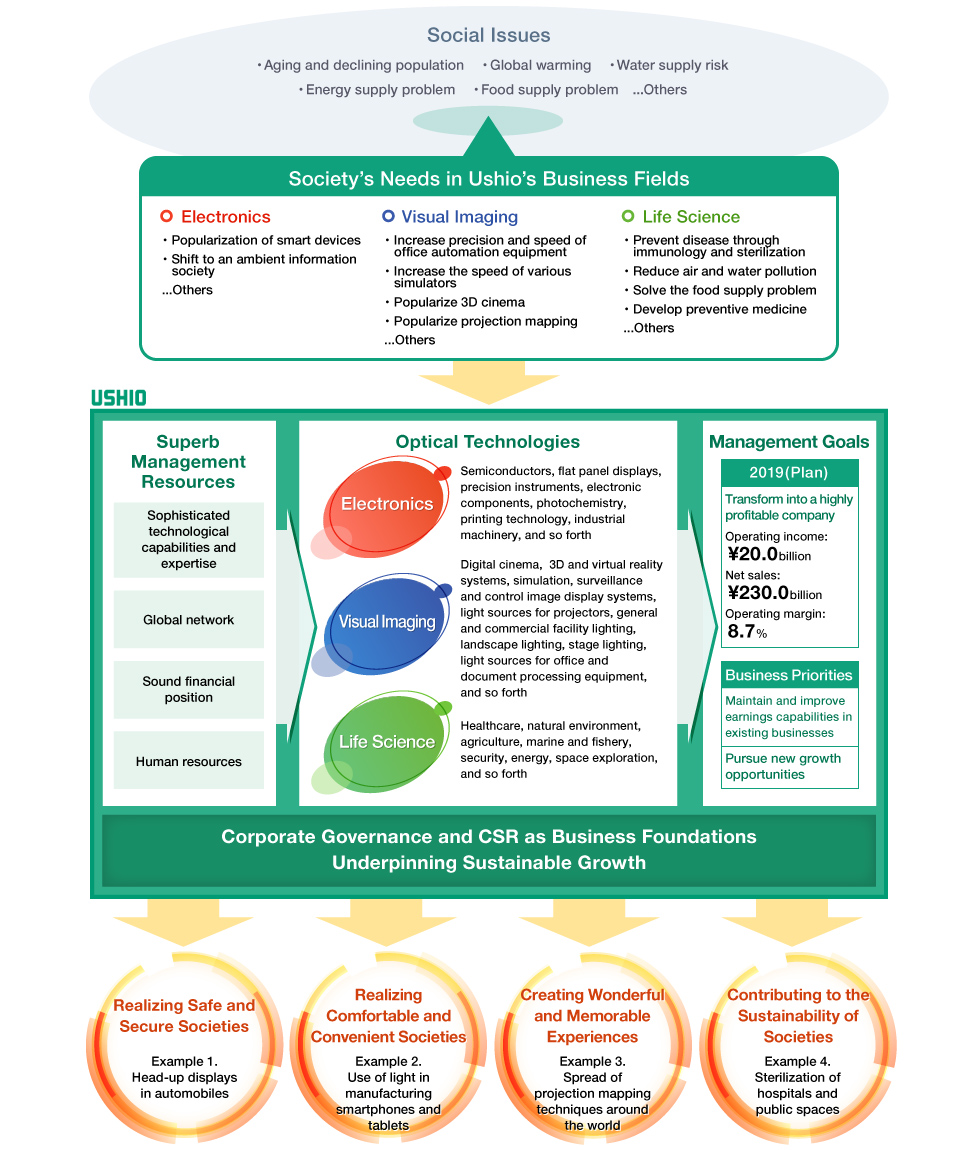 Realizing Safe and Secure Societies
Example 1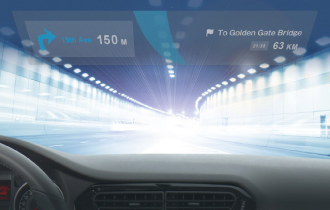 Example 1. Head-up displays in automobiles
A head-up display projects various information onto the windshield of a car while constantly interfacing with electric toll collection (ETC) systems and cloud networks. This technology is expected to reduce driver inattentiveness by enabling them to obtain information without shifting their gaze. To realize safe and secure societies, USHIO is also engaged in the development of head-up displays.
Realizing Comfortable and Convenient Societies
Example 2
Example 2. Use of light in manufacturing smartphones and tablets
Many types of light are used in manufacturing the smartphones and tablets that have enriched and made our lives more convenient. By harnessing the characteristics of light, USHIO plays several roles in the process, eliminating minute dust particles from the manufacturing process, bonding components together, and bringing out the clarity and definition of liquid crystal displays.
Creating Wonderful and Memorable Experiences
Example 3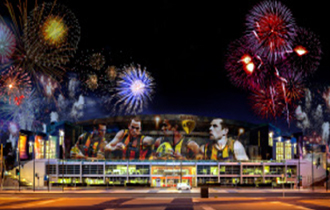 Example 3. Spread of projection mapping techniques around the world
Projection mapping is a technique that uses numerous digital projectors equipped with high-intensity lamps to project images onto buildings and other large objects and spaces. USHIO's light sources used in this way have continued to enthrall audiences at large-scale events in Japan and around the world.
Contributing to the Sustainability of Societies
Example 4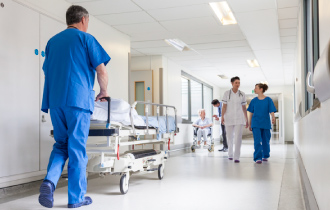 Example 4. Sterilization of hospitals and public spaces
Sterilization with light, instead of chemicals, is drawing attention as a highly safe method for maintaining hygiene. This promising technique holds potential for use in settings such as hospital operating theaters, swimming pool water and office lobbies. Expectations are growing for the use of light in protecting people's health.