Basic Strategies
Field
Main Products
Basic Strategies
Target
Measures
Discharge lamps, LED and LD

UV lamps for manufacturing semiconductors, flat panel displays and electronic components
Light sources for use in cinema projectors, data projectors, office automation equipment, illumination, and industry

Maintain profitability and grow sustainably

Existing domains: Maintain share and improve manufacturing costs
New domains: Aggressively enter growth markets

Halogen lamps

For office automation equipment
For illumination applications (commercial facilities, stage and studio lighting, specialized lighting and others)
Industrial halogen heaters
Financial Results
Among discharge lamps, sales declined for UV lamps for lithography, owing to price competition as well as greater uptake of long-life type products in the semiconductor and LCD panel fields. In contrast, sales of xenon lamps for cinema projectors grew on a rise in the total number of DCPs installed, mainly in China and other developing countries. In solid state light sources, sales increased due to the expansion of the semiconductor laser business through M&A and the LED business.
Sales of halogen lamps for office automation applications declined, hampered by economic weakness in developing countries.
As a result, sales in the light sources business increased by 7.6% year on year to ¥78,574 million. Segment profit was up by 9.0% year on year to ¥10,976 million.
Initiatives Ahead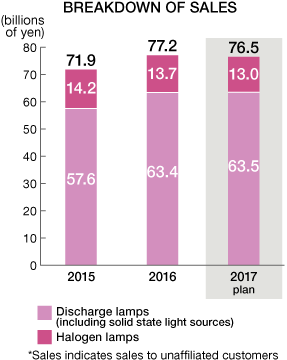 In discharge lamps, sales will likely grow for solid state light sources but be flat or slightly lower for UV lamps for lithography, owing partially to price competition in xenon lamps for cinema applications.
We forecast halogen lamp sales will decline, owing to the impact on office automation applications of the economic slowdown in developing countries.
Sales
2015
2016
2017
(plan)
Discharge lamps (including solid state light sources)
¥57.6 billion
¥63.4 billion
¥63.5 billion
Halogen lamps
¥14.2 billion
¥13.7 billion
¥13.0 billion