Outside Director, Sakie T. Fukushima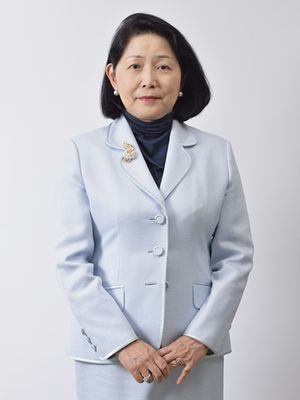 For over 30 years, I have worked at solving problems for foreign-affiliated and Japanese companies at a consultant services company that advises on the management strategy and human resources strategy of foreign-owned companies. At the same time, I have served as an internal director of a foreign-affiliated company at its global headquarters for 12 years and as an outside director at nine Japanese companies from 2001, and I have helped with the development of corporate governance at Japanese companies. I came to believe that the essence of good management is to have an unshakeable corporate philosophy along with human resources that act as an "iron fist in a velvet glove" to cope flexibly with change while maintaining this philosophy.
In the niche market of optical technologies, USHIO maintains a large global market share. Furthermore, I believe that USHIO is providing solutions to the problems of society and other companies through applied optical technologies.
In the future, while learning about the businesses of USHIO, I would like to fully understand its corporate strategy and, to the best of my ability, contribute as much as possible in areas related to governance and human resources strategies.
| | |
| --- | --- |
| Jun. 1980 | Joined Braxton International |
| Sep. 1987 | Joined Bain & Company, Inc. |
| Aug. 1991 | Joined Korn/Ferry International-Japan |
| May 1995 | Director, Korn/Ferry International |
| Sep. 2000 | Regional Managing Director, Korn/Ferry International-Japan |
| Jul. 2001 | President and Representative Director, Korn/Ferry International-Japan |
| May 2009 | Chairman & Representative Director, Korn/Ferry International-Japan |
| Mar. 2010 | Outside Director, Bridgestone Corporation (incumbent) |
| Jul. 2010 | President & Representative Director, G&S Global Advisors Inc. (incumbent) |
| Jun. 2011 | Outside Director, Ajinomoto Co., Inc. (incumbent) |
| May 2012 | Outside Director, J. Front Retailing Co., Ltd. (incumbent) |