In a world's first, Ushio Inc. and the National University Hospital of Singapore have succeeded in bacterial disinfection of pressure ulcer injuries using 222 nm ultraviolet light that is harmless to the human body
Selective destruction of bacteria and viruses without damage to human cells or tissue
Ushio Inc. (Head office: Tokyo, President and Chief Executive: Kenji Hamashima) and the plastic surgery group led by Professor T.C. Lim, Head & Senior Consultant, Division of Plastic, Reconstructive & Aesthetic Surgery of the National University Hospital of Singapore, which is part of the National University Health System (Location: Singapore, hereafter NUH) succeeded in disinfecting the wounds of patients suffering from pressure ulcers using a 222 nm ultraviolet irradiation device made by USHIO that has no adverse effects on the human body.
This clinical research was conducted as an industry-academic collaborative project with matching funds provided by USHIO and the NUHS.
In the United States, the annual cost of treating chronic lesions of patients suffering from pressure ulcers, diabetic foot ulcers and the like amounts to 3 trillion yen, and as life expectancy increases, this cost is expected to increase in the future.
In addition, due to the risk of infection, such wounds are prophylactically treated with antibiotics and antibacterial creams, but emergent multi-drug resistant bacteria cannot be eliminated with such drugs, and the continued use of such drugs entails a risk of creating new strains of drug resistant bacteria.
In response, USHIO developed a device equipped with an ultraviolet sterilization system*1 that uses a "narrow band-spectrum ultraviolet technology" based on excimer lamps to selectively kill bacteria and viruses without harming human cells or tissue, and the NUH used this device on pressure ulcer patients in a clinical research study*2. As a result, it was confirmed*3 that 222 nm ultraviolet irradiation produced a reduction in seven types of multidrug-resistant bacteria without infliction of acute (such as erythema) or chronic illness.
The results of this clinical trial were announced at The 75th Congress of the Korean Society of Plastic and Reconstructive Surgeons held in Seoul, Korea from the 9th to the 12th of November.
USHIO regards the creation of new business at the fields of medicine and hygiene as a top management priority, and as it aims for further clinical advancements and acquisition of approval of this unit as a medical device, it will continue developing applications such as prevention of infection during surgery and hand disinfection using ultraviolet sterilization technology.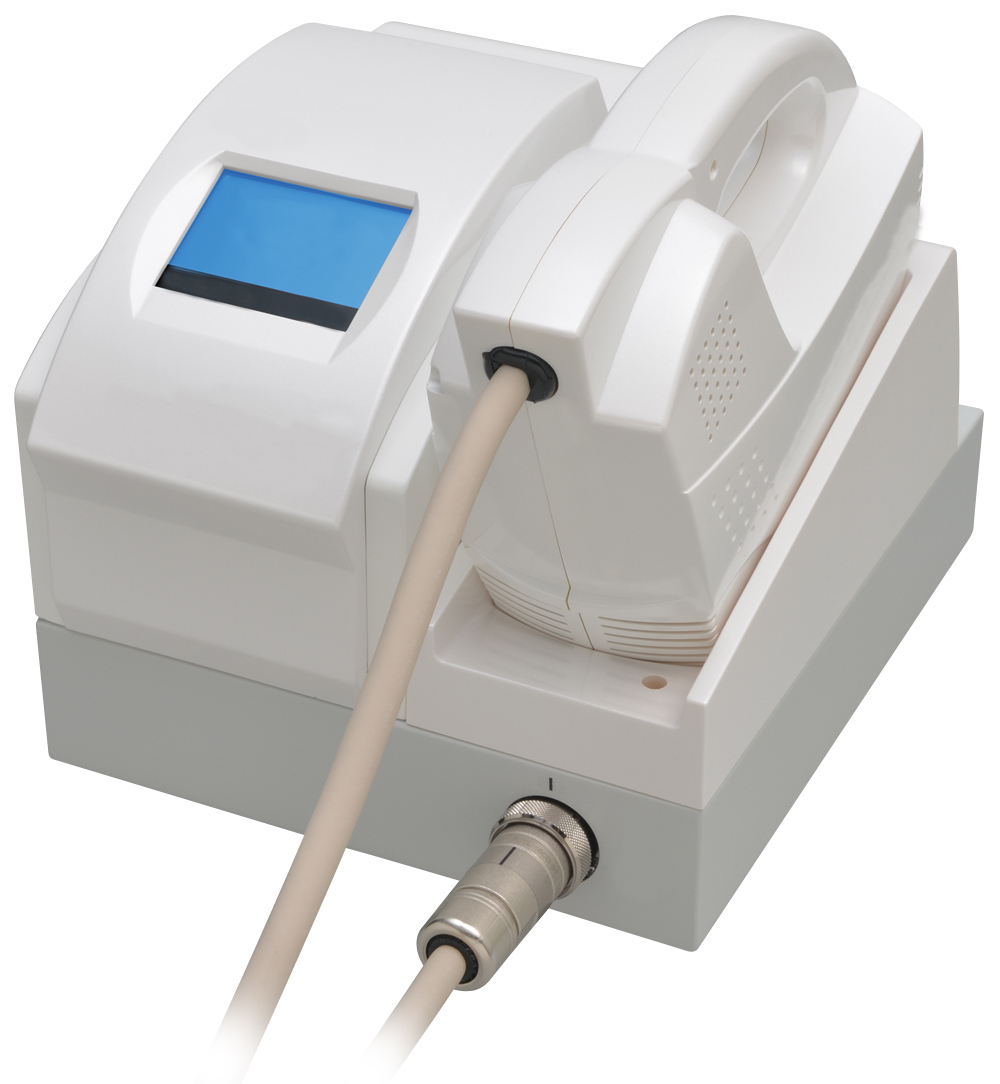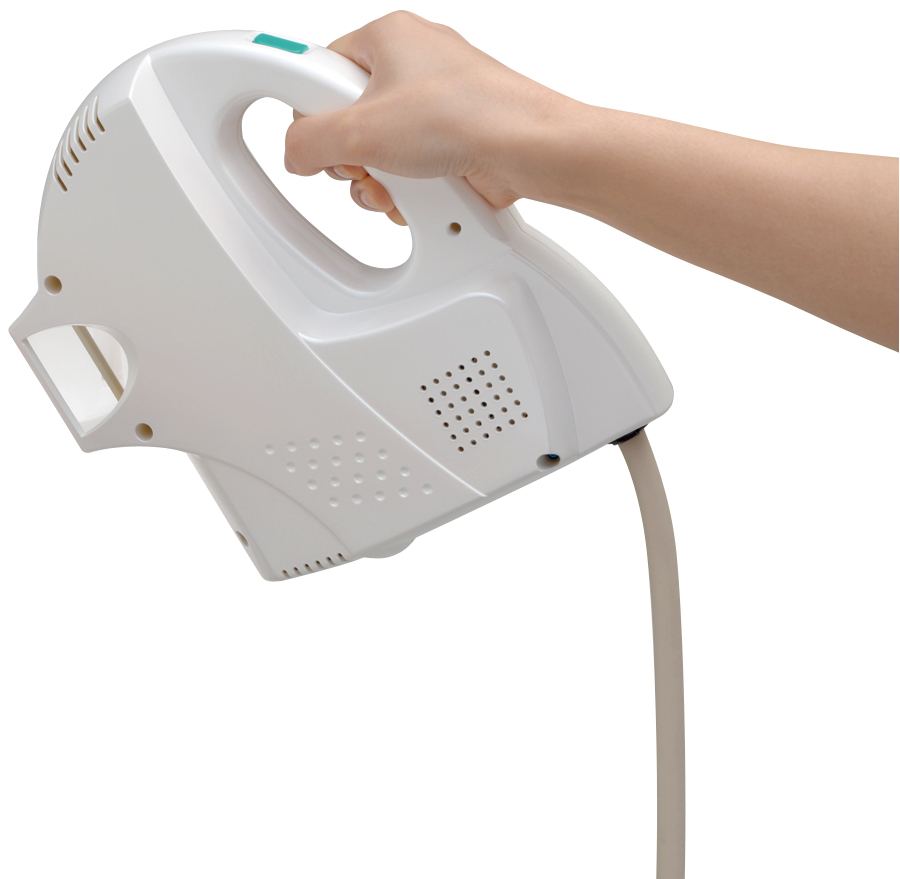 Appearance of USHIO 222 nm irradiation device used for clinical trial
(Prototype: Replaced XeCl excimer lamp of USHIO's "TheraBeam UV308 mini" with KrCl excimer lamp plus a special filter)

※1)A method of disinfection by ultraviolet light discovered by a team led by Professor Brenner of the Center for Radiological Research of Columbia University. A sterilization system that selectively kills bacteria and viruses without damaging human cells or tissue through use of narrow band-spectrum ultraviolet technology based on a specific UV wavelength band output by an excimer lamp. USHIO acquired exclusive implementation for the entire world in March 2015.
※2)Disinfecting efficacy was confirmed for multidrug-resistant bacteria through a clinical study in which affected areas on pressure ulcer patients were irradiated with 222 nm ultraviolet for two weeks, with the type and number of infectious bacteria measured both before and after irradiation.
※3)Safety and bacteria disinfecting effect of this method have been confirmed through animal experimentation by Brenner's group at Columbia1), Professor Nakane of Hirosaki University, and Associate Professor Michael Hamblin's group2) of Harvard Medical School.
1) Manuela Buonanno Brian Ponnaiya, David Welch, Milda Stanislauskas, Gerhard Randers-Pehrson, Lubomir Smilenov, Franklin D. Lowy, David M. Owensb, and David J. Brenner, Germicidal Efficacy and Mammalian Skin Safety of 222-nm UV Light、Radiation Research, 187(4):493-501. 2017
2)Kouji Narita, Krisana Asano, Yukihiro Morimoto, Tatsushi Igarashi, Michael R. Hamblin, Tianhong Dai, Akio Nakane, Disinfection and healing effects of 222-nm UVC light on methicillin-resistant Staphylococcus aureus infection in mouse wounds,Journal of Photochemistry & Photobiology, B: Biology、to be published.
Narrow band spectrum ultraviolet technology
USHIO's 222 nm irradiation device uses a KrCl excimer lamp (peak wavelength: 222 nm) from which wavelengths longer than 230 nm are cut using a special filter. This penetrates and kills bacteria, but is absorbed by the stratum corneum so that it does not reach human cell nuclei at the cellular level or epidermal cells at the tissue level.
Consequently, this technology dramatically reduces biological damage to human cells compared to conventional ultraviolet rays, while still providing the disinfecting effect of conventional ultraviolet lamps.
Potential Applications
(1) Treatment of infected chronic wounds
(2) Disinfection of surgical sites during surgery
(3) Minimizing aerial and contact infections by H1N1 (bird influenza), SARS-CoV (SARS coronavirus), MERS-CoV (MERS coronavirus), dengue fever, and the Ebola virus
(4) Ultraviolet hand disinfection devices
(5) Introduction of sterilizing capability into hand dryers, etc.
(6) Spore fungus and norovirus sterilization
About the National University Hospital of Singapore
The NUH is a tertiary hospital and major referral centre for a comprehensive range of medical, surgical and dental specialties. The Hospital also provides organ transplant programmes for adults (in kidney, liver and pancreas) and is the only public hospital in Singapore to offer a paediatric kidney and liver transplant programme.
Staffed by a team of healthcare professionals who rank among the best in the field, the NUH offers quality patient care by embracing innovations and advances in medical treatment.
Patient safety and good clinical outcomes are the focus of the hospital as it continues to play a key role in the training of doctors, nurses and allied health professionals, and in translational research which paves the way for new cures and treatment, offering patients hope and a new lease of life.
A member of the National University Health System, it is the principal teaching hospital of the NUS Yong Loo Lin School of Medicine and the NUS Faculty of Dentistry.
www.nuh.com.sg