Ushio Inc. and Kobe University have achieved the world's first successful reduction of bacteria using ultraviolet irradiation that is harmless to normal human skin
Ushio Inc. (hereinafter "USHIO") has succeeded, for the first time in the world, in killing bacteria by directly irradiating normal human skin with 222-nm light at 500 mJ/cm
2
without causing erythema as a sign of acute injury, in cooperation with a group led by Professor Ryosuke Kuroda, Chairman of the Department of Orthopaedic Surgery, Kobe University Graduate School of Medicine.
In the destruction of multidrug-resistant bacteria, 254-nm UVC light has been used more frequently than UVC light of other wavelengths. However, since direct irradiation of 254-nm UVC light to the human body at 10 mJ/cm
2
causes sunburn-like skin redness (erythema) a sign of acute skin injury, direct UVC irradiation to the human body was considered to be harmful. In a recent clinical study, it was confirmed that 222-nm light when applied to skin at a high irradiation dose of 500 mJ/cm
2
, did not cause acute skin injury, suggesting that 222nm light has a great potential in applications for UV sterilization and disinfection in medical and nonmedical fields.
Professor Kuroda at Kobe University, the collaborative researcher, commented on the results of the present study:
"Many and various surgical operations are performed in the world, but there is a risk of infection after surgery, one of the most serious surgical complications. If infection occurs, it may worsen the conditions of patients. If 222-nm UVC light disinfection becomes available for disinfecting operating rooms and surgical sites, it will prevent the onset of infection after surgery, providing patients with safer surgical treatment. To achieve this goal, we will further continue our research at Kobe University."
Mr. Tatsushi Igarashi in Corporate R&D Division of USHIO, commented as follows:
"The study has shown a great potential for 222-nm UVC light in disinfecting surgical sites, a major topic in surgical treatment. It also provided evidence for application of 222-nm UVC light for other main targets, infection prevention in nonmedical fields (hand disinfection, disinfection in occupied spaces). We will promote the commercialization of 222-nm UVC light in both medical and nonmedical fields."
In collaboration with research organizations in Japan and abroad, USHIO is currently investigating and confirming the 222-nm ultraviolet irradiation device in the present study (development name, SafeZone UVC®) does not cause chronic skin disorders (skin cancer) and acute and chronic eye disorders. USHIO continues the collaborative research on the SafeZone UVC with Kobe University to commercialize it for use in surgical field disinfection and sterilization during orthopedic surgery. In nonmedical fields, USHIO aims to commercialize the SafeZone UVC for use in infection prevention at nursing homes, food processing facilities, airports, airplanes, passenger ships, etc., The SafeZone UVC device will contribute to the realization of a safe and healthy society using "light technology."
This technology has the following potential uses:
・Disinfection of surgical sites during surgery
・Treatment of infected chronic wounds
・Minimization of the transmission (airborne or contact infection) of avian influenza virus (H1N1), severe acute respiratory syndrome coronavirus (SARS-CoV), Middle East respiratory syndrome coronavirus (MERS-CoV), dengue virus, and Ebola virus
・Ultraviolet devices for hand disinfection
・Additional disinfection function of hand dryers or other devices
・Sterilization of spore-forming bacteria and noroviruses
・Infection prevention for hospitals, airplanes, passenger ships, airports, food processing facilities, etc.
What is narrow band-spectrum ultraviolet technology?
The 222-nm ultraviolet irradiation device (SafeZone UVC®) uses a krypton chloride (KrCl) excimer lamp (maximum output wavelength: 222 nm) and a special filter to cut off dangerous wavelengths of 230 nm or longer. Light emitted from the device can penetrate and kill bacteria. Meanwhile, at the cellular level, the light does not penetrate into human cell nuclei, at the tissue level; light is absorbed by the stratum corneum of the skin and does not penetrate into epidermal cells. The SafeZone UVC device has been shown to dramatically reduce biological damage of human cells when compared to conventional ultraviolet lamps, while keeping the advantages of disinfection.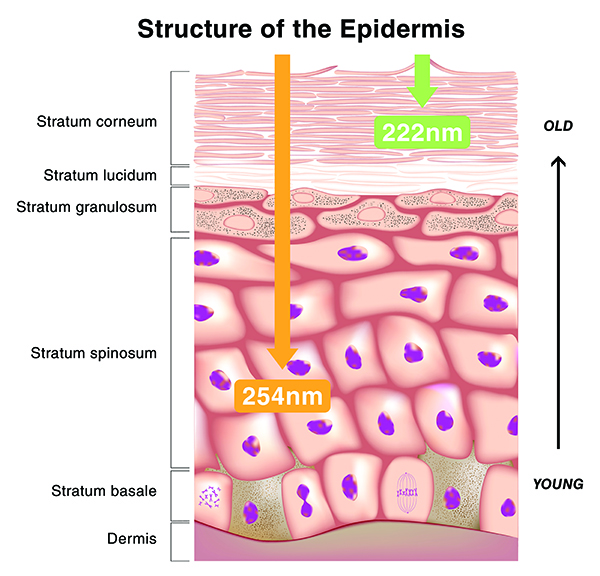 The method of using light with wavelengths below 230nm to disinfect without skin and eye damage was discovered by a research team of Professor Brenner at the Radiological Research Laboratory at Columbia University. USHIO acquired a worldwide exclusive license for the method in March 2015.
The method has been evaluated in animals by Professor Brenner's group at Columbia University, Professor Nakane at Hirosaki University, and a group of Associate Professors under Doctor Hamblin at Harvard Medical School, the results demonstrated the bacterial reduction effects of the method and its safety. At the National University of Singapore, a clinical study is ongoing to evaluate the efficacy of the method for disinfection of chronic wounds.