Customer Support
We strive to always provide the most favorable program of support proposals and service according to customer circumstances.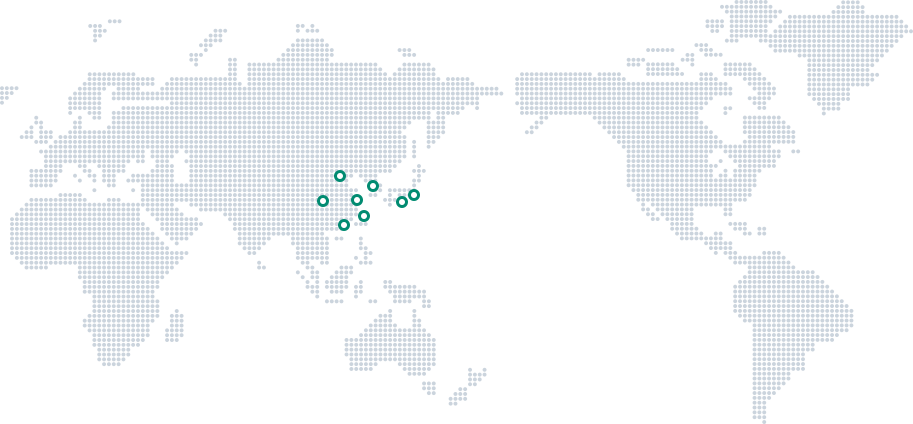 Support Center
Japan
Yokohama

6409 Moto-Ishikawa-cho, Aoba-ku, Yokohama-shi, Kanagawa 225-0004

TEL: +81 45-901-2571/FAX: +81 45-901-1004

E-mail. techsup@ushio.co.jp
Himeji

1194, Sazuchi Bessho-cho, Himeji, Hyogo 671-0224

TEL: +81 79-252-4381/FAX: +81 79-253-6262

E-mail. techsup@ushio.co.jp
Taiwan
Taipei

8F, No.4, Sec.1, Zhongxiao W.Rd., Taipei 10041, Taiwan, R.O.C.

TEL:+886 2-2312-3358/FAX:+886-2-2312-3858
Korea
Seoul

(Seocho-dong,Deokheung Bldg), 14F, 363, Gangnam-daero, Seocho-gu, Seoul, 06621 Rep. of Korea

TEL: +82 2-587-1115/FAX:+82 2-587-1118
China
Shanghai

Hang Seng Bank Tower, 10/F, 1000 Lujiazui Ring Road, Pudong New Area, Shanghai, 200120, P.R.C.

TEL:+86 21-6841-1135/FAX:+86 21-6841-1150
ShenZhen

SuitesA, E, 10/F, Building A, Honglong Century Plaza, NO.3001, HePing Road, LuoHu District, ShenZhen, 518001 P.R.C.

TEL:+86 755-8207-0162/FAX:+86 755-8207-0161
Beijing

ROOM 801,GUANG MING HOTEL,NO.42 LIANGMAQIAO ROAD,CHAOYANG,BEIJING,P.R.C.100016

TEL:+86 10-8441-8375/FAX:+86 10-8441-8377
Chengdu

ROOM1208,Western Tower,No.19 Sec.4 South Renmin Road, Chengdu,P.R.C,610042

TEL:+86 28-8526-8548
Support flow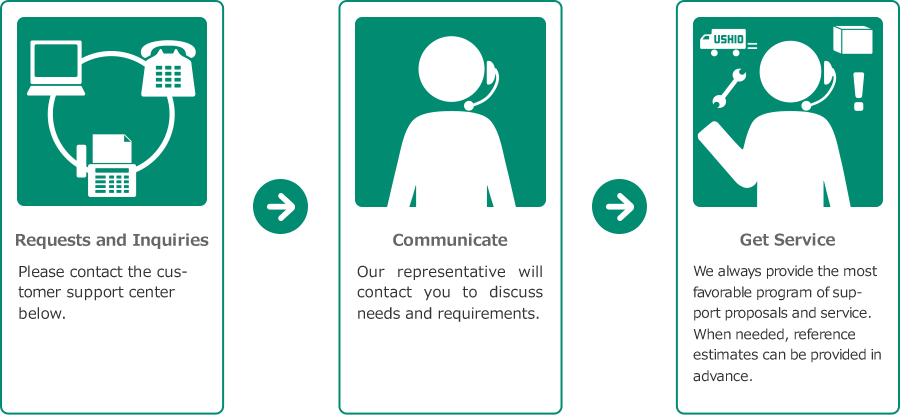 For requests and consultation
USHIO INC.
Yokohama Division
Customer Service Center
6409 Moto-Ishikawa-cho, Aoba-ku, Yokohama-shi
Kanagawa 225-0004
Reception hours 9: 00-17: 00 (excluding weekends and holidays)
TEL: +81 45-901-2509 / FAX: +81 45-901-2607
* A charge is assessed for this service. Means of account settlement, and return shipping location and method must be arranged in advance.
* Applies only to products of USHIO INC. or companies who are members of the Ushio group.
<Note Regarding Exportation>
Some of the technologies incorporated in this equipment and products used in this equipment are classified as goods or technologies subject to security trade controls under the provisions of the Foreign Exchange and Foreign Trade Law. Accordingly, be sure to apply for an export license before removing this equipment from Japan.