Ushio's Focus Points Identification Process and Promotion Structure for the Five Management Focuses
In order to realize our Vision to "Become a light solutions company" that resolves the issues facing society, Ushio has identified Five Management Focuses, centered on ESG management, by conducting a macrotrend analysis regarding issues toward which it should focus its efforts and incorporating objective external perspectives.
Identification Process of Five Management Focuses
STEP1 Identifying candidates for focus point themes
We investigated media, publicly disclosed sustainability information, and expert reports. At the same time, we examined the medium- to long-term direction of our management.
STEP2 Evaluating and mapping out level of importance (order of priority)
We evaluated the importance level of items pertaining to our businesses and mapped these items out based on business and social relevance.
STEP3 Evaluating appropriateness
We held meetings with external experts to verify our management direction and identified focus points matched with the expectations of our external stakeholders.
STEP4 Promoting internal approval procedures
The Corporate Strategy Meeting and Board of Directors held discussions on the Five Management Focuses and relevant KPIs and approved them accordingly.
STEP3 Meeting with External Experts to Evaluate the Appropriateness of the Five Management Focuses
• Date:

December 2020

• Location:

Head office of Ushio Inc.

• Participants:

Satoshi Ando, OMRON Corporation
Haruka Sakamoto, University of Tokyo
Toshihide Arimura, Waseda University
Adopting the theme of "vision for the world in 2030," we invited experts from the fields of environment, medical treatment, and integrated management to exchange opinions with us regarding their vision for the world and society in the future based on their respective perspectives and in light of climate change and the COVID-19 pandemic.
In our dialogue with these experts, we received a wide range of opinions and instruction on such topics as the accelerating trend toward carbon pricing against the backdrop of climate change, the completely new form of medical care expected to be realized in 10 to 20 years, and the ways that corporations should evolve from a long-term perspective amid a rapidly changing society.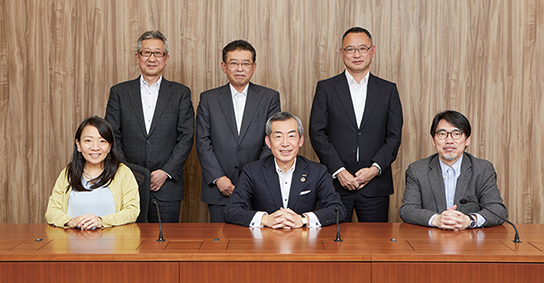 Promotion Structure for the Five Management Focuses
We have established the Corporate Strategy Meeting, chaired by Ushio's representative director and president, comprising not only directors, executive officers, and other members of management but also personnel responsible for promoting the Five Management Focuses. The Corporate Strategy Meeting determines the details and direction of initiatives toward ESG management. In accordance with the direction determined by the meeting, the ESG Promotion Committee develops relevant plans and measures for each business division, business site, and Group company.
In addition, we disseminate and share relevant information internally through the Ushio Green Network, a platform for sharing the sustainability initiatives of each business site, and individual committees at Group companies. Also, major ESG-related issues are reported to the Board of Directors.