Management Philosophy / IR Policy
Management Philosophy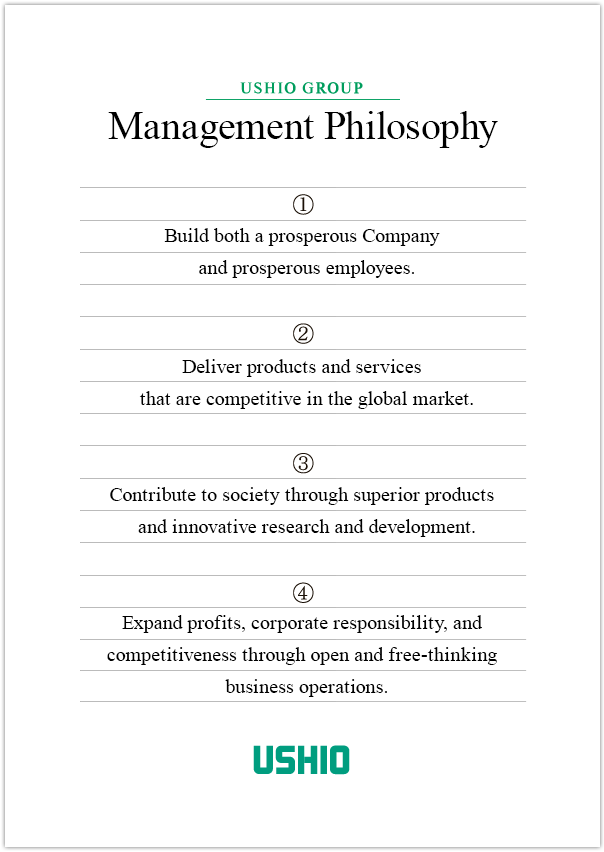 10 Action Guidelines as a Member of Society
We shall aim to be a company that accepts diverse individual qualities and values and where people work together and pursue self-learning and self-improvement.
We shall strive for the company's sustainable growth through our innovative, proactive and prompt management.
We shall respect all the internationally recognized basic human rights relating to our business activities, and endeavor to create bright, safe and pleasant working environments.
We shall provide high-quality, safe products and services at appropriate prices and carry out fair and equitable business transactions.
We shall work to earn the understanding and trust of society.
We shall comply with laws and regulations and carry out fair business activities in accordance with socially accepted practices.
We shall fulfill our duties to the best of our abilities in conformity with internal regulations and standards.
We shall promote environmental protection and the efficient use of resources.
We shall carry out proactive public relations activities while respecting the value of information and intellectual property rights of third parties.
We shall contribute to the development of respective regions where we conduct business as a member of the international community.
IR Policy
This section introduces our policy for IR activities.
1.Basic Policy

With regard to the disclosure of corporate information, the Company works to rapidly, fairly and actively disseminate the most accurate information to shareholders, individual investors as well as institutional investors and analysts. In doing so, we seek to deepen stakeholders' understanding of the Company, while earnestly reflecting their opinions in our management.
2.Information Disclosure

(1)Basic method of information disclosure

The Company shall adequately disclose information as prescribed in the Companies Act and the Financial Instruments and Exchange Act. With regard to information to which provisions of the timely disclosure regulations of the Tokyo Stock Exchange (TSE) apply, the Company shall immediately provide the same information to news organizations and publish it on its website after registering it with the TSE's Electronic Disclosure Network (TD-NET).

(2)Non-disclosure of material facts

Information the Company discloses at its meetings with securities analysts and institutional investors shall be limited to information previously announced in financial statements, matters of public knowledge, general business conditions or similar information. We shall not refer to material facts that have not been disclosed.
3.Business Forecasts

The Company is committed to fully providing necessary information to shareholders and investors and to disclose detailed business results on a quarterly basis. Reference materials published by the Company and statements made through its website contain current plans, forecasts, strategies, etc. Please note that, at the time of their announcement, such plans, forecasts and strategies are predictions only and cannot be guaranteed. The Company shall not support any business forecast by a third party.
4.Voluntary Restraint Period

The Company sets the period from the 1st day of the month following the end of each quarter to the day the related financial statements are announced as a "quiet period" and restricts its IR activities accordingly. During this period, we shall refrain from commenting on business forecasts and predictions.