Lamps for data projectors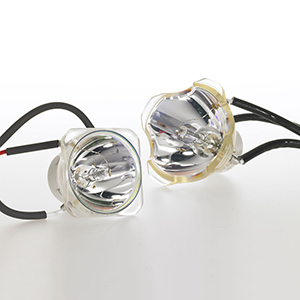 Based on super high-pressure UV lamps, these compact, high-intensity, flicker-free lamps exhibit high reliability. The lamps support high-performance projectors in various applications including business, education and home theater markets.
High-Efficiency and High-Brightness
High-efficiency and brightness are achieved by the short arc design that is close to a point light source, a small bulb that can withstand over 100 atmospheres when lit, and a reflector developed with our proprietary optical technology.
High Reliability
In addition to lamp design optimization according to input power, our lighting power source technology achieves long-term electrode maintenance, maintaining high lamp brightness over a long time.