UV irradiance meter UIT-201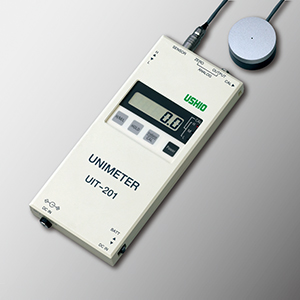 Measurement

MEMS, Electronic Components

Semiconductors

Liquid Crystal Display

Printed Circuit Board and PKG

Functional Materials

Automotive and Marine

Biology and Chemistry

Therapy, Cosmetics, and Pharmaceutical Development

Environment and Sanitation

Agriculture/Fisheries and Food

Energy

Video and Cinema

Printing

Optics

Security

Illumination
The Unimeter series was developed based on our experience and expertise as a manufacturer of optical equipment. These compact optical measuring instruments are genuinely easy-to-use from the user's standpoint. These compact UV meters are used to manage the intensity of a range of instruments, including irradiation systems, as well as UV curing, cleansing and sterilizing systems.
■ Troubleshooting is Here (requires member registration)

Light receptor replacement allows illuminance measurements in two wavelength regions (centered on 365 and 405 nm)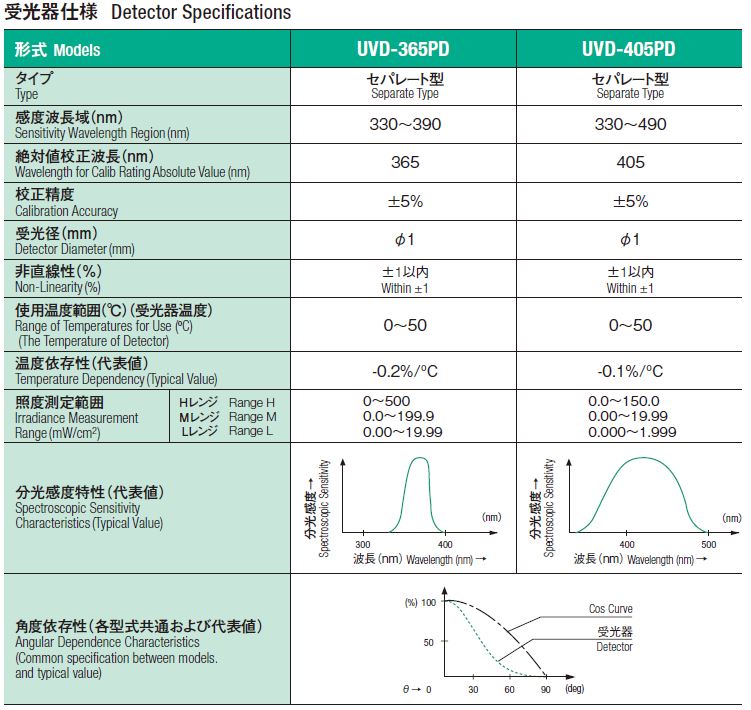 Absolute value measurement available
Evaluation is possible with our proprietary calibration system
Analog output available
Illuminance value is converted to analog for output. Monitoring is available by data logger and the like
UV illuminance measurement
Models
UV Intensity Meter UIT-201
 *Accessories
- Analog Signal Output Cable
-Handling Instructions
-Trunk Case
-AAA battery x3

Detector unit ( Optional ) UVD-365PD
Detector unit ( Optional ) UVD-405PD
Discontinued Models

UIT-100
UIT-101
UIT-102
UIT-110
AC adapter
Function switches between batteries and external power supply
Extension cables
Standard 2, 5, 10, and 15 and 20 m
Extension cables (flex specification)
Standard 2, 5, 10, 15
What is the calibration procedure, and how often is calibration needed?
Calibration once every six months is recommended in order to assure precision of measurement.
Is the equipment provided with a calibration results report, calibration certificate, and traceability system chart?
Provided as a standard feature when the product is purchased.