Spectro-reflectance meter URE-50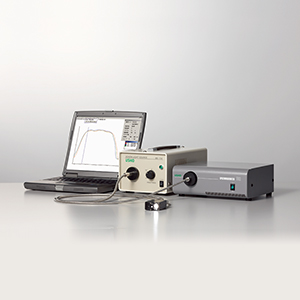 Measurement

MEMS, Electronic Components

Semiconductors

Liquid Crystal Display

Printed Circuit Board and PKG

Functional Materials

Automotive and Marine

Biology and Chemistry

Therapy, Cosmetics, and Pharmaceutical Development

Environment and Sanitation

Agriculture/Fisheries and Food

Energy

Video and Cinema

Printing

Optics

Security

Illumination
Instantly measures spectral reflectance (from ultraviolet to near-infrared) of surfaces with up to ±R50 mm curvature as well as of flat surfaces. Despite their compact size, Ushio's unique measurement instruments support measurement of large products.
■ Operating Manual and Troubleshooting are Here (requires member registration)

One unit for two roles
Also serves as a spectroradiometer
Make actual non-destructive measurements of large products
Ushio's proprietary measurement section supports previously impossible actual measurement of large products. Ideal for polished optical glass and special optical components such as collector mirrors, plane mirrors and lenses
Compact measurement unit
The measurement unit is an easily portable hand-carry type, making measurements available at the optical component location. Also, because the measurement unit can be freely relocated, reflectance unevenness can be measured.
Instant measurement results
Two versions for measuring different wavelength ranges. Measurements (at 280 to 800 nm and 300 to 1,100 nm) are available instantly
Process measurement data in Excel
Process and save measurement data in Excel
Measures spectral reflectance of curved surfaces
Curves surfaces such as those of collector mirrors can be measured non-destructively
Reflectance measurement of optical components such as collector mirrors, plane mirrors and lenses
Is the equipment provided with a calibration results report, calibration certificate, and traceability system chart?
Provided as a standard feature when the product is purchased.