Xenon short arc lamps (~500W)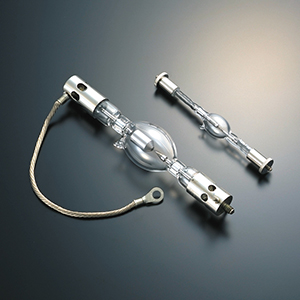 Inspection

Measurement

Imaging

Biology and Chemistry

Therapy, Cosmetics, and Pharmaceutical Development

Environment and Sanitation

Optics

Illumination
These xenon short arc lamps are high-intensity point light sources filled with xenon gas, having a continuous spectrum similar to daylight in the visible to infrared range: an excellent light source for accurate color rendering. These lamps are used as light sources for spectroscopy, microscopy, solar simulators and various types of inspections.
Broad continuous spectrum
The system has a continuous spectrum from ultraviolet to infrared regions. The required wavelengths can be extracted to ideally suit various types of analysis and measurement.
Spectrum close to that of sunlight
Broad visible-region spectral distribution is as close to the solar spectrum as any artificial light source, facilitating natural color reproduction.
High-intensity point light source
The high-intensity point light source lamps allow precise optical control, such light collection and diffusion, collimation and uniform illumination.
Spectral Distribution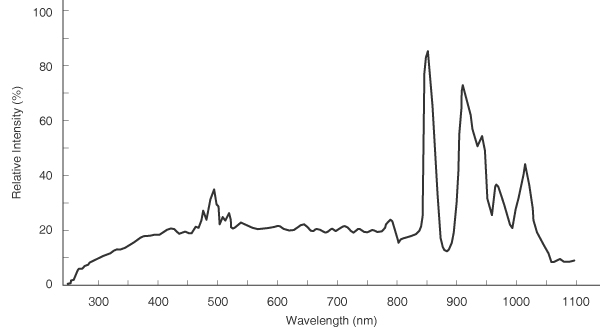 Spectral Distribution Diagram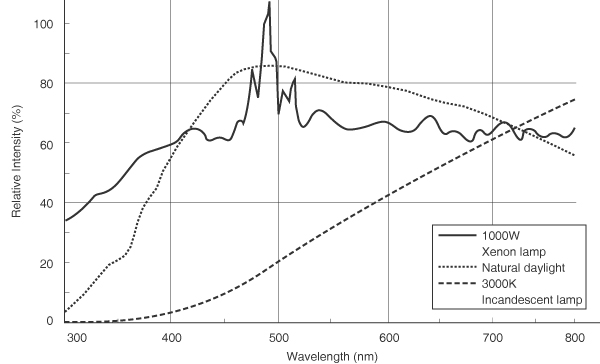 Video devices
Analysis systems
Measurement equipment
Optical equipment
Medical devices
Lighting (spotlights, searchlights)
Solar simulators Image-testing equipment
Optical measurement equipment
Photoheating equipment and more
Model
Rating: Lamp Input (W)
Lamp Voltage (V)
Total luminous flux (lm)
Inter-electrode cooling gap (mm)
Average Lifespan (h)
Ozone Presence / Absence
Product Specification
UXL-S75XE
80
15±2
1,600
1.3
2,000
none
PDF239

KB

UXL-S150MO
150
17.5±2
3,800
2.1
3,000
none
PDF242

KB

UXL-75XE
65
12.5±1.5
1,000
0.7
400
none
PDF238

KB

UXL-150MO
150
17.5±2
3,800
2.1
1,500
none
PDF240

KB

UXL-150SO
150
20±2.5
4,200
2.5
1,500
none
PDF240

KB

UXL-151D-O
150
20±2
4,200
2.5
1,200
none
PDF240

KB

UXL-150S
150
20±2
4,200
2.5
1,200
yes
PDF239

KB

UXL-151H
150
20±2.5
4,200
2.1
1,200
yes
PDF241

KB

UXL-300D-O
300
20±2
9,400
2.6
1,000
none
PDF240

KB

UXL-302-O
300
20±2
9,400
2.6
900
none
PDF240

KB

UXL-500D-O
500
20±2
16,300
4
1,500
none
PDF243

KB

UXL-500D
500
20±2
16,300
4
1,500
yes
PDF241

KB