Spot UV irradiation units Spot Cure Series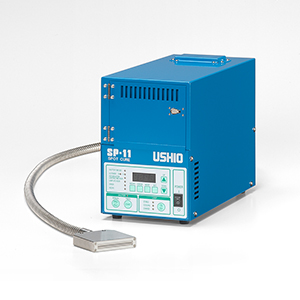 Curing and Bonding

Semiconductors

Liquid Crystal Display

Printed Circuit Board and PKG

Functional Materials

Biology and Chemistry

Energy

Printing
The "Spot Cure Series" takes advantage of our light system technology cultivated for over 30 years, in pursuit of ease of use and environmental considerations. We offer a wide variety of lens and unit options to suit line and workpiece conditions.
Shortens curing time to a third
Due to its broad wavelength, illuminance is three times higher than conventional model (SP9).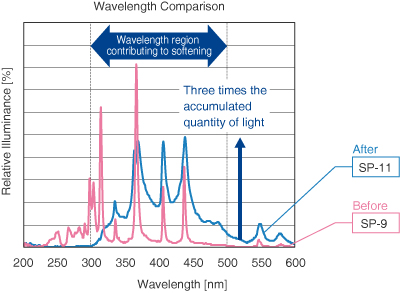 Halves the number of units to install
Stronger illuminance allows reducing the traditional number of installed units.

Deeper and higher-density curing
By adopting a broad light, deeper and higher-density curing is achieved.

Easy lamp replacement
One-touch lamp replacement reduces down time from that of conventional products.
Major Specifications
Model
SP-11
External dimensions (mm)
156W × 226H × 325D
Weight
Approx. 8.3 kg
Light source
Preset type 275 W UV lamp
UV intensity
6500 mW/cm2 (formerly 4080 mW/cm2)

[Conditions] Ushio Fiber SF-101AQ, 15 mm illuminance distance, Ushio illumination meter and sensor UVD-S365 (1 mm detector diameter)
[Supplement] Since measurement at the UV wavelength of this product is difficult with an illumination meter, it should only be referred to as a guide. In broad wavelength cases such as this product, curing speed may be faster depending on the material. A motorized shutter is installed. Timer or manual control available
Shutter
Timer setting: 0.5 to 999 seconds (@0.1 s/step), 1000 to 9999 seconds (@ 1 s/step)
Weight
Approx. 8.3 kg
Product External View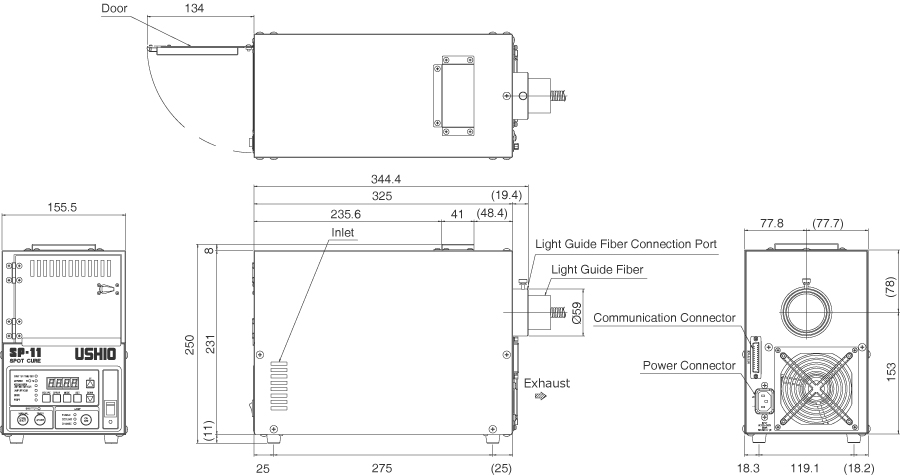 External interface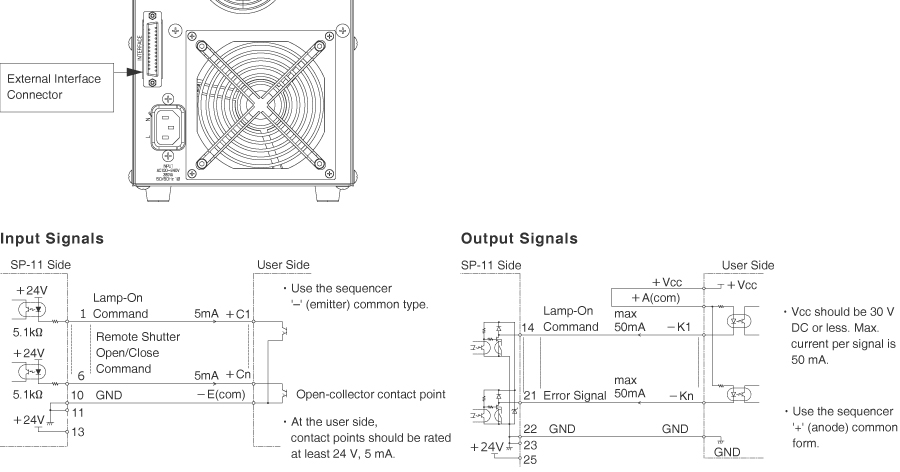 Light pickup lens bonding
Various lens bonding
Other electronic component bonding
Optical communication component bonding
Medical-related
Research applications
DSC lens unit
HDD-related (spindle motor coil bonding to motor case)
Suspension joints/head portion
Camera modules
LCD panel and touch panel temporary bonding
Smartphone seal parts
Car audio assemblies
Car meter surrounding assembly
Sunroof glass seals

Examples of main applications for spot UV curing
From environmentally "green" lamps to LEDs. Ushio customizes spot UV curing to meet customer needs.


Fiber/lens lineup
Flexible support for multiple branches, irradiation diameters, lengths and the like accommodates various line and workpiece conditions. We also accommodate different radiation fibers by special order.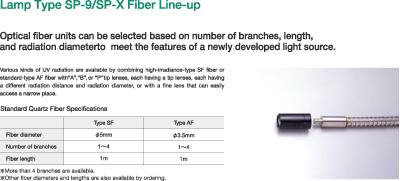 Ring fiber type UV irradiation unit
All UV curing resin from the dispenser can be UV-cured at the time of coating. With the uniquely designed hollow ring-type fiber, the dispenser nozzle can be inserted into the hollow part of the fiber.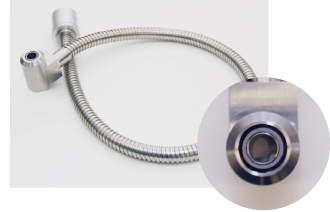 Line fiber shaped UV irradiation unit
While maintaining its focal length, the line-shaped light also ensures illuminance corresponding with customization.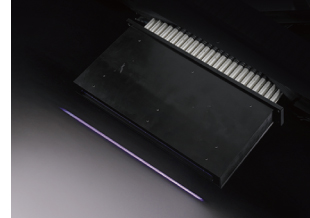 Does use require light blocking?
Be sure to use ONLY with light blocking. Light leaking from the irradiation aperture can cause eye injury or skin damage in a very short time. When working in the vicinity of unshielded light, be sure to wear eye protection and make sure that the skin is not exposed. Never look directly at the light.
How should used lamps be disposed of?
The lamps contains mercury, which is a hazardous substance. Only dispose of lamps in accordance with the directives established by authorities in your region.
Don't understand use procedures. Lost the instructions for use.
By registering, you can download instructions for use. Register here