Compact xenon lamp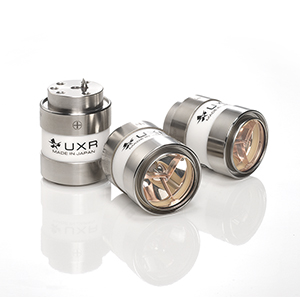 Ushio's UXR™ series xenon lamps have been developed based on our proprietary optimized design, using ceramic and sapphire as primary components to provide excellent resistance to impact and pressure. Major lamp features are compact size and light weight, with an integrated mirror to efficiently extract the exceptional color rendering properties of the light while eliminating the need for troublesome optical axis alignment.
Also, Ushio's proprietary sapphire window structure makes possible lamp replacement without interruption.
Compact and lightweight.
You can select a broad range of wavelengths.
Rupture resistant sapphire window adopted.
Safe and reliable Japanese quality
Integrated mirror eliminates need for optical axis alignment
Adopted "Dirt/scratch preventing construction" that makes possible lamp replacement via Ushio's proprietary window structure

UXR-300BF major specifications
Basic characteristics (initial electrical characteristics)
Lamp input
300W
Rated lamp voltage*1
15V
Rated lamp current
20A
Current range
18 to 21 A
Specifications
Electrode gap distance
1.5 mm
Wavelength type
Ozoneless
Exit window diameter
dia. 25.4
Mirror shape
Parabolic
Rated lifespan*3
500 hours
Initial irradiance intensity*2
Total irradiation output
50W
Overall luminous flux
4500 Lm
Luminous flux through 5 mm aperture
1830 Lm
Color temperature
6100K
Usage requirements (power supply)
Power supply type
Constant current control/Constant power control
Allowable current ripple (P-P)
5% or less
Ignitor output
23 kV AC or greater
Possible supply voltage
140 V or greater
Usage requirements (lamp)
Lighting direction
Horizontal lighting
Cooling requirements
Ceramic components
150℃ or lower
Metal components
200℃ or lower
Forced air cooling
Required
*1 Voltage when operating at 20 A.
*2 Result when operating at 20 A.
*3 When the luminous flux through a 5 mm aperture reaches 50% of the initial value.
Industry-based endoscopic light source
High-brightness projector light source
Microscope illumination light source
Spectral analysis light source,
Head fiber light source
Image processing inspection system fiber light source
Visible/infrared searchlight light source
Pseudo solar light source and more