Excimer lamps/Excimer irradiation unit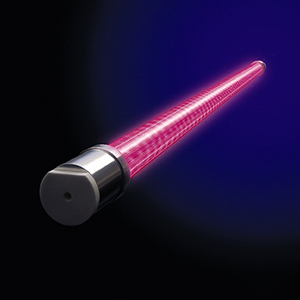 Modification

Cleaning

MEMS, Electronic Components

Semiconductors

Liquid Crystal Display

Printed Circuit Board and PKG

Functional Materials

Biology and Chemistry

Energy

Printing
Excimer VUV light is the very high-energy light generated by lamps containing noble gases or noble-gas hydride compounds.
Externally applying high-energy electrons to a sealed lamp containing a noble gas or noble gas hydride compound generates intense plasma discharge (dielectric barrier discharge). This plasma features high-energy electron content, and can be extinguished instantly. The plasma discharge instantly excites the atoms of the discharge gas (noble gas) to their excimer (Xe) state (high-energy orbital atoms form excimer excited molecules). The excimer-specific spectrum is emitted when atoms return from this excimer state to their original condition (ground state). This emission is called VUV light.


* * * *

For inquiries regarding "222 nm ultraviolet (UV-C) light antibacterial and viral inactivation device," please contact :
Sales Department, XEFL BU, Light Source Business Division
TEL: +81-3-5657-1016 / E-Mail: care222_sales@ushio.co.jp
High photon energy
VUV (vacuum ultraviolet) light at a wavelength of 180 nm or less, which is not available using conventional UV lamps, emits light efficiently to evoke or accelerate chemical reactions otherwise unachievable with conventional UV light.
Single wavelength
Excimer emission features a single peak emission wavelength with light emitted only in a very narrow range around the peak. This enables efficient irradiation of only the particular UV energy required for a chemical reaction.
Low-temperature irradiation
With no infrared generation, the shorter irradiation time enables very quick substrate processing.
Instantaneous on/off
The required amount of energy can be irradiated only when needed. Practical usage benefits include eliminating the need for a shutter, substantially longer life, and avoiding corrosion of the UV processing chamber.
Mercury-Free
No mercury is used.
About Excimer VUV Light
Excimer VUV light is the very high-energy light generated by lamps containing noble gases or noble-gas hydride compounds. Externally applying high-energy electrons to a sealed lamp containing a noble gas or noble gas hydride compound generates intense plasma discharge (dielectric barrier discharge). This plasma features high-energy electron content, and can be extinguished instantly. The plasma discharge instantly excites the atoms of the discharge gas (noble gas) to their excimer (Xe) state (high-energy orbital atoms form excimer excited molecules). The excimer-specific spectrum is emitted when atoms return from this excimer state to their original condition (ground state). This emission is called VUV light.
Excimer Lamp Structural Example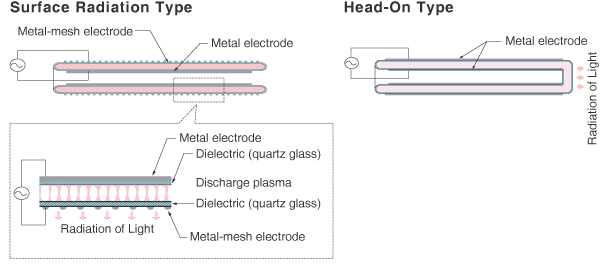 Spectral Distribution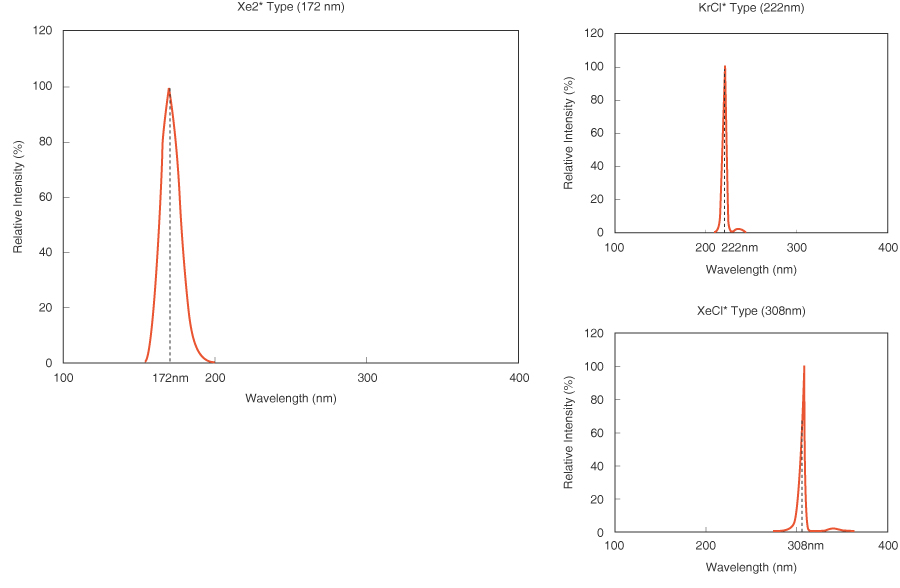 Surface modification
Greater hydrophilicity (wettability and contact angle reduction)
Improved adhesion
Precision cleaning
Residue removal; (damage-free UV ashing)
Printable patterning
Using VUV (vacuum ultraviolet light), printable patterning can be accomplished through surface hydrophilic modification without using a resist
Ushio light and manufacture of touch panels
Ushio light is used in manufacture of the touch panels that are the essential feature of Smartphones.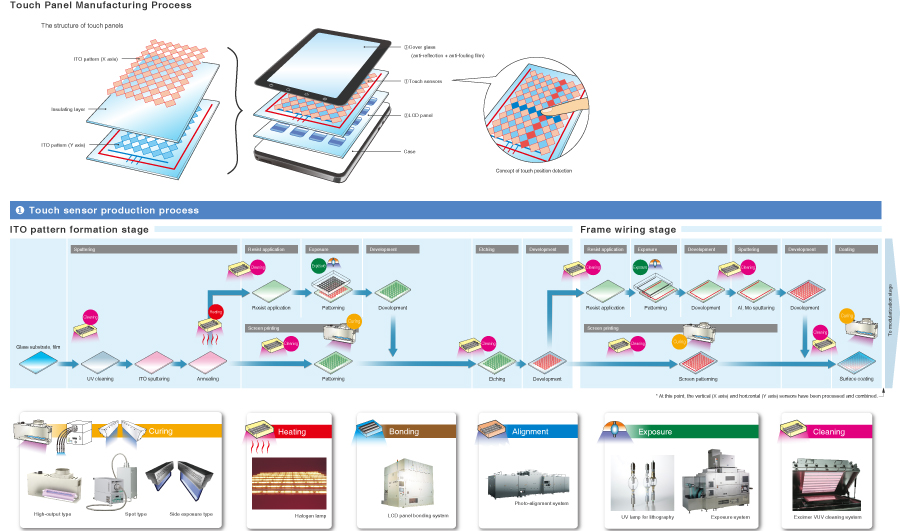 Ushio light and semiconductor manufacturing processes
A variety of products are available to support various semiconductor wafer sizes

Ushio light and manufacturing processes of flat panel displays
Beginning with the world's first commercial excimer lamp in 1993, a wide variety of Ushio products are in use on LCD panel manufacturing lines of all generations.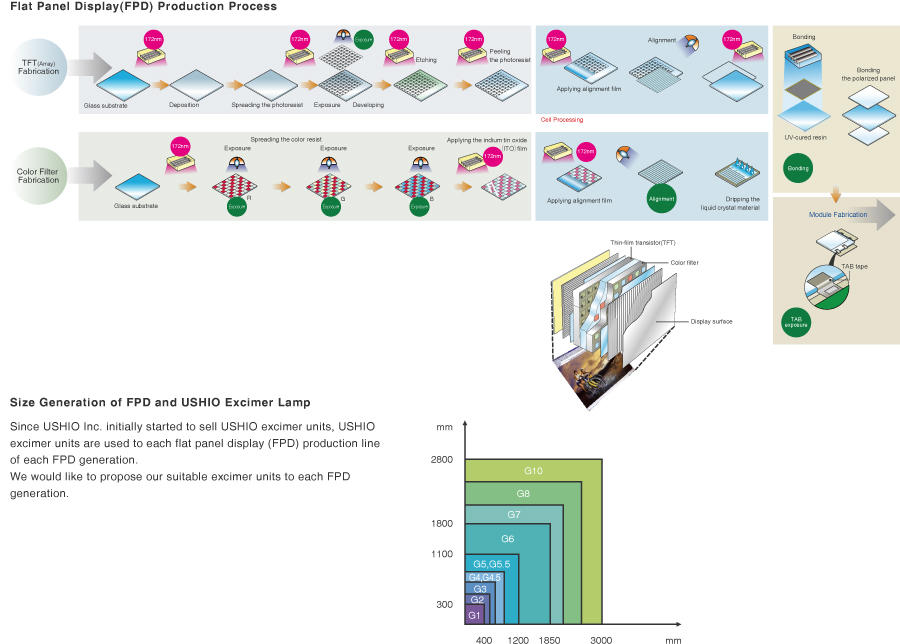 Room temperature bonding through surface activation
"Adhesive-free bonding" and "increased bonding strength" achieved through surface activation and removal of organic matter.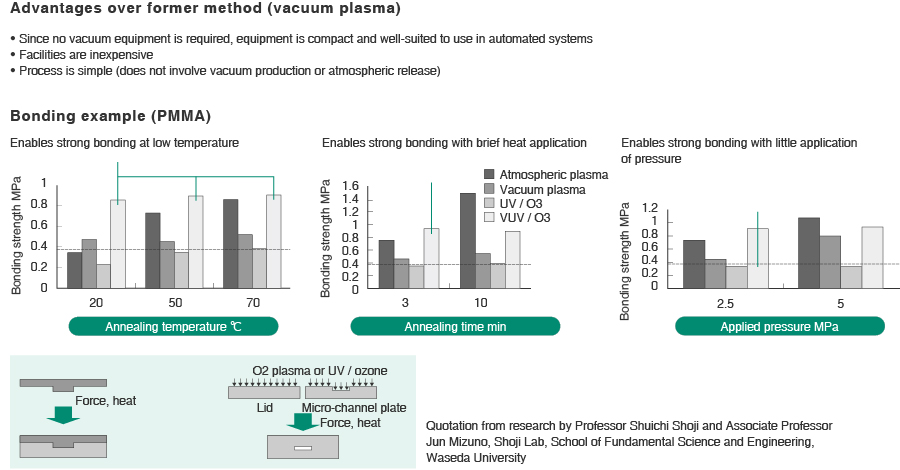 Precision cleaning and residue removal; (damage-free UV ashing)
Light can be used to clean surfaces of contaminants that cannot be completely removed by surfactants, organic solvents or chemical solutions.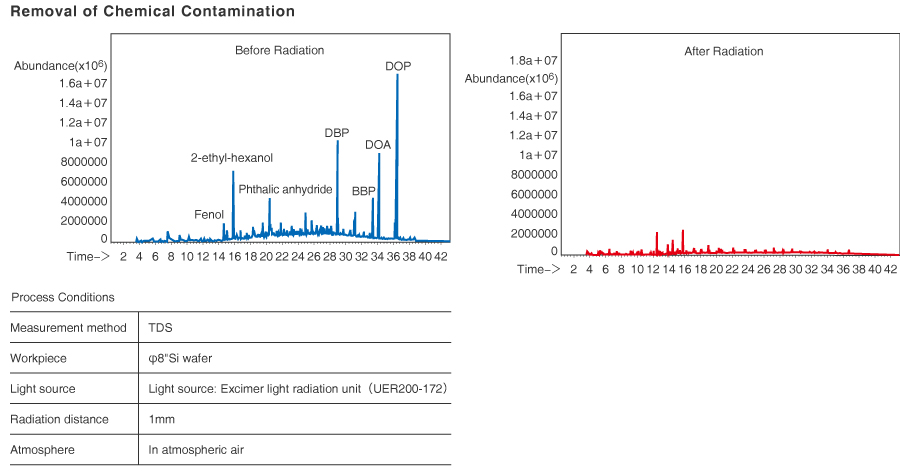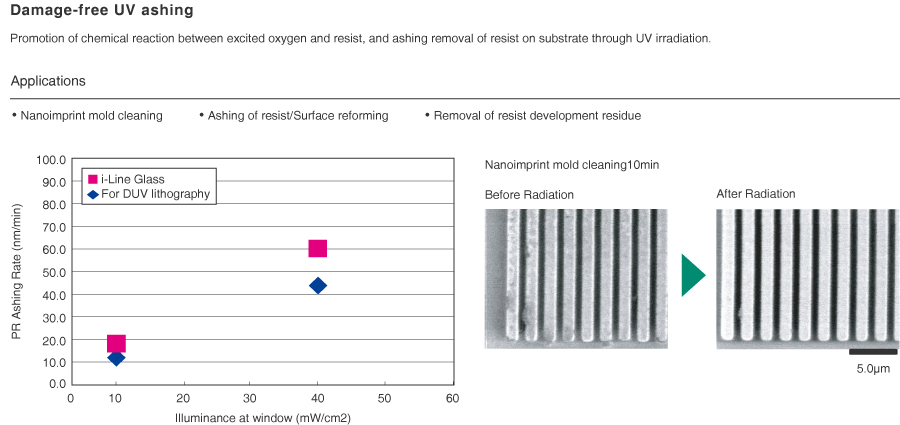 Greater hydrophilicity (wettability and contact angle reduction), improved adhesion
By increasing the hydrophilicity of glass substrates and plastics, better adhesion to these surfaces can be obtained during material deposition or coating. Such techniques have particularly wide application in the manufacturing processes of flat panel displays.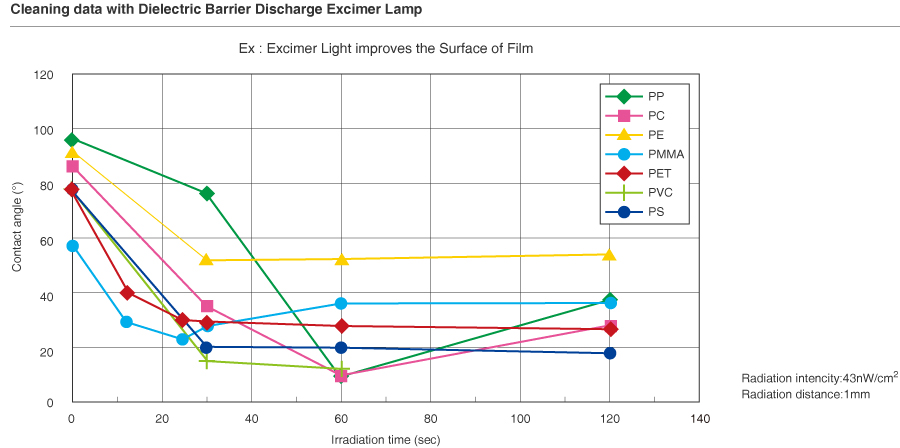 Surface modification
1. Utilizing the high efficacy of 172nm wavelength for improving air quality in the atmosphere
Breaking the molecular bonds of organic matter requires light energy that exceeds the binding energy of the matter. The greater the energy absorption (the excitation) of a substance , the easier it is to induce a reaction (decomposition) and the shorter the processing time required. Binding energies that cannot be broken using low voltage UV lamps can be dissolved using the 172nm wavelength produced by excimer lamps.
2. Generates excited oxygen atoms in large quantities, either as ozone or as active oxygen.
Compared to the 185nm wavelength of low voltage UV lamps, the absorption coefficient by molecular oxygen of the 172nm wavelength of excimer lamps is about 20 times greater. This not only makes it possible to generate active varieties of oxygen at high densities, but by working directly on oxygen enables generation of strongly excited oxygen with great oxidizing power.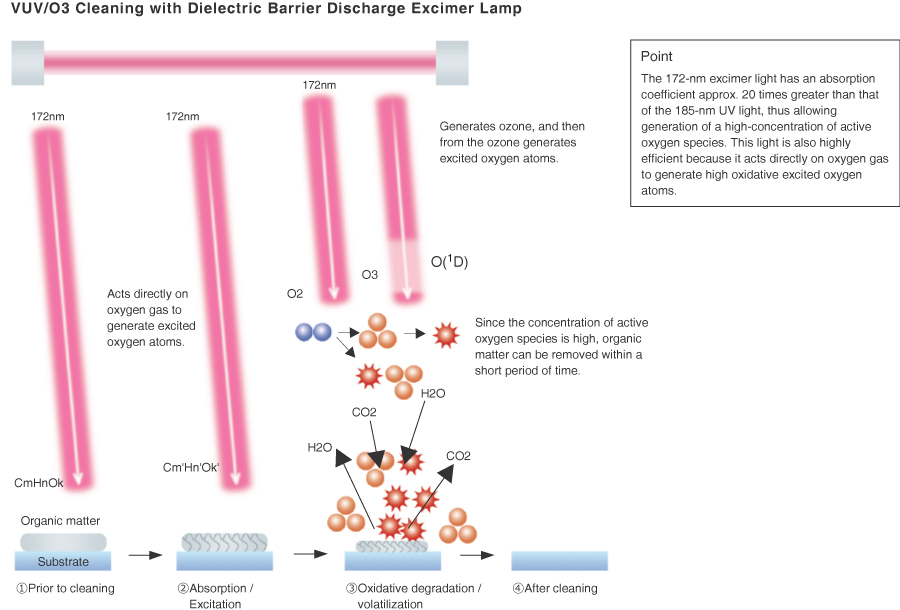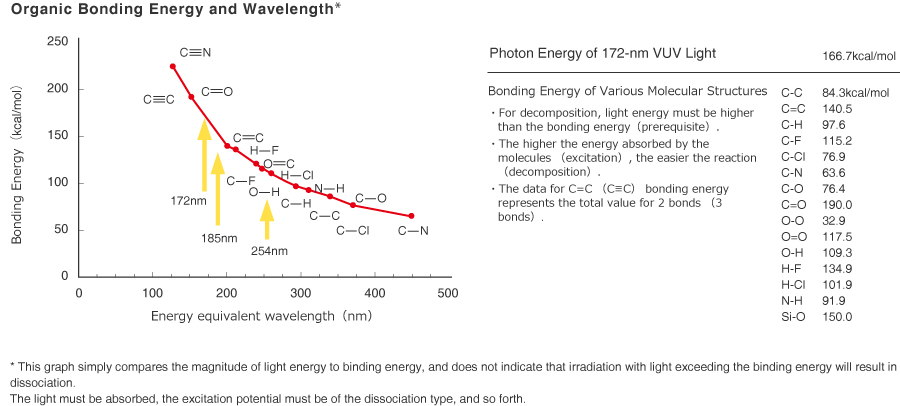 Excimer irradiation unit for photochemical experiments - standard type (172, 222 and 308 nm)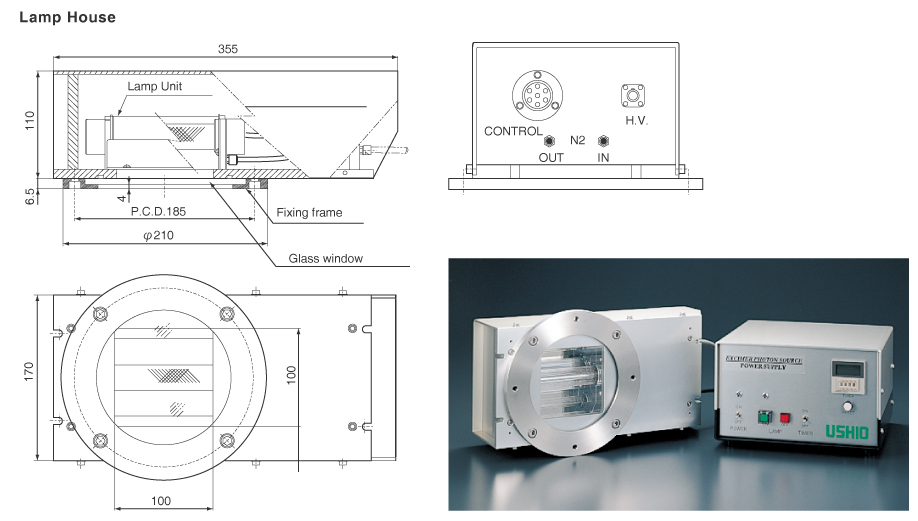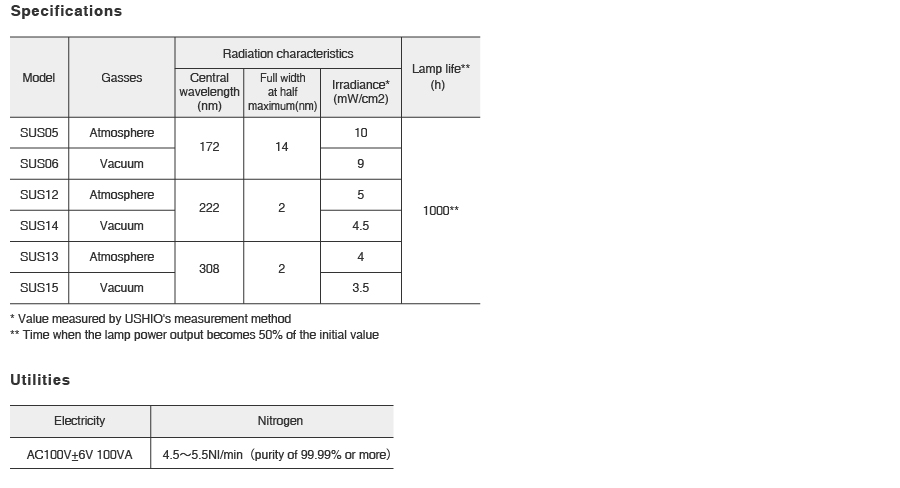 Excimer irradiation unit for photochemical experiments - head-on type (172, 222 and 308 nm)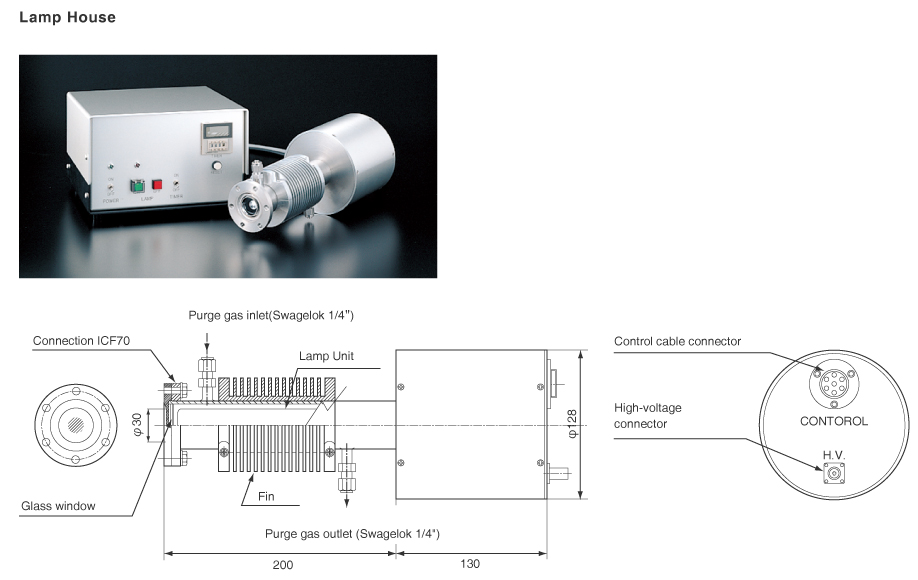 Excimer irradiation unit for FPD manufacturing processing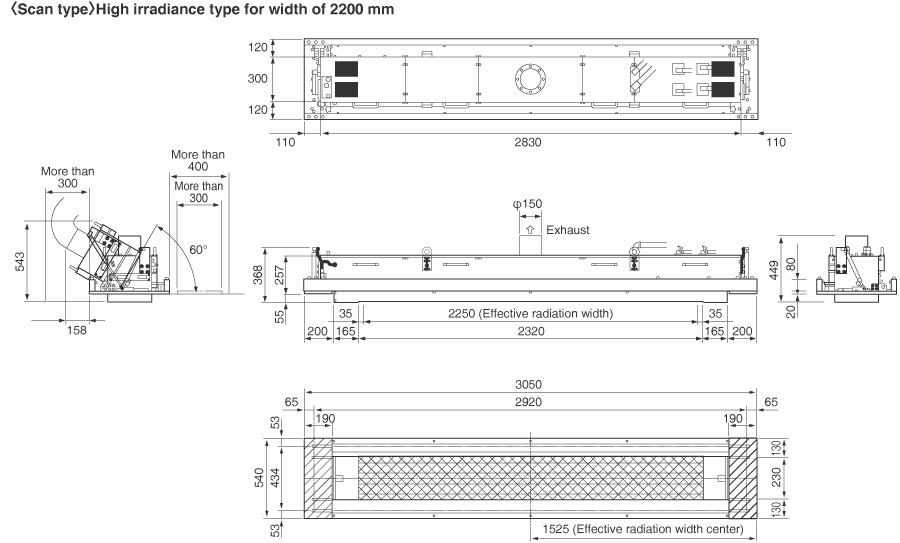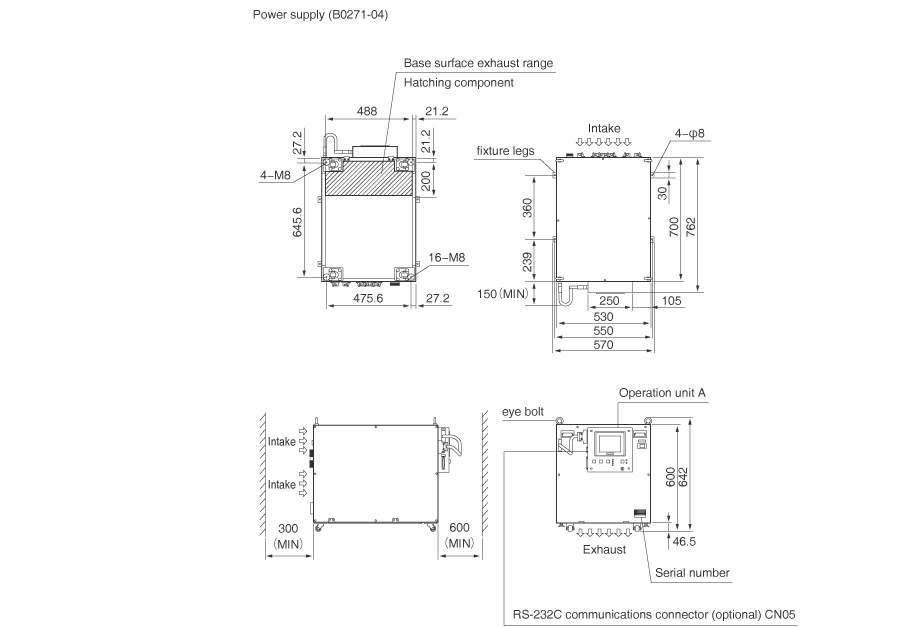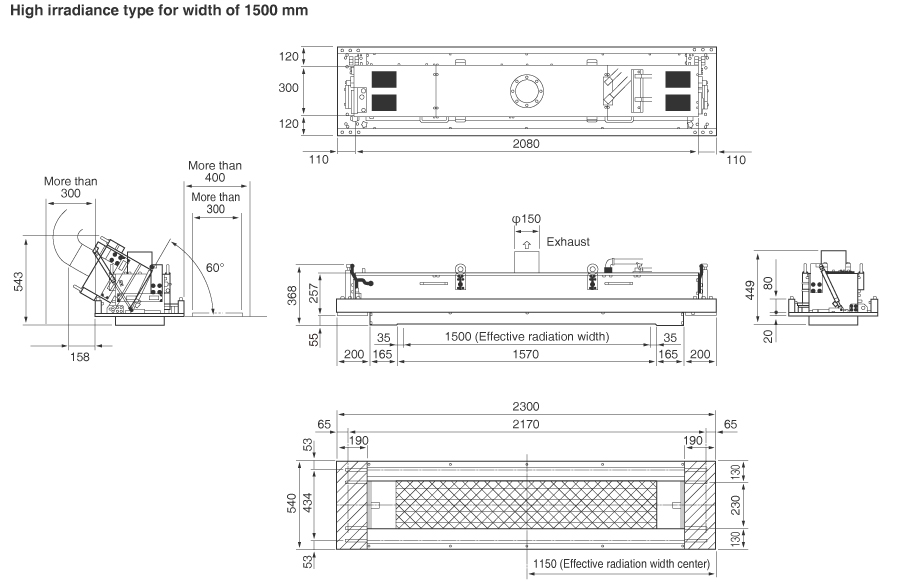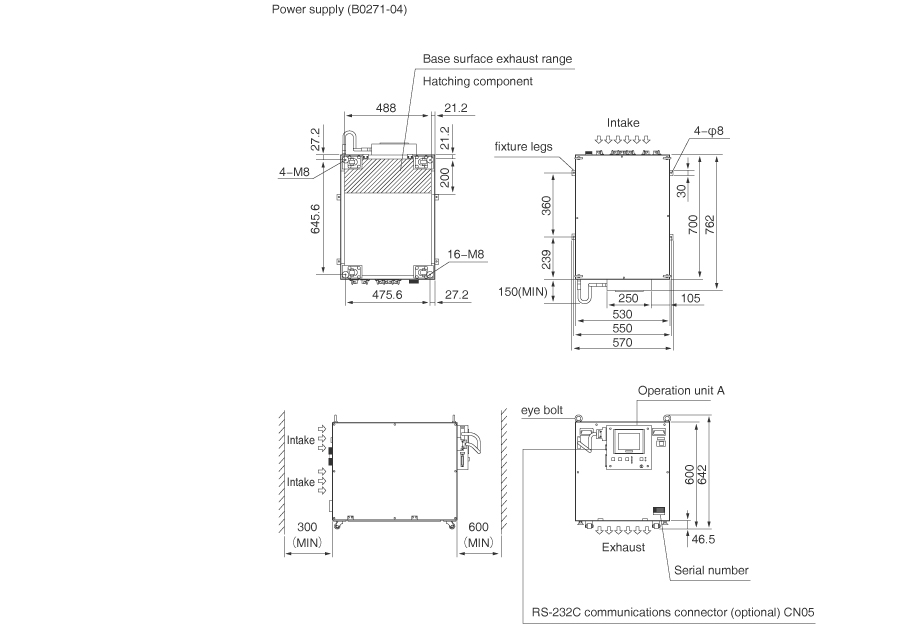 Excimer irradiation unit for semiconductor manufacturing processing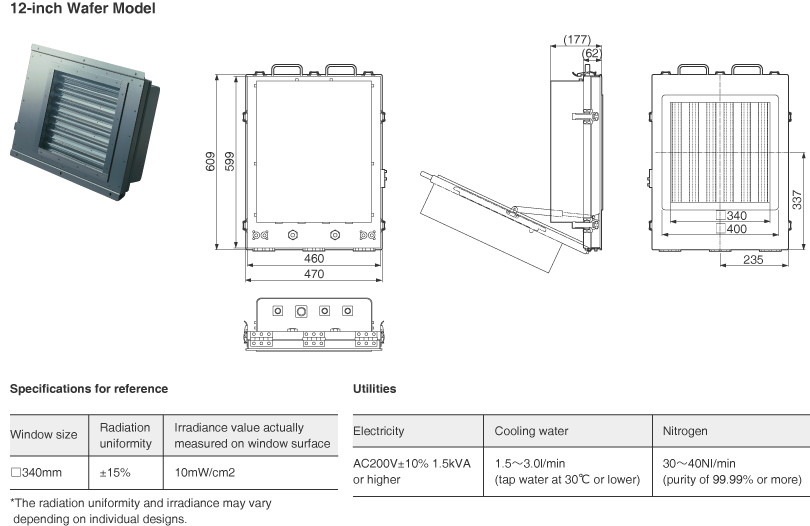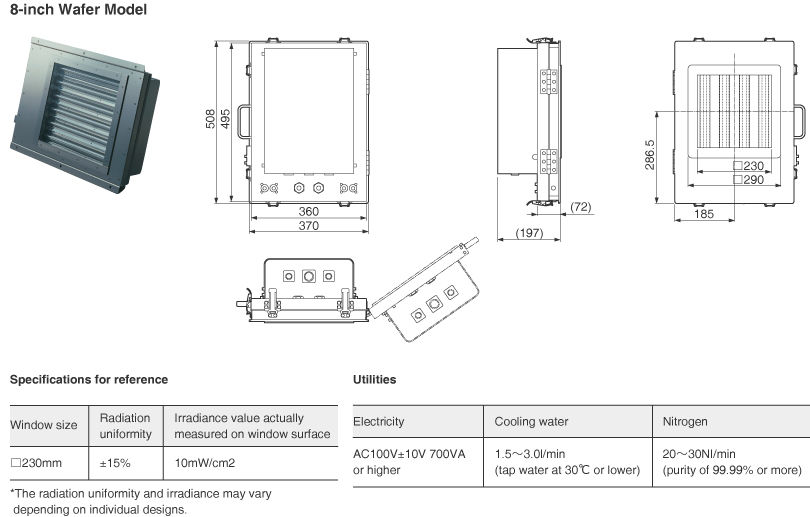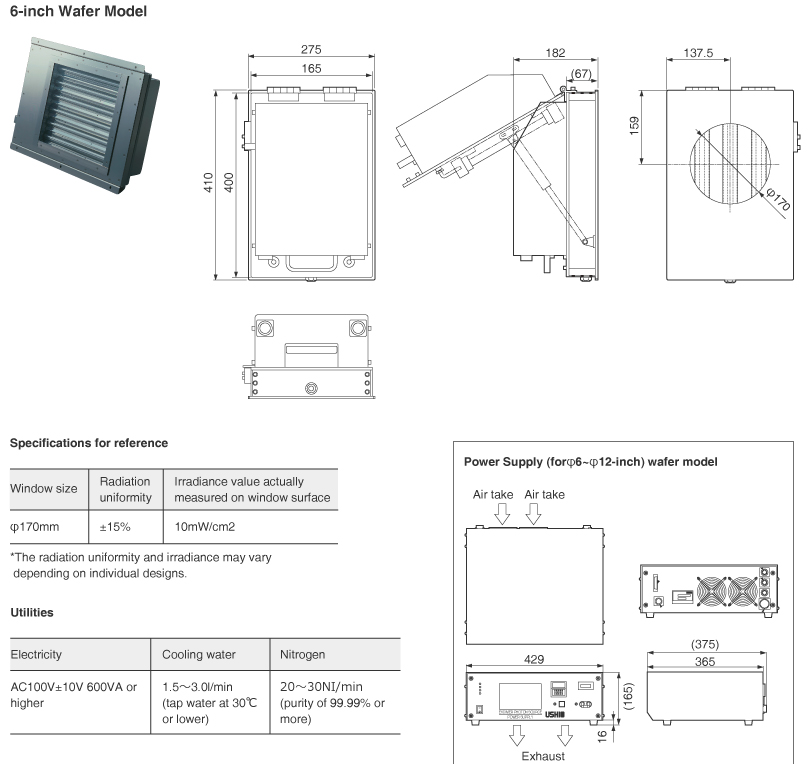 System case introduction
We provide system design to suit the application.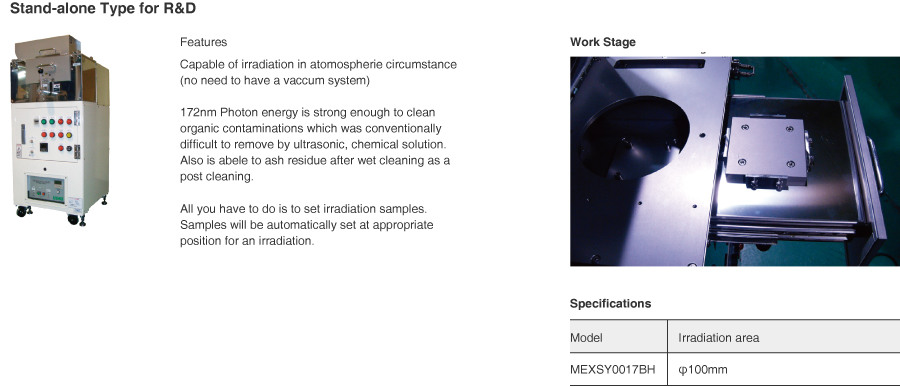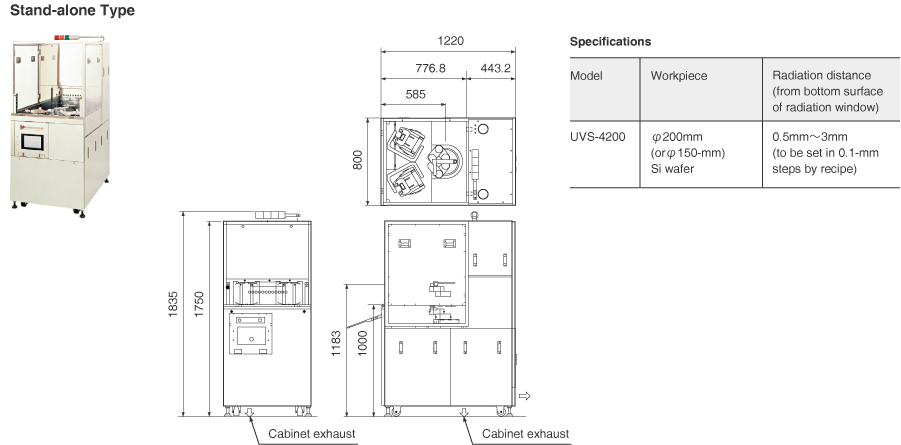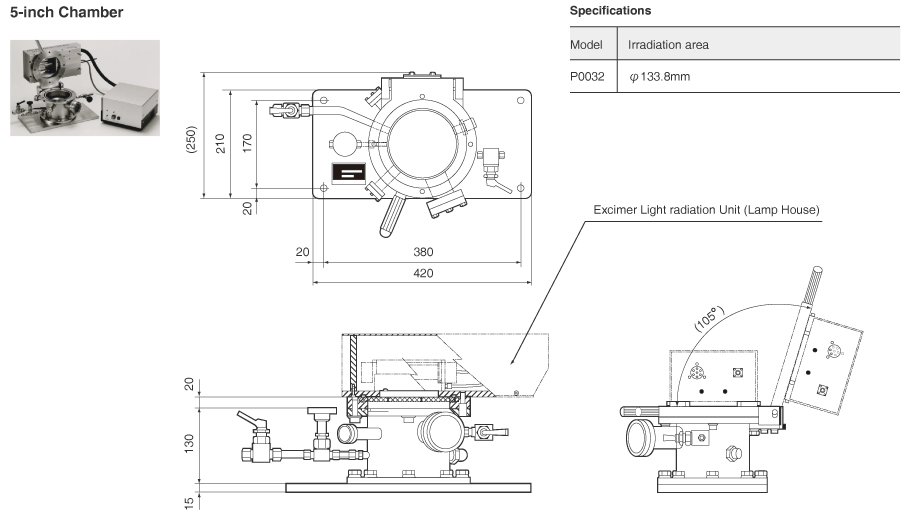 Illumination Meter UIT-250/VUV-S172
Easily perform routine management with this illuminance monitor.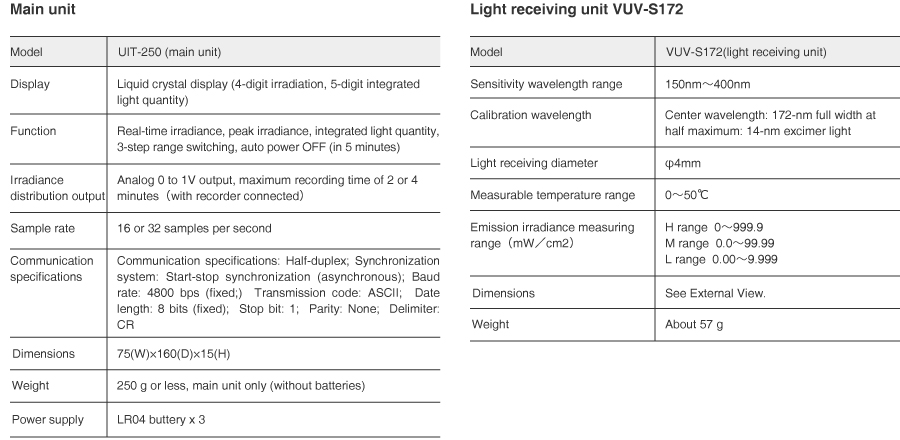 Does use require light blocking?
The 172nm wavelength is rapidly attenuated in air. Longer wavelengths of light are also emitted at about 1/100th the intensity of 172nm. Although light from this lamp can be viewed for short periods without injury from a distance of 10cm or more, eye protection should always be worn when working while the lamp is lit.
Why is N2 purity of at least 99.99% required?
When the purity of N2 is low, the concentration of oxygen and ozone increases inside the lamp housing. Consequently, the radiation divergence strength is reduced, damage to the mirror can result, and operating life of the lamp is shortened.
How should exhaust of ozone be handled?
Often used in drafters, with exhaust emitted through a duct. Make sure that the exhaust meets specified requirements. This also applies to exhaust of purge gas. An exhaust unit with ozone filter is available for situations in which adequate exhaust cannot be provided. In that case, exhaust to the open atmosphere is possible through the exhaust unit with ozone filter. Refer to the provided installation precautions for details.
Can the cleaning effect obtained in air?
Cleaning performance depends on the intensity of irradiation reaching the target object and the concentration of active oxygen at the object's surface. If the gap is too great, light will not reach the target object and cleaning will not take place. A diagram showing correlation between the gap and irradiation intensity is shown on the next page.
What are the optimum oxygen atmosphere and gap?
Because the cleaning effect of excimer light is affected by the substance irradiated, there is a need to determine the optimum parameters matching the substance. The parameters for cleaning of glass substrates are given for reference.
How can cleaning be evaluated?
The most common method is to use a water drop and measure the contact angle between water and material. Simple methods of checking include judging from the degree of fogging that results from breathing on the surface, and use of a Dyne pen. If the above methods do not suffice, wettability can be determined at the atomic level using X-ray photoelectron spectroscopy.